Beer Brat Cheese Dip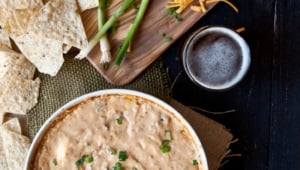 Beer Brat Cheese Dip 
A few years ago I is was at dive bar in Germany, perched at a pub table in the center of the room with two other people. We'd ordered beers, nameless, faceless pale lagers brewed close by. Through a thick accent the bartender suggested the sausage plate to go along with the beer. I'm never one to argue with those who serves my food, I instantly agreed.
A few minutes later he sets down a metal plate in the middle of the table. Coiled up in the center is a long snake of meat, one fork and a knife. We took turns slicing off a ring of hot juicy sausage, taking a bite, sipping our beer, and passing the utensils. Knife, fork, slice, bite, sip. Like teenagers huddled around a joint someone stole from their older brother, we waited anxiously for our next hit, playing it cool until it was our turn.
It didn't take long for us to take down a two pound sausage. It went perfectly with the beer. Even as the cold beer and the warm sausage started slowly making their way to the same tepid temperature, it was still insanely satisfying.
Beer and sausage, not a bad way to spend an afternoon.
Beer Brat Cheese Dip
Ingredients
¾

lbs

11 wt oz raw bratwurst, removed from casing

12

ounces

IPA or pale ale

8

wt oz cream cheese

½

lbs

cheddar cheese

shredded (about 4 cups)

½

tsp

smoked paprika

½

tsp

chili powder

1

tsp

garlic powder

2

tbs

cornstarch

¼

cup

green onions

chopped
Instructions
Cook the bratwurst in a pan oven medium high heat until well browned, breaking up as it cooks. Add ¾ cup beer, allow to simmer as you prepare the cheese sauce.

Add the remaining ¾ cup beer, cream cheese, cheddar (reserve 1 cup for the top), smoked paprika, chili powder, garlic powder, and cornstarch to a blender, blend until smooth.

Add cheese sauce to the pan, stirring until well combined.

Pour into an 8x8 baking dish, top with remaining cheddar.

Bake at 350 until cheese is bubbly. Garnish with green onions prior to serving.