Stout Beef Barbacoa Tacos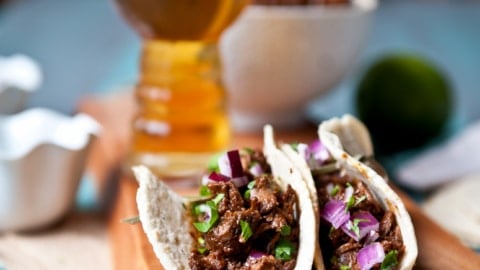 Stout Beef Barbacoa Tacos
The way New Yorkers feel about hot dogs is the way people from LA feel about tacos.
While Los Angeles is a very live and let live society, and while you are free to love and believe what you want as long as you aren't hurting anyone, we do not extend this courtesy to your taco eating habits. There is a right way and a wrong way. We don't have access to the words best recipes, pass down from generations of grandmothers from all over the world just so that you can add some iceberg lettuce and shredded cheddar cheese, that's not OK with us.
The acceptable format for tacos is this: homemade corn tortillas, a protein (even if it's vegetables), chopped onions and cilantro, and possibly a few dashes of hot sauce. That's it, your taco is complete. Save the cheese and sour cream for your nachos, and the lettuce for your burger, this is how tacos are made.
It might be a coincidence that the hop-heavy IPAs of the West Coast go beautifully with spice and grease of the perfect taco. Just like it might be another coincidence that the maltier beers of the East Coast go so well with those New York hot dogs, or that the rich stouts of Ireland are a perfect combination with a pot pie. But then again, food and beer have always lived in harmony, this is just more evidence of that.
It's an incredible reminder to keep an open mind and an open palate when traveling. Eat how the locals eat, checking your food preferences at the boarding gate, and drink how they drink. You might just be surprised at how much you love an IPA and a taco without Supreme in the title.
I served this with Homemade Beer Corn Tortillas, so good you'll never go back to store-bought.
Stout Beef Barbacoa Tacos
Ingredients
1

dried Chile Negro pod

1

dried Ancho chili pod

1

tbs

olive oil

1

white onion

cut into large sections

1.5

lbs

pounds chuck steak

cubed

3

chipotle peppers in adobo

1

tbs

adobo sauce

1

cup

stout beer

1

cup

beef broth

4

cloves

garlic

peeled

juice from one lime

1

tbs

apple cider vinegar

12

homemade corn tortillas

1

red onion

chopped

½

cup

cilantro

chopped
Instructions
Heat oven to 300.

Heat a large Dutch oven over medium high heat. Add the dried chili pods, toasting on each side until warm and slightly crisp, about 2 minutes. Remove and allow to cool, tear into pieces and add to a blender or large food processor.

In the Dutch oven heat the olive oil, add the onions and cook until slightly charred on each side. Add the onions to the blender along with the chipotle, adobo sauce, beer, broth, garlic, lime juice and vinegar. Blend until smooth.

Return the Dutch oven to heat, add the beef cubes, cooking until seared on all sides, about 6 minutes.

Add the blender sauce, reduce heat to a simmer, stirring for about a minute.

Cover the pot and transfer to the oven. Cook at 300 until the beef is falling apart, between 3 and 4 hours.

Remove from oven, shread in the pot using two forks.

Transfer to a serving bowl along with all the sauce.

Serve with corn tortillas, onions and cilantro.