Stout Mongolian Beef
Stout Mongolian Beef, twenty minutes and so good.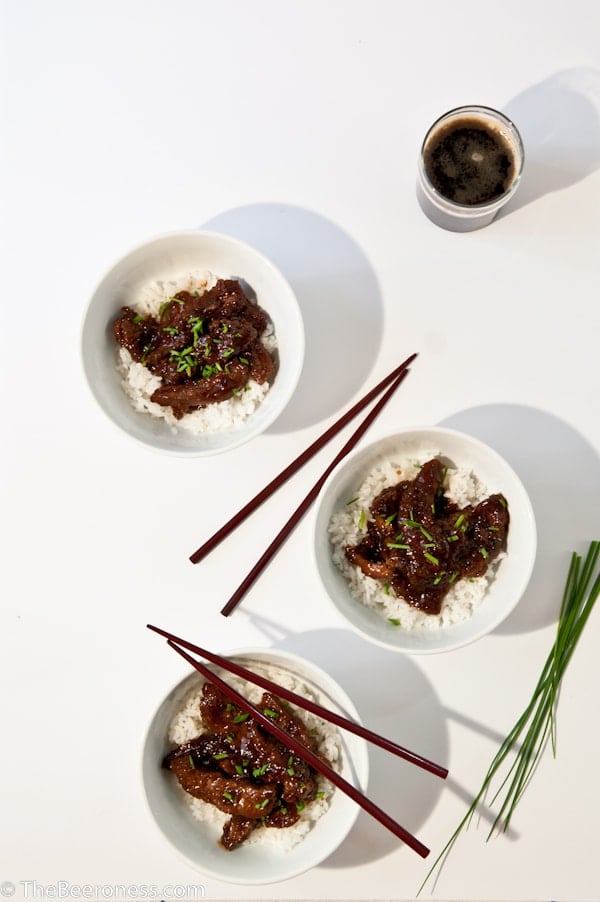 Until this year I was given a smooth transition into fall, which in LA seems to happen sometime around the end of January. September is always scorching, October is "brisk" in that low 70's kind of way, we'll get a day of rain in November to which all true Los Angelenos will first say, "I can't believe it's raining!" which will be immediately followed up with, "But we need it, so it's ok." It's the Los Angeles Rain Manrta, we all say it. Every. Damn. Time. Just the way ever single radio station thinks it's clever to play No Rain by Blind Mellon followed by I'm Only Happy When It Rains by Garbage chased by a little Umbrella by Rihanna.
Not so much the process with the way the seasons change in Seattle. It was upper 80's until it wasn't. It was sunny until it wasn't. It went from the blistering depths of summer to grab-a-latte-and-pull-on-the-wellies fall, literally overnight. But the oddest part, is that no one moaned. The first time in my life that the first rain of the fall brought a collective sigh of relief from across the City I live in. People wanted it, the way you're glad when the last guest leaves a good party at 3 am and you finally get to go to sleep. It was as if the City said, "We're back to normal!" For me, there's some getting used to that still needs to take place. I'm a lizard on a rock and I need the sun. My tolerance for scorching heat is high, but my rain and cold threshold is still pretty low. So, of course, I spent the day cooking. I made something warm and comforting and reminded myself of all the things besides endless sunshine that this City has to offer.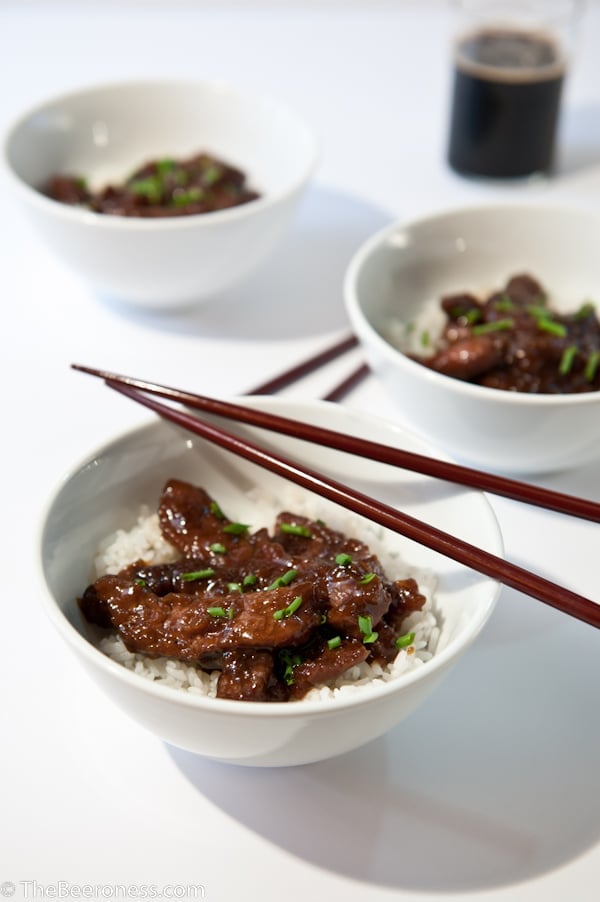 Stout Mongolian Beef
Ingredients
1.5

lb

flank steak

thinly sliced

1/4

cup

cornstarch

1

tbs

olive oil

1/2

tsp

ginger

minced

3

cloves

garlic

chopped

1/3

cup

soy sauce

2/3

cup

stout

3/4

cup

dark brown sugar

1/3

cup

canola oil

¼

cup

green onions

sliced

rice for serving
Instructions
Sprinkle the steak on all sides with cornstarch, toss to coat. Allow to sit at room temperature while you prepare the sauce.

Heat the olive oil in a saucepan over medium high heat. Add the ginger and garlic, stir for 30 seconds.

Add the soy sauce, stout and brown sugar, simmer for 5 to 10 minutes.

Heat the canola oil in a skillet over medium high heat. Add the steak, cooking until browned on all sides (the steak does not need to be cooked through). Pour off excess oil.

Add the sauce, simmer until thickened.

Add to a serving plate, sprinkle with green onions.