Grilled Mongolian Stout Beef Skewers
Grilled Mongolian Stout Beef Skewers
This post was sponsored by PCC Community Markets and Oregon Country Beef. Partnerships with The Beeroness and outside companies are rare and only occur when the company's products are ones I use and enjoy myself. All ideas and opinions are my own.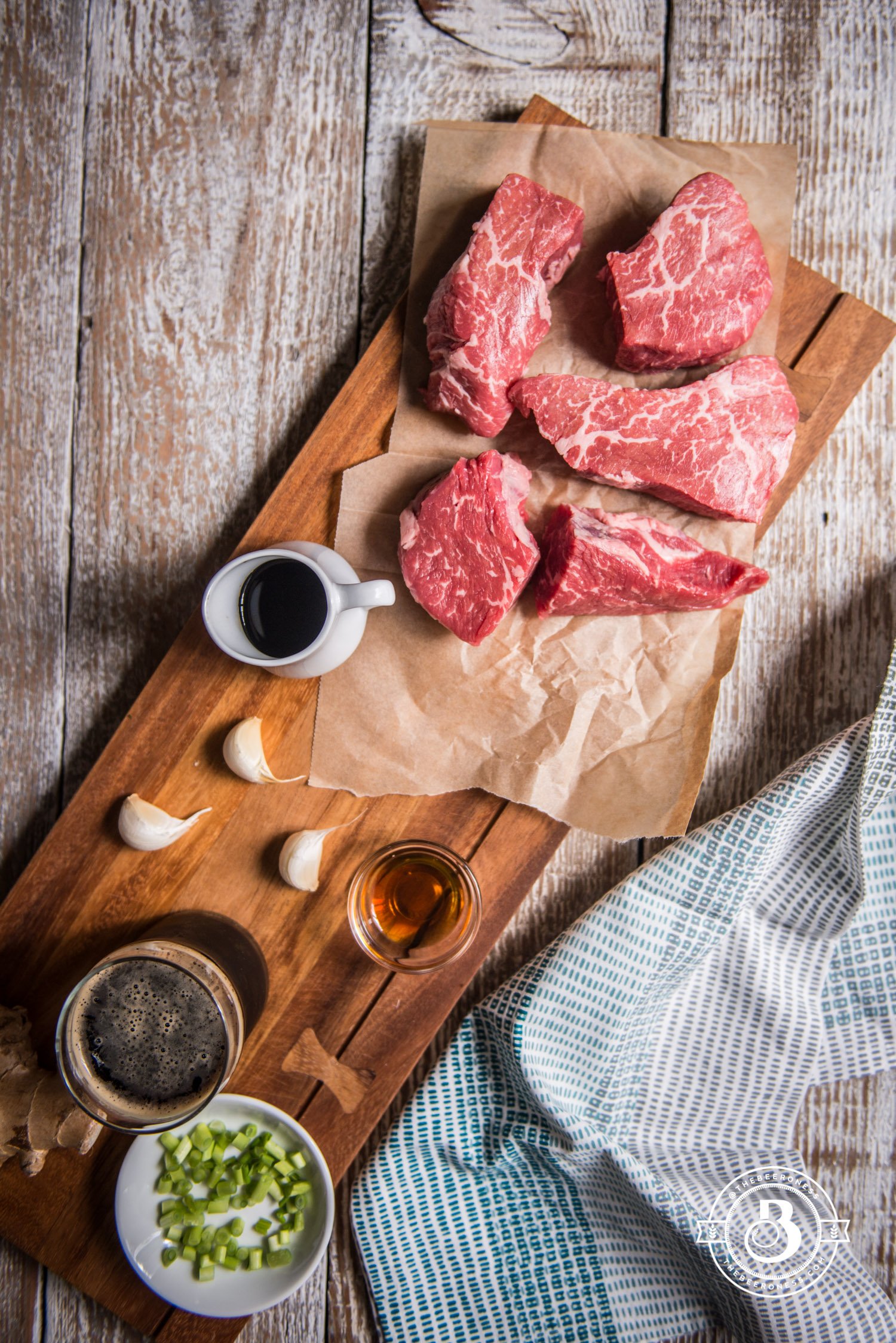 When I was just days away from turning into a middle schooler my parents decided to buy a farm in Eastern Washington and move us away from the small beach town in Central California to grow alfalfa, livestock and ride horses.  
During my time there, we raised pigs for our own consumption and it had the most profound effect on me. Learning how the sausage is made (literally) changes the way you see food, for better or for worse.  
It turned me into a vegetarian for years, pushed me deep into a love of produce and taught me that where your food comes from is important. Although I now eat meat, I eat meat like a vegetarian.
What does that even mean?! 
First off, I don't eat meat because I need it, I eat it when I want it. Secondly, I really care about where it comes from. I want to know that the ranch it's from is ethical and humane – not just to their animals but to their employees, too. 
I'll bargain shop for almost anything, but meat isn't one of those things. I decided years ago that I'd rather eat less, but better-quality meat, than more of something cheap, and I'm willing to spend a little more to support those who work harder and work better.  
When I stopped being a vegetarian, finding meat that matched these standards was hard. We just didn't have time to research every brand that came our way, especially when we were just trying to get through the grocery shopping list.
To make it a little easier, I made myself a cheat-sheet of the brands that I knew I could trust and where I could get them.  
 That all changed when I moved to Seattle and found PCC Community Markets, where I discovered that they care as much as I do about supporting small family farms and local growers producing fresh and organic food—instantly doubling the size of my cheat sheet.
For those of you who don't know, PCC is the nations largest community-owned food market committed to making the best meals from scratch using only real ingredients.
As for the meat? Oregon Country Beef was an easy addition to my cheat sheet. It's the free range, no added hormones and antibiotic-free sort that I was searching for. I let their 80 family-owned ranches worry about the hard but important stuff – GAP certification and Non-GMO Project verification – and I just keep looking for their packages at PCC. 
 One less thing to worry about, and one more reason to fire up the grill!
Grilled Mongolian Stout Beef Skewers
Ingredients
1.5 lb tri-tip or rib-eye steak cut into cubes
2 teaspoons salt
1 tablespoon cornstarch
½ teaspoon ginger grated with a microplane
3 cloves garlic grated with a microplane
¼ cup soy sauce
2/3 cup stout beer
½ cup dark brown sugar
1 tablespoon sesame oil
½ teaspoon black pepper
2 tablespoons chopped green onions
Instructions
Sprinkle the beef liberally with salt, allow to sit at room temperature while you prepare the sauce.  

Preheat a grill to medium-high.  

In a saucepan whisk together the cornstarch, ginger, garlic, soy sauce, beer, brown sugar, sesame oil and black pepper. Bring to a boil. Allow to boil, stirring frequently, until thickened, about 5 minutes.  

Thread the beef cubes onto grill skewers. Brush liberally with sauce.  

Add the skewers to the grill. Turn every 2-3 minutes, brushing with glaze every time you turn.  

Cook until steak has grill marks and is firm to the touch, about 6-8 minutes.  

Add to a serving plate, sprinkle with green onions.