The Power of Honesty In Divorce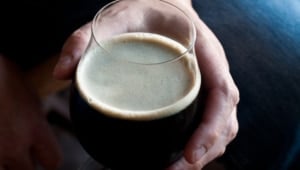 I see the man I married when I was 22 sitting at a pub table. He's now my ex-husband. It's just the two of us in a shitty pub in an industrial part of Seattle. He has this look on his face that I know he's trying to hide, he's trying to play it cool but he looks like the rabbit I found when I was a kid. A water soaked rabbit that was trying to hide, trapped in the corner of the pig pen after it had fallen into the water trough. The mud and water saturated bunny looked at me as if to say, "Don't hurt me, I don't know how I got here." Chris has that look now, he's trying to hide it. I know that look because I have it too when I see him, "Don't hurt me. I don't know how we got here."
It's always a little awkward when we start, because we know each other to core of who we are, but the past months have made us strangers. Like an old toy in new clothes. I know how he smells when he wakes up still drunk from the night before, I know why he hates Paul Bunyan, I know the sound his feet make in the shower, but I have no idea what he's done for most of the past 11 months outside of a vague schedule and frequent text photos when he has our daughter.
I sit down across from him, smile, we start the awkward small talk until the beers we have ordered have soften the edges. We do this about once a month. Have drinks before I have to go grab Tater from Preschool. It's our way of checking in, staying connected, reminding ourselves that there is still love, care and concern here, even in the midst of the storm of chaos that is divorce. No matter how much the riptide of emotions try to toss me around, I always push myself back to the core truths: I love him. I can't be married to him anymore. He's my daughters father. He's a great father. Only good can come from us remaining real friends.
We talk about mutual friends, our families, our jobs, and then the talk wanders into dating. It's the most raw of all the subjects, the wound still open, we approach gingerly, like it's a live bomb that only just a nudge will explode.
We talk for a while, small steps toward the bomb, both trying to be careful, respectful. The situation with his girlfriend is complicated, it's ten months of a rollercoaster neither of us were ready for. I'm finally ready to be honest. "I want you be happy. I do. I wasn't ever able to be assertive, to push you to be the man you can be. If you can have that with some else, I want that. I really do. But it drives me fucking crazy. Seriously, it drives me nuts. I hate it even though I want it for you." He laughs.
"That!" he says, "Yes. That's how I feel. I want you to have someone who can give you what I didn't. But I fucking hate it." The words lift a weight off me. A crushing pillar of pain is lifted off my guts. For the first time I actually am ready to meet a new girl in his life. It feels like a rusted lock has finally broken free and the door can be opened.
We laugh, talk about meeting each others new people. "I'm not ready to meet him," he says about the new guy in my life. I soften. I can see it in his face, this is fucking hard. It's hard for me, but it's much harder for him. He can have some time. He can have some space. Tater doesn't need to meet anyone new just yet. I'll wait until the look of a scared wet bunny fades a bit, for both of us.