Ten Weird Things That Are Not Vegetarian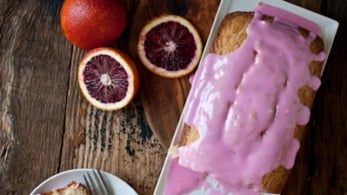 I spent 3 years as a vegetarian, and at the time it seemed simple. Eat things that aren't animals. I didn't think much more about it. It wasn't until years later, while trying to cook for my vegetable loving friends that I have actually become acquainted with how many products that I assumed were animal free are not.
While I now eat meat I also want to know what is in the food that I eat and which products, vegetarian or not, are just too creepy to eat.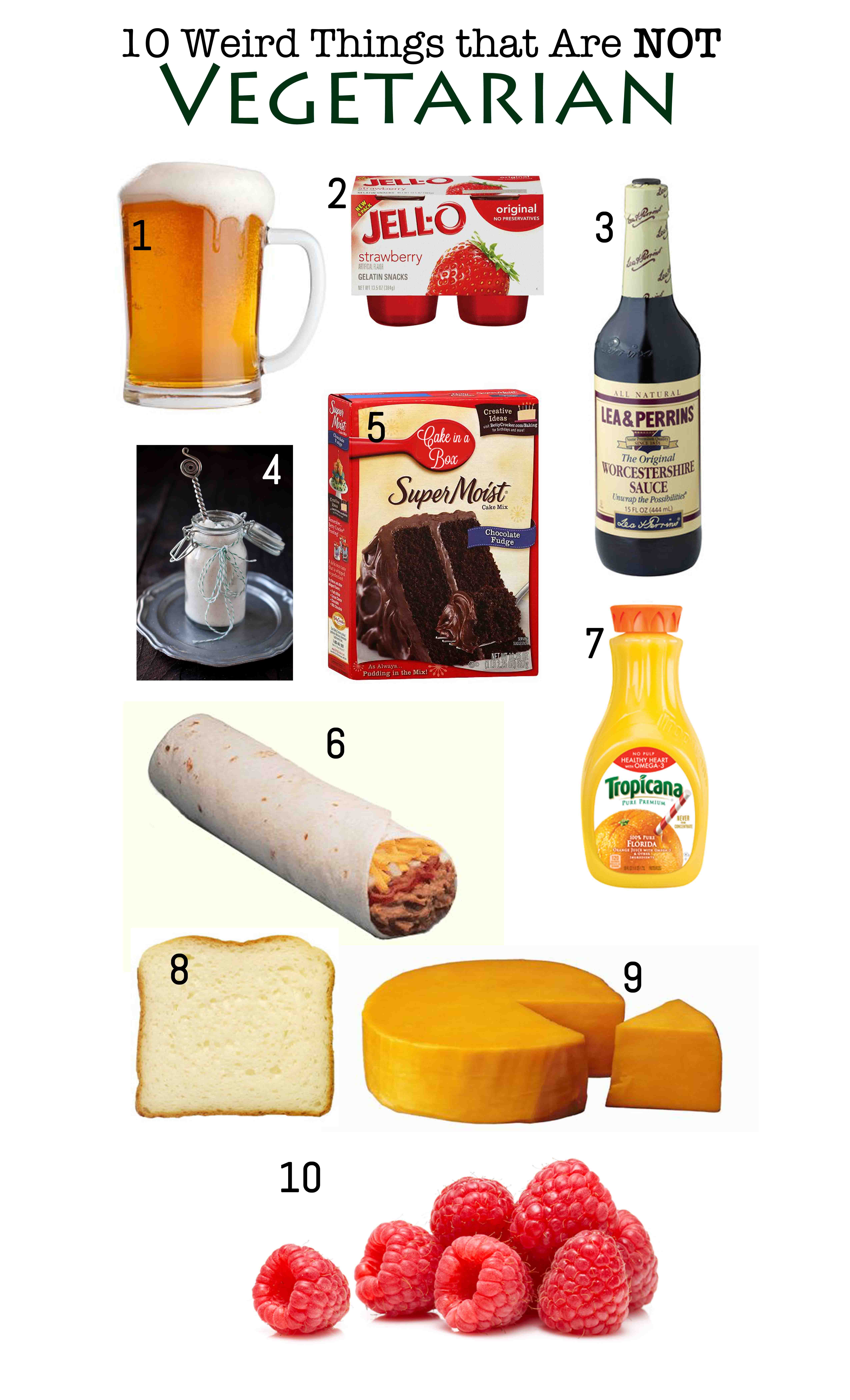 Ten weird things that are not vegetarian
Beer. Although the basic ingredients in beer are all vegan, a lot of times animal products are added in. Most commonly fish bladders. Read this to figure out if there is a beast in your beer.
Jell-O. Or any gelatin product. It's made from animal bones and makes it's way into everything from cookies to pre-packaged peanuts, Altoid mints, Gummy bears, to marshmallows.
Worcestershire sauce. It has anchovies in it. It makes a fantastic addition to barbeque sauces so if you want to skip the fish, buy a vegan type like the one from Annie's Organic.
White sugar. While sugar is inherently vegan, it is often processed using animal bones that leave little bit of animals in your bag of sugar. Many companies are starting to change that, like Whole Foods 365 brand, which is 100% vegan.
Boxed cake mix. It's often made using beef or pork fat, listed on the label as lard. Make sure to check the ingredients, or better yet make it from scratch.
Bean Burritos. Unless labeled otherwise, both refried beans and tortillas will almost always be made with lard. Even those "veggie burritos" in most Mexican restaurants. Unless it's labeled as vegetarian (and even sometimes then), assume that it's full of animal fat.
Omega-3 labeled products. Orange juice, milk and other foods are often infused with fish oils to get those sought after healthy fats. Some vegetarian friendly companies use flaxseed instead, but it's worth checking the label, just to make sure.
Prepackaged Bread. If the package of bread you grab at your local market contain an ingredient called L-Cysteine, the best-case scenario is that it's derived from poultry feathers. The worst case? Human hair. That's right, you may be chowing down on a human if you buy pre-made bread. Feel free to gag. I will now be making sandwich bread from scratch.
Hard cheese. Cheeses like Cheddar and Parmesan are often made using rennet, which is the lining of animals intestines. Most soft cheeses, like Brie, goat cheese and mozzarella aren't. Some companies do make hard cheese without animal byproducts, they should label those as vegetarian friendly.
Raspberry flavored food. If human hair wasn't bad enough, now I have to tell you about what's in most raspberry flavored foods. Castoreum, a common ingredient in artificially flavored raspberry foods is made from the secretions of a beavers anal glands. Which begs the question: Why is a beavers ass easier to come by than good ole' fashion raspberries?