Pork Ribs with Chipotle Peach Beer Barbecue Sauce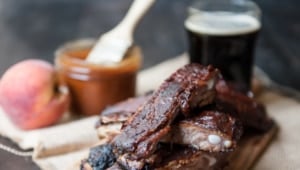 Maybe it's because I'm writing this from 30,000 feet above Houston, Texas, en route to South America, that I feel compelled to tell you that American Barbecue has nothing to do with your backyard grill.
Sure there are similarities, the flames, the metal grates, the brave souls with large metal cooking implements poking at the meat from a safe distance. But it's the difference that makes the biggest impact on your final results.
Barbecue gives us the gorgeous smoky flavors, the fall off the bone meat, the get-your-shirt-messy eating experience because of a cooking method that's long, slow and low. Grilling is quick, hot and high. Real, true barbecue is a process that takes hours, even days to complete.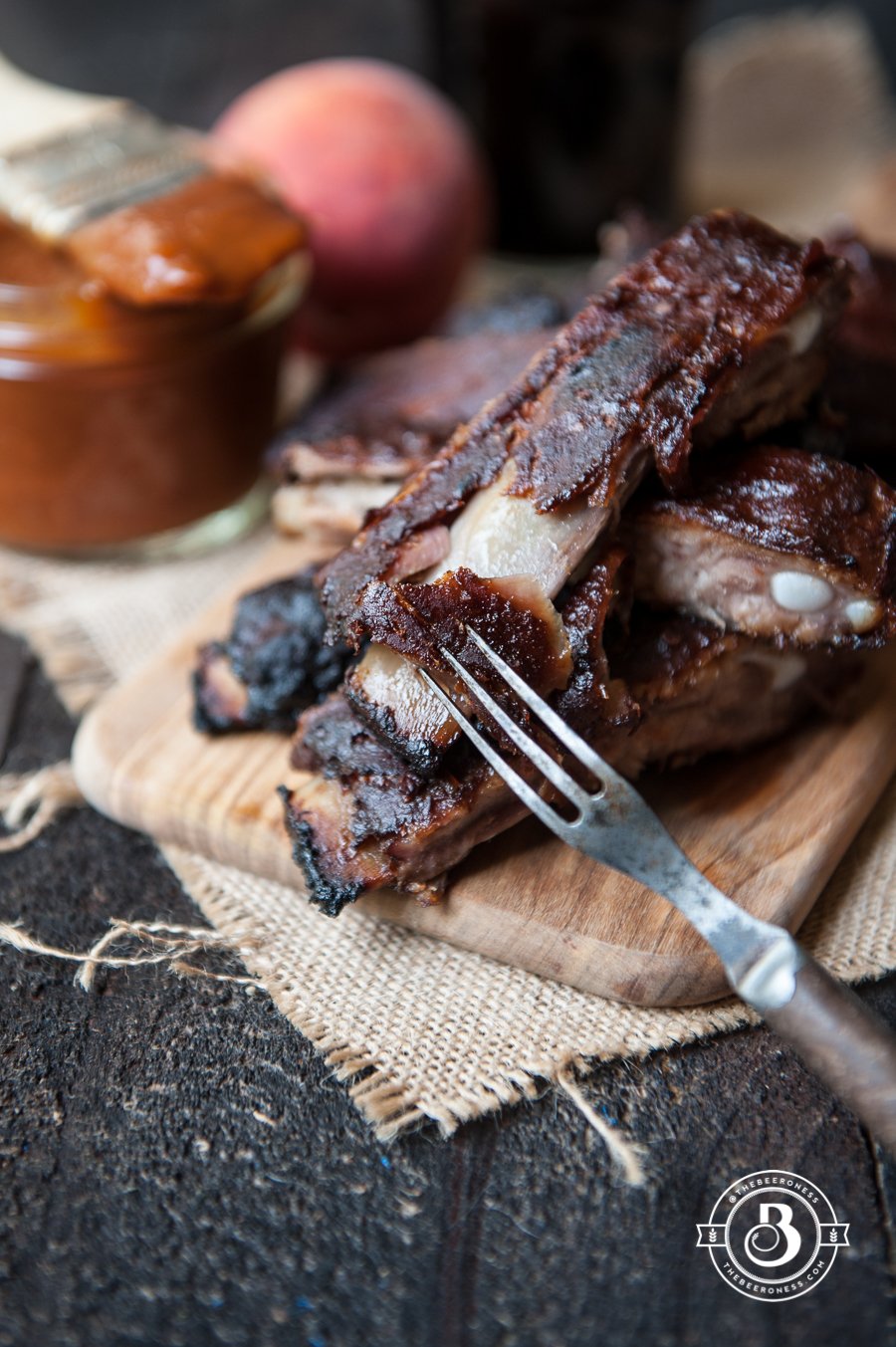 The low temperature renders the fat, infusing the meat, injecting it with flavor and giving you that tender fall-apart texture. Your oven can do this slow and low cooking as well, it just takes time.
It's the best way to cook ribs at home, no other method can compare to the tender texture, caramelized sauce, and flavors that taste as close to true smoky barbecue as you can get in your own house.
It takes time, as true barbecue should. The meat melts off the bone, the sauce is caramelized and just a little sticky. You'll need plenty of napkins and a couple beers to make this a meal. And it's worth every second you spent cooking it.
Pork Ribs with Chipotle Peach Beer Barbecue Sauce
Ingredients
For the sauce:
1

pound

fresh yellow peaches

2

tablespoons

olive oil

divided

¼

cup

chopped shallots

¼

cup

cider vinegar

½

cup

stout beer

3

tablespoons

honey

2

teaspoons

molasses

not blackstrap

2

tablespoons

brown sugar

3

tablespoons

soy sauce

1

tablespoons

Worcestershire sauce

3

tablespoons

tomato paste

2

chipotle chilies

chopped

1

teaspoon

smoked paprika

1

teaspoon

dry mustard
Instructions
Preheat the oven to 450.

Slice the peaches in half, remove the pit. Place cut side down on a baking sheet, drizzle with 1 tablespoon olive oil.

Roast until skin starts to pull away from the peach, about 15 minutes. Remove from oven, gently peel away and discard skin.

Heat the olive oil in a pot over medium high heat, add the shallots, cooking until slightly browned, about 5 minutes.

Stir in the vinegar, beer, honey, molasses, brown sugar, soy sauce, Worcestershire sauce, tomato paste, chipotles, smoked paprika, and mustard powder, bring to a simmer.

Add the peaches, stirring occasionally, until peaches have broken down, about ten minutes. Remove from heat.

Using an immersion blender, blend until smooth (alternately, you can allow the sauce to cool slightly and blend in an upright blender.) Sauce can be made several days in advance.

Lower oven temperature to 250.

Line a rimmed baking sheet with aluminum foil. Place the ribs on the baking sheet, sprinkle on all sides with salt.

Brush liberally with sauce on all sides.

Cook for 30 minutes, remove from oven, brush on all sides with sauce and return to oven. Repeat this step for 4 hours, brushing with sauce every 30 minutes, until meat easily pulls away from the bone and sauce has caramelized