Stout Bacon Jam Jalapeno Poppers
Stout Bacon Jam Jalapeno Poppers. Because the only thing that can make Jalapeno Poppers better is bacon. And beer.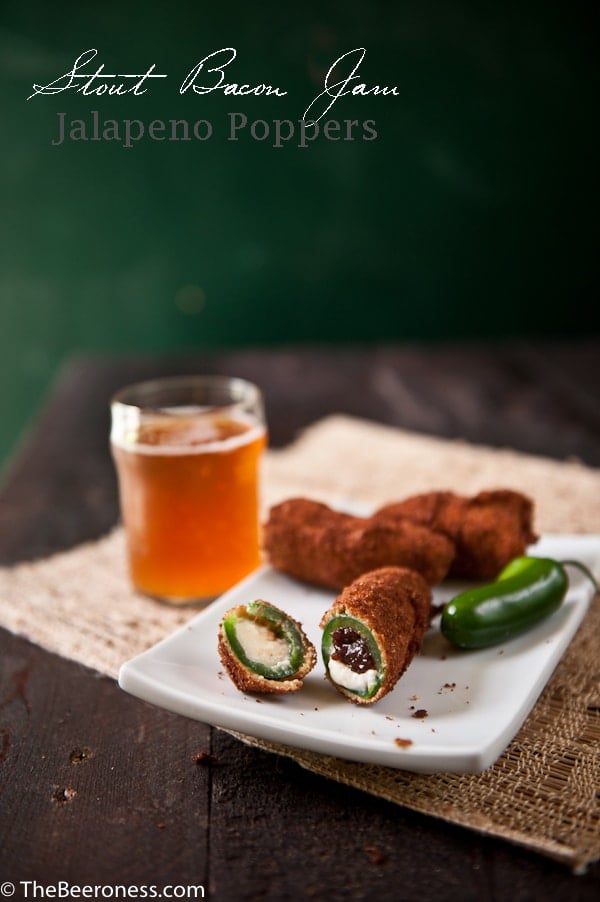 I was on a reality TV show once.
By the time January rolled around and filming started, in a cold warehouse in Van Nuys, California, the idea I had been pitched by the team of producers had morphed into something that hardly resembled the original premise. I'd been sold on the idea that the team was to document the process of assisting me in developing a line of beer-infused food for grocery stores. I ended up walking into a cooking competition.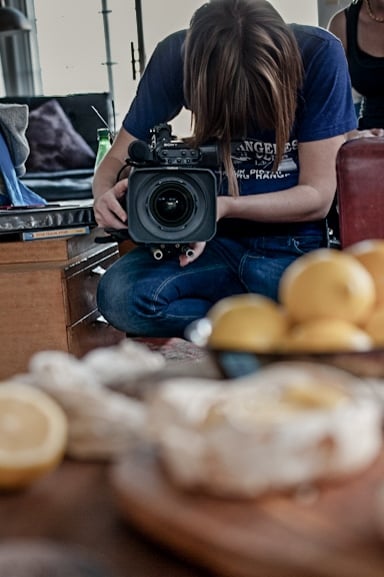 When I arrived at a hotel near the filming location I was asked to hand over my phone, my computer and all access to the outside world. The phone in the room was even disabled. I asked why, what if I need something? "You won't" was as much of an answer as I could get.
A beat-up Dodge Caravan pulled up at 5 am the following morning as I stood shivering outside the hotel lobby. A few other TV show participates filed into the seats behind me. "Hi, I'm Jackie," I said to the girl who sat down next to me.
"No talking!" A 23-year-old from Kentucky snapped at me from the driver's seat.
"Wait…what?" I was confused and dangerously under-caffeinated.
"You can't talk to anyone except the producers unless we say you can."
I didn't push back, I just gave a look of shock to the other 5 passengers that was mirrored by their own reactions to this news.
After arriving on set, and a brief orientation to the show premise, which wasn't even a distant cousin to the show vibe I was sold a few months prior, I was hustled to a makeshift "room" which was no more than a large plywood box constructed on one end of the warehouse. Each contestant was put in a separate box, with nothing more than a folding chair. I sat there for three hours, re-reading the copy of Blood, Bones & Butter I luckily had in my bag. When it was my turn for shooting I was handed a plate of the bacon jam that I'd made for the shoot and given a few directions. "Walk to that podium, set down the plate, smile at the chefs." "Now do it slower" "Now do it faster" "Introduce yourself" "Do it again." After a few scripted back and forth segments, I went back into the box. Starving, unsure of the time, bored to tears, to wait another three hours.
Late in the day, well past dark, it was time to shoot a mock cooking battle. The count down clock was faked. As soon as each participant was finished with the dish, the producers came over to shoot the "five…four…three…two…one…hands up, time is over" segment. We each did this three or four times, well after each of us had finished our dishes.
Close to midnight, exhausted, hungry, a bit jittery, the battle was over. I had made it to the top two. I wanted sleep, I didn't care that I hadn't been cut, I just wanted to sleep. Before I could go, I was taken to a dark room, sat in a chair, a bright light in my face obscuring the camera filming my responses to a young producer's questions. It quickly became clear what she wanted. She wanted me to trash talk the other girls. I refused. Two hours later, the interrogation continued. "Aren't you annoyed at how bubbly she is? Isn't she ugly? Doesn't it seem like she's faking it all for attention?"
I thought of the people who admit to murders they don't commit just to be left alone, just for sleep and food. "Listen," I finally said, "I won't do it. I'm not going to shit talk girls I genuinely like and hardly know just for some sound bites. You have to take a different direction."
"Can you act scared of them?"
"Fine, they scare me."
I was finally able to sleep. At least until 6 am when I had to do it all again. Another day of shooting, another day of the box. Another day of getting scolded for talking to people. We faked conversations about things that hadn't happened for the sake of the camera. We filmed the "if you win" scene and the "if you lose" scene. They missed the genuine moments, the good stuff went on off-camera.
After the final round, close to 3 am, the last remaining contestant and I presented our dishes to the judges and a grocery store buyer. We had already filmed the "post judges, waiting for the results" banter, which we had to fake given that it took place 3 hours before the judges even showed up. She started to cry, no cameras around, no one but her and me.
"My whole life is in this product. I mortgaged our house, I depleted our savings. What if I fail? I think they like you more. I think they'll pick you." She sobbed.
For me, it was a whim. It was something fun. It was her life. I was rooting for her, she was the one who should win.
My pitch had gone well, really well. They pressed, I had answers. "Bacon jam? Isn't jam supposed to be sweet?" I explained that plenty of jam was savory, onion, tomato, even garlic jam. With plenty of applications. Bacon jam could be both. It can go on brownies or vanilla ice cream, or it can be spread inside a pork loin roulade or on biscuits. When the show finally aired, however, my monologue was cut in favor of a shot of me staring blankly into space. As if I had no idea what the question meant.
Hers hadn't gone well. She had been rude, combative, hostile. Mostly because she was exhausted, emotional, and desperate to win.
At 3 am we were back, both of us rooting for her, both of us desperate to sleep. And then the answer came:
"And the contestant who is cut tonight is….Jackie"
I smiled. I was happy. We had to reshoot and I had to fake a sad face. But I was thrilled. The right person won.
Ten minutes later I was back in the interrogation room and I knew what the producers wanted. They wanted tears, they wanted me to be upset. I was just glad it was over. "Do you think the wrong person won? Did they make a mistake?"
"Nope. She should've won. She deserved it."
"Isn't she rude? Mean? How can you want a mean person to win?"
"Look, I know it would make great TV if the blonde white girl shit talks the 60-year-old Jamaican woman, but that's not going to happen. Maybe she's a bit rough, but I like her. She's tough, she has a great product, she put her entire life on the line for this. She deserves it. They picked the right person."
She didn't like that. But it was 3 am and she finally just let me go back to the hotel.
By the time the show aired, it was full of petty, forced, artificial drama that had never really occur. You missed the heart and soul of good people, you had no one to root for. And even my competition, the woman whom even I wanted to win, came off as someone you wanted to root against. I looked sad, stupid, and vacant. You wanted to throw Prozac at the screen every time I was on. Needless to say, the show did not return for a second season. People want someone to root for. They want to see the heart and soul more than the drama and the tears. Especially when it comes to food, give us a hero, someone to root for.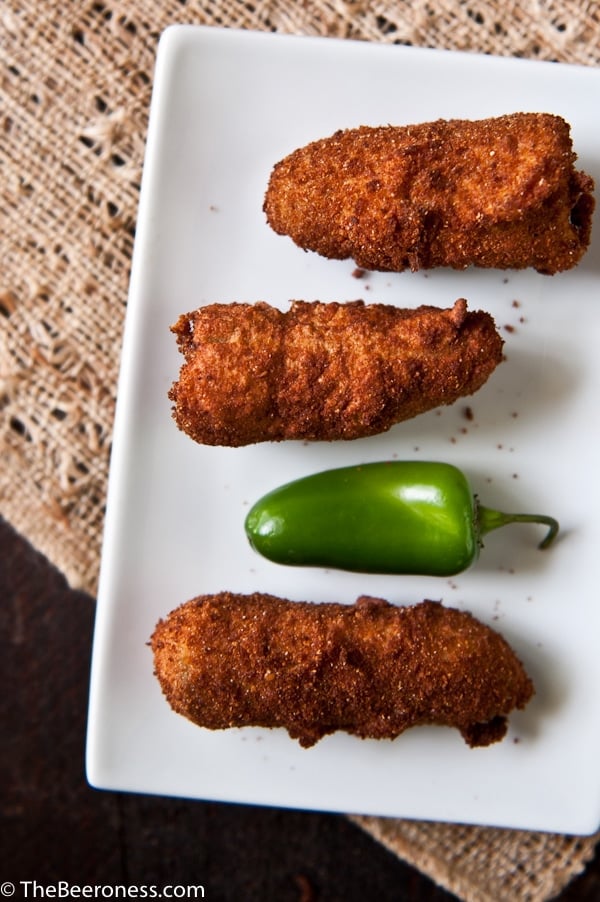 Stout Bacon Jam Jalapeno Poppers
These peppers are best made in stages. They are time consuming and tend to be too much work for the day of an event. It's best to prep the peppers, make the jam and the cream cheese ahead of time, storing in the fridge until ready. Just fill, coat and fry when it's time to serve. (they can also be filled and stored in the fridge for 24 hours, just make sure to coat right before frying)
Ingredients
For The Bacon Jam:

12 oz thick sliced bacon (8-10 thick strips)
4 cloves of garlic, smashed
1/2 cup yellow onion, chopped
1 1/4 cups imperial stout
1/4 cup apple cider vinegar
1/3 cup balsamic vinegar
2/3 cup brown sugar

For the Jalapenos:

12-14 large jalapenos
8 oz cream cheese
1 cup shredded mozzarella
3 tbs IPA beer
3 eggs
flour for dusting
2 cups Italian style bread crumbs
oil for frying
Directions
In a large pot or Dutch oven, cook the bacon, working in batches if necessary. Remove the bacon from the pan and allow to cool and then roughly chop.
Drain off the bacon grease from the pot, leaving only about 1 tbs bacon drippings in the bottom of the pot.
Return the pot to heat and cook the onions until soft and translucent, about 3 minutes. Add the garlic and stir for about 30 seconds. Add 1 cup beer and both vinegars, scraping to deglaze the bottom of the pot.
Add the brown sugar and the bacon, reduce heat to maintain a simmer. Place the lid on the pot at an angle, allowing to vent the steam.
Cook until reduced to a thick and syrupy consistency, stirring occasionally, about 45 minutes. Transfer to a food processor along with remaining 1/4 cup beer and pulse until most of the large pieces have been chopped. Bacon jam can be made up to a week ahead of time.
In a food processor add the cream cheese, mozzarella, and 3 tbs IPA beer, pulse until well combined.
Cut the top off the jalapenos, use a paring knife to scoop out the seeds and membrane inside the peppers.
Pipe the cream cheese mixture and the bacon jam into the pepper in equal portions. I used a dual piping bag for this. You can also slice the pepper ¾ the way down one side, spreading the jam on one side and the cream cheese on the other.
Sprinkle the peppers on all side with flour.
Add the eggs to a small bowl, beat until well combined.
Add the bread crumbs to another bowl.
One at a time dip the peppers in the egg mixture, allowing the excess to slide off before rolling in the bread crumbs. Place back in the egg mixture and then back in the bread crumbs. Set the pepper on a wire rack for about ten minutes to allow the coating to set.
Add 3 to 4 inches of oil to a pot over medium high heat, bring to 325 degrees using a deep-fry thermometer. Adjust heat to maintain this temperature. It's important that the oil stays close to this temperature. If the oil is too cold the pepper will take on too much oil, if it's too hot the breading will cook and the pepper will still be cold and vegetal. Cook the peppers for 5 to 6 minutes in the hot oil, return to a wire rack to cool. Serve immediately.
https://domesticfits.com/stout-bacon-jam-jalapeno-poppers/
Copyright �© TheBeeroness.com
I used this multi-color piping bag set
for the filling. It also works great if you make cupcakes for football games, you can pipe two colors on at once. (affiliate link)