No Bake Pretzel and Bourbon Beer Balls
No Bake Pretzel and Bourbon Beer Balls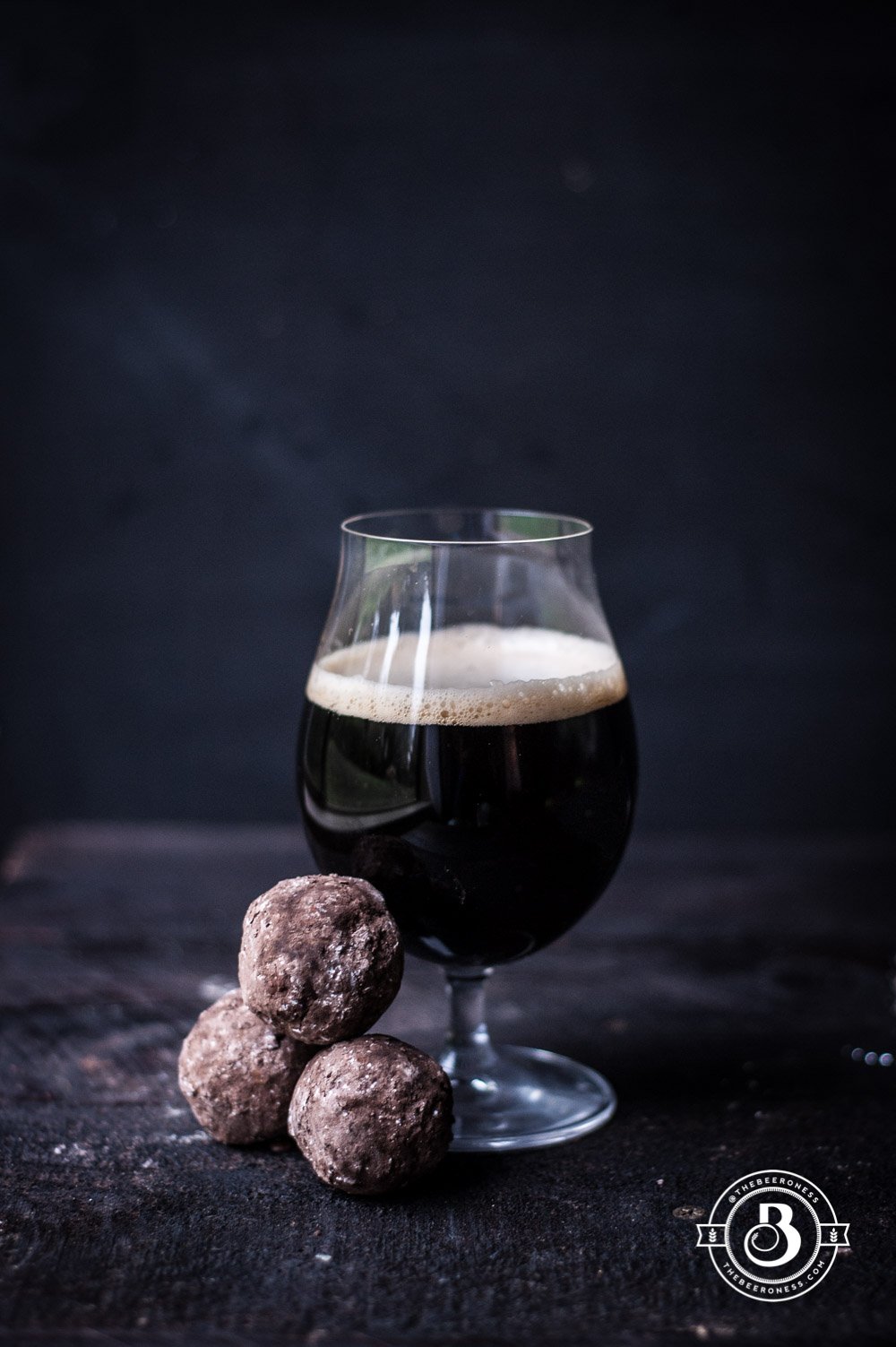 These are the beers that make me feel like a stalker.
This time of year barrel aged beer has my attention, coming onto store shelves just as the fresh hop beers are becoming scarce and I need a distraction from that disappointment. I show up at bottle shops and beg for this years editions from the breweries that rattle the barrel aged cage every year. There are a few that we all seem to look forward to and seek out. The beers that fill our instagram feeds and even get us to (at least contemplate) standing in line for hours just for a taste.
Barrel aged beer is just like what it sounds, it's beer (mostly the darker styles, but not always) that have been aged in barrels. Most commonly you'll see bourbon or rum barrels but wine has started to make a stronger showing in the past few years.
I always ask about a few in particular, mostly knowing I can't always get them in Washington, but hoping Beer Store Beer Guy might have an in somewhere that could open up the possibility that I can get my greasy hands on one.
Here is my yearly wish list, let me know if you have one you look forward to with the same near-stalker-like anticipation.
Firestone Walker // Velvet Merkin and Parabola
Surly Brewing // Barrel Aged Darkness
Founders // KBS
Deschutes // The Abyss 
Fremont Brewing // B-Bomb
The Bruery // Black Tuesday 
The Lost Abbey // Serpent's Stout 
No Bake Pretzel and Bourbon Beer Balls
Ingredients
½

cup

50g chopped pecans

½

cup

58g chopped almonds

1

cup

154g pretzels crumbs (pretzels processed with a food processor)

1

cup

122g graham cracker crumbs (9 full sized graham crackers, processed)

½

cup

43g unsweetened cocoa powder, divided

¾

cup

75g powdered sugar, divided

½

cup

118mL bourbon barrel aged beer

3

tablespoons

63g honey (or light corn syrup)
Instructions
In a large bowl stir together the pecans, almonds, pretzel crumbs, graham cracker crumbs, ¼ cup unsweetened cocoa powder (reserve the other ¼ for the coating), and ½ cup powdered sugar (reserve the other ¼ for the coating).

Stir in the beer and honey until well combined. Mixture shouldn't be wet but it should hold together when squeezed. If it's too dry to hold together add more beer, about 1 tablespoon at a time until the right consistency is reached.

In a small bowl stir together the remaining ¼ cup cocoa powder and ¼ cup powdered sugar.

One at a time form into balls about the size of a golf ball, roll in powdered sugar. Place on a plate or tray.

Chill for 2 hours and up to overnight. Serve chilled.