Jamaican Coconut Cornbread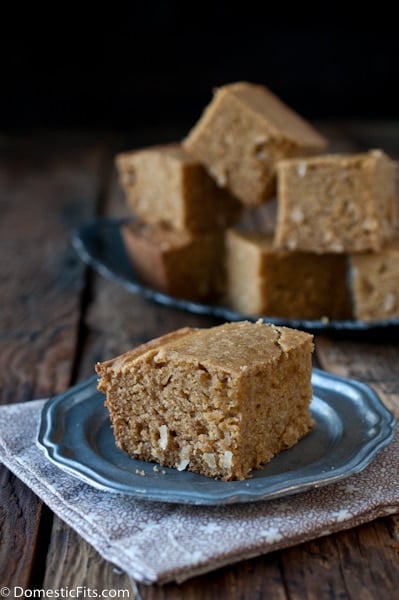 In the midst of the chaotic tilt that my life has taken lately, I keep being overtaken by the feeling that these are the good ol' days. This is the time I'll look back on, as an old woman, and wish I could revisit. I've had to remind myself of that, when I feel overwhelmed, stressed, pressured to preform at a level that feels higher than I can reach. I won't remember that, it will all look so shiny in the review.
Because of the lack of anything that resembles "free time" lately, I've turned to making recipes that are quicker than my usual.  I love bread making, but it can be time consuming. So when I wanted something sweet with a bit of coconut, I decided to figure out a one bowl coconut cornbread. I actually made this twice (I like to make each recipe I post at least twice), but the first time I wanted to give a gluten free version a stab. Instead of flour I used masa harina, it's corn flour I use to make tortillas. Since I started making homemade corn tortillas, I've never gone back to store bought so I always have it on hand, and it's naturally gluten free. While I really liked the flavor, the texture wasn't as good as with the flour, as these things often go.  I preferred the flour version better, but the gluten free masa version is a great option if your baking for crowd that includes the gluten averse.
The masa harina version:
Recipe from Savory Cocktails by Greg Henry
Ingredients
1 lemon wedge
smoked sea salt
1 scant barspoon hot sauce
2 pony shots (2 fl oz) vodka
1/2 pony shot (1/2 fl oz) Elderflour liqueur (such as St. Germain)
1/2 fl oz lime juice (or yuzu)
1/2 fl oz lemon juice
1 tbs honey simple syrup (honey and very warm water, 1:1 ratio, stir)
4-6 tbs (2-3 fl oz) Belgian style golden ale beer
Directions
Use the lemon wedge to lightly moisten the rim of a highball glass.
Pour the salt onto a small saucer, spreading in a thin layer.
Press the rim into the salt, cookie cutter style, twisting back and fourth to coat the rim with salt.
Fill glass with ice cubes.
Into a cocktail shaker filled 2/3 full with ice, add hot sauce, vodka, elderflour liqueur, lime juice (or yuzu), lemon juice, and honey syrup
Cover and shake.
Strain into prepared glass, stir in the Belgian Ale.
https://domesticfits.com/jamaican-coconut-cornbread/
Copyright �© TheBeeroness.com