Jamaican Coconut Cornbread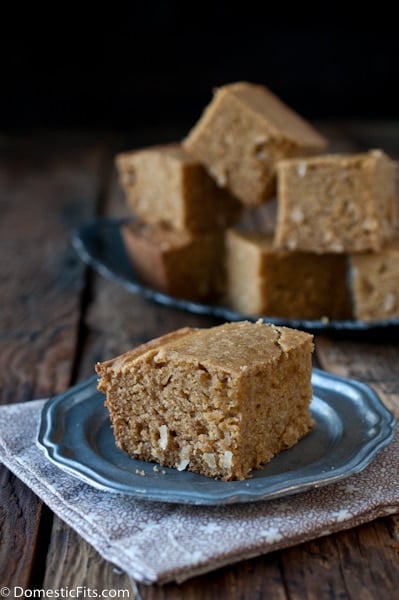 In the midst of the chaotic tilt that my life has taken lately, I keep being overtaken by the feeling that these are the good ol' days. This is the time I'll look back on, as an old woman, and wish I could revisit. I've had to remind myself of that, when I feel overwhelmed, stressed, pressured to preform at a level that feels higher than I can reach. I won't remember that, it will all look so shiny in the review.
Because of the lack of anything that resembles "free time" lately, I've turned to making recipes that are quicker than my usual.  I love bread making, but it can be time consuming. So when I wanted something sweet with a bit of coconut, I decided to figure out a one bowl coconut cornbread. I actually made this twice (I like to make each recipe I post at least twice), but the first time I wanted to give a gluten free version a stab. Instead of flour I used masa harina, it's corn flour I use to make tortillas. Since I started making homemade corn tortillas, I've never gone back to store bought so I always have it on hand, and it's naturally gluten free. While I really liked the flavor, the texture wasn't as good as with the flour, as these things often go.  I preferred the flour version better, but the gluten free masa version is a great option if your baking for crowd that includes the gluten averse.
The masa harina version:
Jamaican Coconut Cornbread
Ingredients
1 cup cornmeal
1 cup all purpose flour (masa harina for gluten free)
2/3 cup brown sugar
1 tsp baking soda
1 tsp salt
½ tsp cinnamon
¼ tsp allspice
pinch cayenne (about 1/8 tsp)
¼ cup shredded dried coconut
¼ cup canola oil
2 eggs
1 can (13.5 fl oz) full fat coconut milk

Instructions
Preheat oven to 375.
Grease a glass 8X8 baking dish.
In a large bowl combine the cornmeal, flour (or masa harina), brown sugar, baking soda, salt cinnamon, allspice, cayenne, and shredded coconut.
Make a well in the center, add the oil, eggs and coconut milk, stir until just combined.
Pour evenly into the prepared baking dish.
Bake at 375 for 30-25 minutes or until the top springs back when lightly touched.