Oktoberfest Beer Recipe: Cheddar Beer Biscuits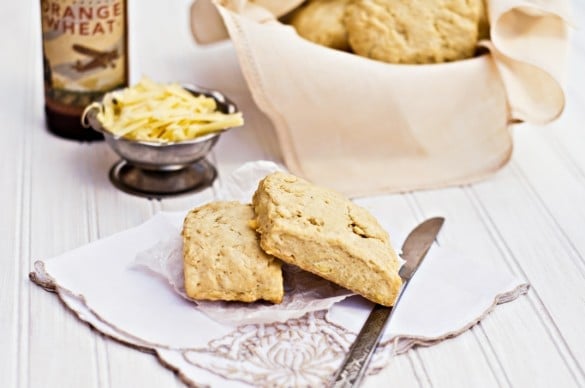 Oktoberfest started this past Saturday, September 17th, marking the 201st anniversary of this high holiday devoted to beer. In honor of the German festivities, I am declaring this week "Beer Week" on Domestic Fits.
I have a love and a passion for really fantastic craft beer that started while working as a waitress at a micro brewery when I was in college. I was able to get a tour of the brewery and a crash course in beer making from two very excited, self proclaimed "Beer Geeks." Up until this point the idea of a "Beer Guy" conjured up images of frat boys playing beer pong, but the Geeks changed all that for me. They were excited about the beer, the flavors, the process of it and the difference between an Ale and a Lager (FYI: there are several differences but the main difference is a Lager is brewed longer). I was hooked and a world of flavors opened up. Lucky for me, the West Coast has a fantastic, seemingly endless, supply of craft beers. If you are ever so lucky to visit us, and you love the art of beer, take a tour of a microbrewery. Beer guys are the nicest breed.
Although the true Oktoberfest celebrations won't allow any beer to be served at the festival that aren't brewed within the Munich City limits, I decided against using German beer. I love German beer, its lovely, but the locavore spirit of using what is close by is what I wanted to capture. For this recipe I used a Orange Wheat beer from Hanger 24, a Southern California based brewery. The beer was beautiful and the flavors where fantastic for these biscuits
I also used Kerrygold cheese, although this has nothing to do with Oktoberfest, it's just really great cheddar. The flavors are perfect for this recipe.
Get the recipe on my other blog, The Beeroness!

Get the recipe on my other blog, The Beeroness!