How to Make Flaky Biscuits & Sour Cream Cheddar Beer Biscuits Recipe
 How to Make Flaky Biscuits, step by step with photos, & Sour Cream Cheddar Beer Biscuits 
Biscuits, the glorious tender flaky beast that they are become the subject of massive levels of debate for something with so few ingredients. Ask a Southern grandma what she thinks and she'll tell you you're doing it wrong, no matter what you're doing. Everyone has an opinion and everyone has a recipe. Lard, butter, oil, buttermilk, beer, water, White Lily flour, whole wheat flour, the ingredients vary from recipe to recipe, but one technique always gives me those gorgeous flaky layers that rival that anxiety provoking poppin' fresh tube of my youth. This brilliant idea came from the geniuses at America's Test Kitchen, and no offense to your grandma, but these guys know their shit.
Step one:
Dough on a lightly floured surface. Try to work with the dough as little as possible or it becomes tough.
Step two:
Roll out into a rectangle about 3/4 inch thick. Again, use as few strokes as possible.
Step three:
Here's where the magic begins. Fold it into thirds, like a brochure or a letter about to go into an envelope.
Step four:
Roll back into a rectangle, using as few strokes as possible.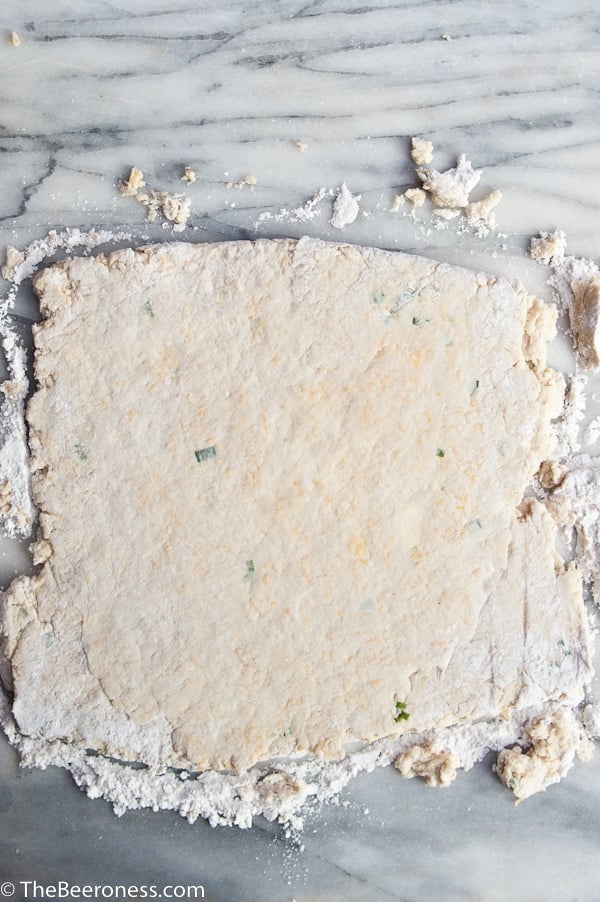 Step five:
Repeat the magic. Fold into thirds again.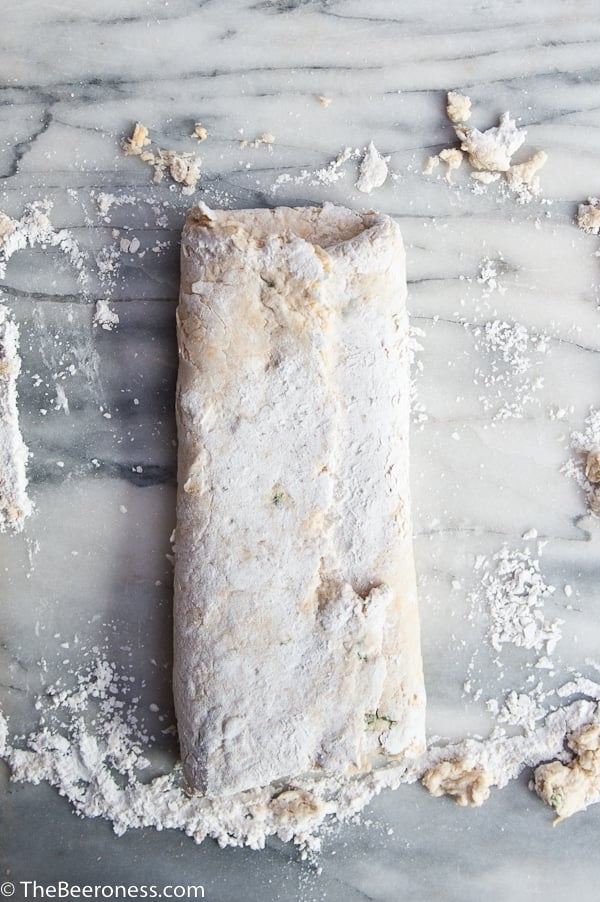 Step six:
Roll it out again, then turn it over so that the "seam" side is down. You can also turn it over before rolling it out.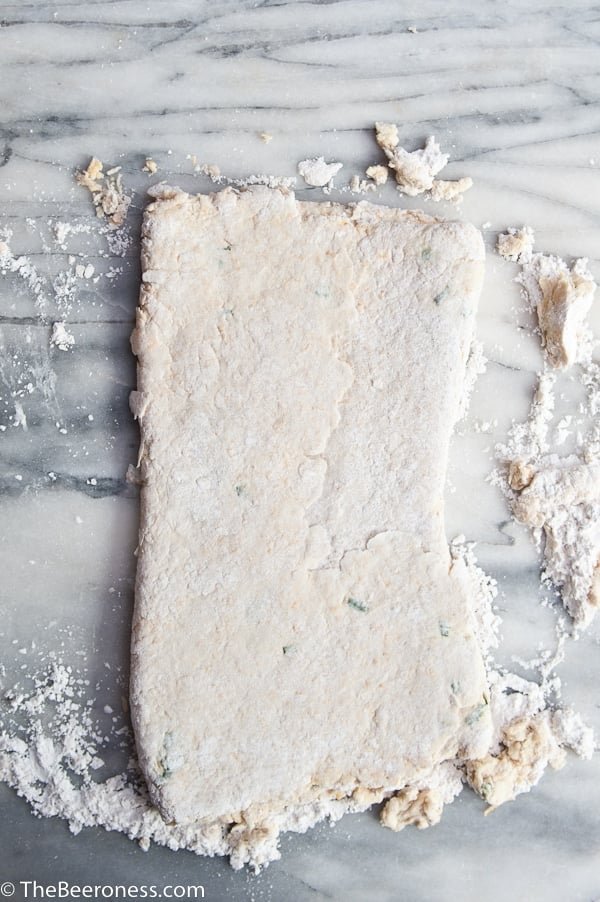 Step seven:
Using a 3 inch biscuit cutter, cut out rounds. DO NOT TWIST. You'll want to,that sucker is begging for a good turn, but resist the urge. Twisting the biscuit cutter will seal the layers and prevent the biscuit from rising as much as it should.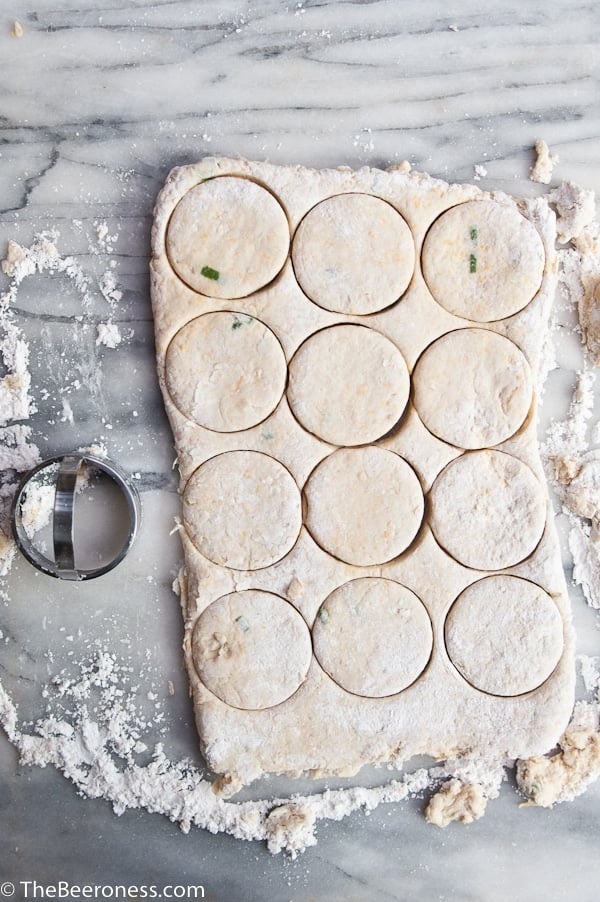 Step eight:
Now you're ready to bake according to recipe directions. If you're following my recipe, that's some melted butter, coarse salt and enjoying the "leftover" beer that didn't make it into the biscuit dough. You poor thing.
Sour Cream Cheddar Beer Biscuits
Ingredients
3 1/2

cup

all-purpose flour

2

tsp

baking powder

1 1/2

tsp

baking soda

1

tsp

salt

1

tsp

sugar

8

tbs

unsalted cold butter

cut into cubes

1/2

cup

sour cream

2/3

cup

pale ale or wheat beer

½

cup

shredded cheddar cheese

3

tbs

chopped green onions

2

tbs

melted butter

¼

tsp

course sea salt
Instructions
Preheat oven to 400.

In a processor add flour, baking powder, baking soda, salt, and sugar.

Pulse to combine. Add the cold butter, process until well combined. Add to a large bowl.

Add the sour cream, cheese, green onions and beer. Mix with a fork until just combined.

Add to a well-floured flat surface, pat into a rectangle. Using a cold rolling pin (preferably marble) gently roll into a large rectangle, about 3/4 inch in thickness, using as few strokes as possible.

Fold the dough into thirds as you would a letter about to go into an envelope. Roll lightly, once in each direction to about 1 inch thickness, fold in thirds again. Gently roll into about 1 1/2 inch thickness (this will give you the flakey layers).

Using a biscuit cutter cut out 12 biscuits. Place in a baking pan that has been sprayed with cooking spray.

Brush biscuits with melted butter, sprinkle salt.

Bake at 400 for 12 to 15 minutes or until the tops are golden brown.