Homemade Beer Hot Dog Buns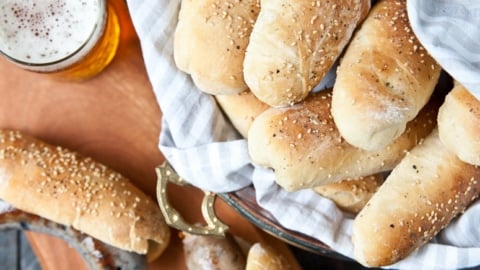 Homemade Beer Hot Dog Buns
Somewhere between the tenth and fifteenth IPA I sampled this weekend, I realized something.
Trying my best to taste the  beer I was in charge of judging through a hop wrecked palate I realized that I love citrus. I love the bright, fresh flavors of citra hops, grapefruit peels, orange zest, and I love how beautifully they play with the flavors of hops.
I'd bravely accepted the challenge of judging a stadium full of IPAs this past weekend at a beer festival, and along with a co-judge, picking one standout winner.  We had different palates, him and I. I fell hard and fast for the citrus spiked beers, he favored the IPA's with a strong malt backbone. It took us a while to come to an agreement on a favorite. Left only in my hands, I'd have given out ten awards, all to grapefruit and orange tainted beers. But I was in no shape for large scale decision making after sampling 31 beers.
If you also like a little bit of a citrus molested beer, here are a few to seek out:
Hop Valley // Citrus Mistress
Balast Point // Grapefruit Sculpin
Snoqualime Falls // Sunny Si IPA
Terrapin // Hopzilla
Green Flash // Soul Style IPA 
Homemade Beer Hot Dog Buns
Ingredients
3

cups

all purpose flour

1

tbs

sugar

1

packet RAPID RISE yeast

1

tsp

salt

½

cup

wheat beer

¾

cups

whole milk

1

tbs

olive oil

Egg wash

1 egg, 1 tbs water, beaten

1

tsp

coarse salt

1

tsp

black pepper

1

tsp

sesame seeds.
Instructions
Add the flour, sugar, yeast and salt to a stand mixer fitted with a dough hook, mix to combine.

In a microwave safe bowl add the beer and milk. Microwave on high until the liquid reaches 125 degrees, about 60 seconds.

Add the liquid and the oil to the stand mixer, mix on high until dough gathers around the hook and is no longer sticky, about 8 minutes.

Transfer to a lightly oiled bowl, cover and allow to sit in a warm room until doubled in size, about 1 hour.

Preheat oven to 350.

Knead on a lightly floured surface for about a minute. Divide into 8 equal sized pieces. Roll each piece into a log about 5 inches long. Place buns on a baking sheet. Cover and allow to rise until doubled in size, about 30 minutes.

Brush with egg wash, sprinkle with salt, pepper and sesame seeds.

Bake until golden brown, about 18 minutes.