Homemade Beer Burger Buns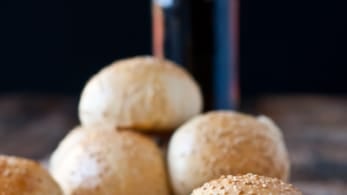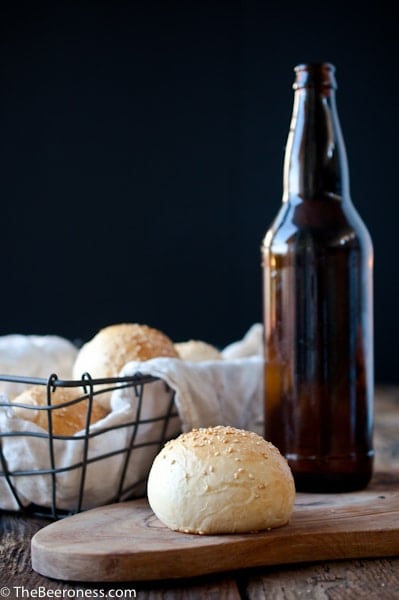 The Beast of Yeast
If you are among the yeast-averse, those who are convinced that bread making isn't in your skill set, you probably haven't even read far enough to see that I have faith in your yeast taming abilities. Not only is it easier than you think, it's so completely satisfying to watch that bread rise, yielding perfectly delicious results, and it's also much cheaper than buying sub par alternatives at the market.
Over the past few years I've falling in love with the process of bread making, figuring out not just how to make dough rise, but why it fails. Here are my tips to making sure you have fresh baked success every time you tear open a packet of yeast:
1. Rapid rise yeast and regular dry active yeast are not the same. Rapid rise yeast needs more heat to activate, a heat level that will kill regular yeast. Use the type of yeast that the recipe calls for or the dough won't rise (or won't rise properly).
2. Buy a kitchen thermometer. Yeast is very picky when it comes to heat. Make sure the liquid you use is in the right temperature range. If the liquid is too hot, the yeast will be killed. If the liquid is too cold, the yeast won't be activated. A thermometer will take any guess work out of it.
3. Yeast dies. Check the expiration date, if yeast is past that, it doesn't have the living organism necessary to make dough rise.
4. Salt kills yeast. Don't let yeast come in direct contact with salt or it will die. I'm over cautious with this, adding salt towards the end, after the yeast has been activated by the liquid. Salt is important in giving bread a bright flavor and helping you to avoid bland baked goods. Don't skip salt, just add it last.
5. Dough rise times will depend on the temperature of your room. Dough rises faster in a warm room, and really slowly in a cold room. Although dough will still rise in a room as cold as 40F, it will take days to double in size. If the recipes says, "Allow to rise until doubled in size, about 1 hour," pay more attention to "doubled in size" rather than the "1 hour." Especially in winter, if your house is cold. It could take several hours if your house is colder than 70F.
6. Yeast feeds on sugars. You'll have much higher levels of yeast rising success if you let your yeast feed off a little sugar (granulated sugar, honey or anything else with high sugar content). Add some to any bread recipe you make for greater levels of dough rising success.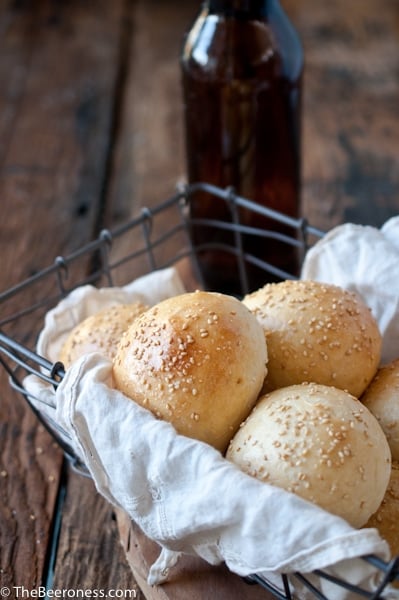 Now that you've had your crash course in yeast baking you are all set to tackle that culinary bucket list and impress your friends.
You can totally do this.
Homemade Beer Burger Buns
Ingredients
2 ½

cups

All purpose flour

1

envelope rapid rise yeast

2 ½ tsp

½

tsp

onion powder

¾

cup

wheat beer

¼

cup

butter

softened

1

tbs

raw honey

½

tsp

salt plus additional for topping

egg wash

1 egg plus 1 tbs water, beaten

2

tbs

sesame seeds
Instructions
In the bowl of a stand mixer fitted with a dough hook attachment, add the flour, yeast, and onion powder. Mix until combined.

In a microwave safe bowl add the beer. Microwave on high for 20 seconds, test temperature with a cooking thermometer and repeat until temperature reaches between 120 and 125 degrees Fahrenheit.

Add the beer to the stand mixer and mix on medium speed. Once most of the dough has been moistened, sprinkle with the salt, honey and add softened butter.

Turn speed to medium-high and beat until dough is smooth and elastic, about 8 minutes.

Transfer dough to a lightly oiled bowl, tightly wrap with plastic wrap. Allow to sit in a warm room until doubled in size, about 45 to 60 minutes.

Preheat oven to 400.

Remove from bowl and add to a lightly floured surface, knead a few times. Cut into 8 equal sized pieces.

Form each piece into a tight ball. Add evenly spaced over a baking sheet that has been covered with parchment paper.

Cover loosely and allow to rise until almost doubled in size, about 20-30 minutes.

Brush with egg wash, sprinkle with sesame seeds and salt.

Bake at 400 for 12-15 minutes or until light golden brown.