Beer Dutch Babies Oven Pancakes with Peaches and Cream
Beer Dutch Babies Oven Pancakes with Peaches and Cream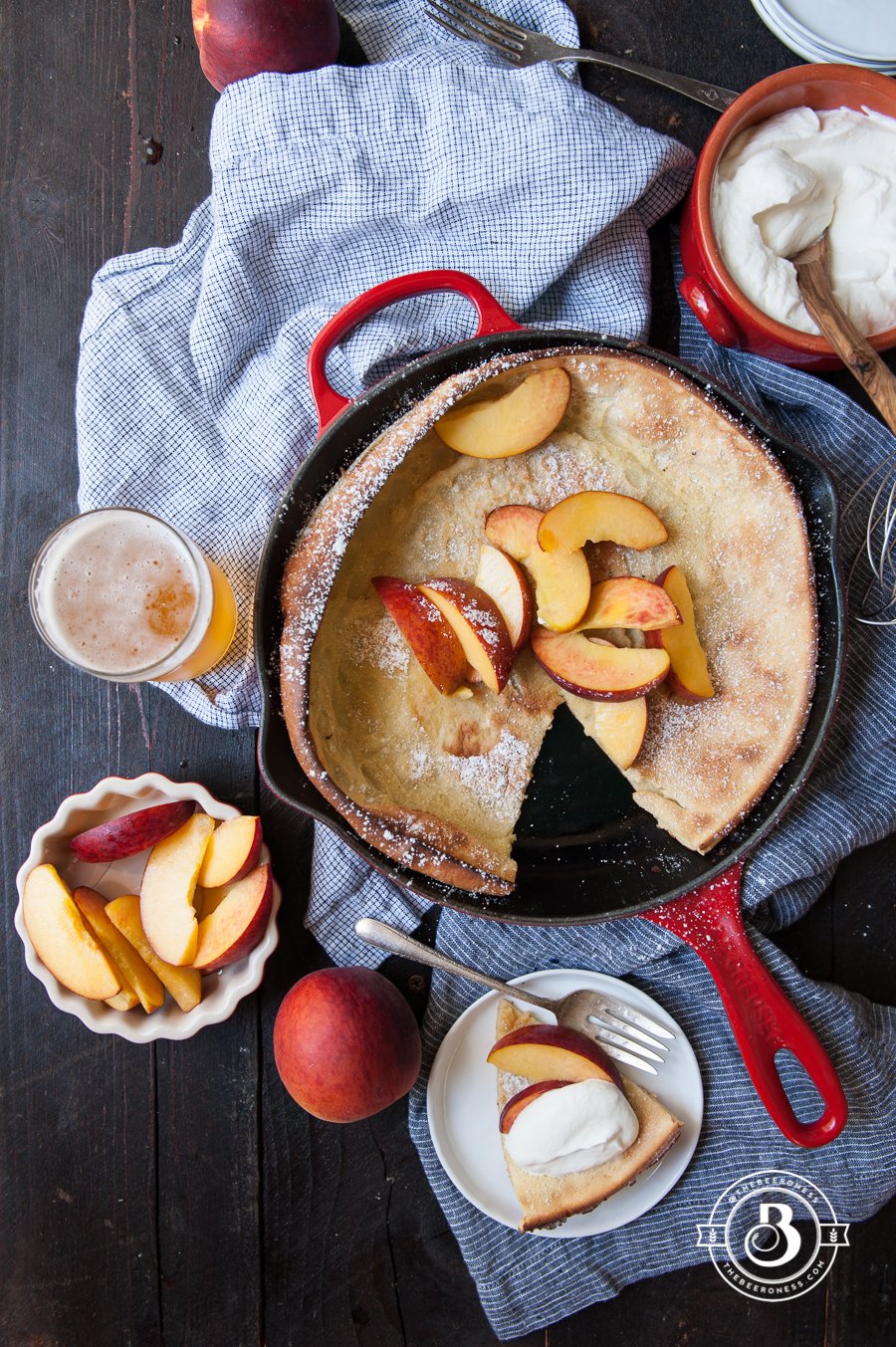 This was the first recipe I ever memorized.
I was 16 and I'd driven 3 hours to stay at a house on the lake with a few friends. Five guys shared a dirty, old, charming, huge, lakeside craftsman house and were very clearly expecting me to cook breakfast.
The weekend prior I'd spent the early morning hours making Dutch Babies with my friend, pretending we'd just woken up rather than just snuck back into her house. I remembered the recipe. I remembered that it was simple, easy, and really, really good. I made a double batch for the guys, poured it into two very hot glass baking dishes, and baked until they puffed in a way that made me look like a breakfast genius. Other than scrambled eggs, it was the only breakfast recipe I knew.
I served it with powdered sugar and some blackberries that grew wild in the backyard. I pretended like this was just another dish, I hid the oh-my-god-I-can't-believe-that-worked expression that was begging to get out.
I still love it. It's simple, quick, beautiful and makes you look like a breakfast genius. Even if you are serving people who are not hungry frat boys who are probably hungover.
Beer Dutch Babies Oven Pancakes with Peaches and Cream
Ingredients
Dutch Babies

¼ cup wheat beer
¼ cup milk
½ cup flour
2 eggs
2 tablespoons sugar
1 teaspoon vanilla extract
2 tablespoons unsalted butter

Topping:

1 cup heavy cream
¼ cup powdered sugar
1 teaspoon vanilla extract*
2 large peaches, sliced (or diced)
2 tablespoons granulated sugar
Instructions
Heat the oven to 450.
Add the beer, milk, flour, eggs, sugar, vanilla and butter to a blender. Blend until smooth.
Add the butter to a 9-inch cast iron skillet. Place in the oven until the skillet is very hot and the butter is melted. Swirl the pan to distribute the butter evenly.
Pour the batter in and place in the oven.
Bake for 15-18 minutes or until the center has puffed and the sides curl inward.
Add the heavy cream, powdered sugar, and vanilla in a bowl, beat with a hand mixer until soft peaks form, about 3 minutes.
Add the peaches to a bowl, sprinkle with sugar, toss to coat.
Slice the Dutch Baby into 4 equal pieces, top with peaches and whipped cream.
Notes
*for a stronger beer flavor replace the 1 teaspoon of vanilla with 1 to 2 tablespoons of beer.
https://domesticfits.com/beer-dutch-babies-oven-pancakes-with-peaches-and-cream/