Golden Ale Beer Cocktail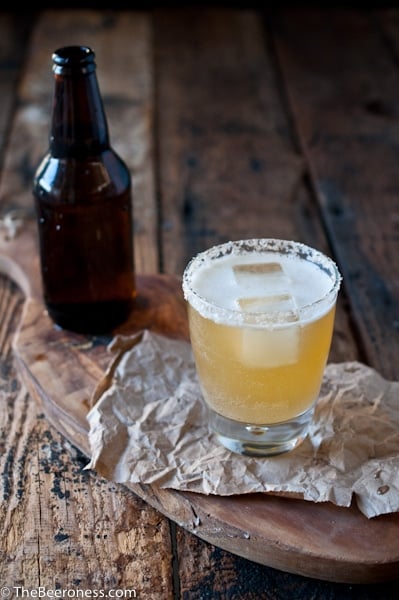 Of all of the ways I've abused and manipulated a pint of beer on this blog, the only  means that have proved controversial have been those that involve mixing beer with other alochol. Like it or not, beer mixology is a growing trend. While purist maintain that the only appropriate thing to mix beer with is a cold glass, the phenomenon is catching on.  More often than not, trendy, hip, well groomed drinking establishments are adding craft beer to their cocktail shakers.
It's not about manipulating the beer, it's about improving the cocktial. Because even when I feel the urge for a highball full of ice, rimmed with salt, I may still be craving those flavors of craft beer. I may not want to choose, I might just want both. And you can't stop me.
I don't often stray from my love of good beer, but when I do you better not hand me something fruity with an umbrella straw. I want something smokey, or sour, or spicy. I want something savory, you can hand those sugary drinks to the frat boys at the end of the bar. When I got my hands on a copy of Savory Cocktails, I was instantly hook. This isn't just a book about booze, it's a love letter to the cocktail. It's full of thoughtful, imaginative, innovative recipes that are made for those who love the art of a well crafted cocktail. It even contains a few beer mixology cocktails, like the beautifully well balanced Golden Ale which is by far the best beer cocktail I've ever made.
Even if you can't stomach the idea of mixing your beer with anything but your mouth, I'd venture a guess that you'd enjoy this cocktail more than is comfortable for your beer purist ways.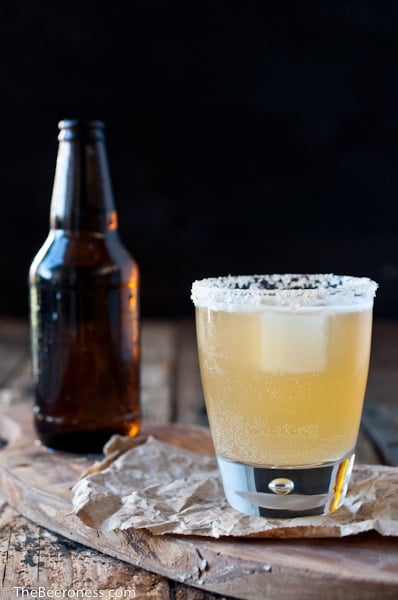 Golden Ale Beer Cocktail
Recipe from Savory Cocktails by Greg Henry
Ingredients
1

lemon wedge

smoked sea salt

1

scant barspoon hot sauce

2

pony shots

2 fl oz vodka

1/2

pony shot

1/2 fl oz Elderflour liqueur (such as St. Germain)

1/2

fl oz lime juice

or yuzu

1/2

fl oz lemon juice

1

tbs

honey simple syrup

honey and very warm water, 1:1 ratio, stir

4-6

tbs

2-3 fl oz Belgian style golden ale beer
Instructions
Use the lemon wedge to lightly moisten the rim of a highball glass.

Pour the salt onto a small saucer, spreading in a thin layer.

Press the rim into the salt, cookie cutter style, twisting back and fourth to coat the rim with salt.

Fill glass with ice cubes.

Into a cocktail shaker filled 2/3 full with ice, add hot sauce, vodka, elderflour liqueur, lime juice (or yuzu), lemon juice, and honey syrup

Cover and shake.

Strain into prepared glass, stir in the Belgian Ale.
Recipe from Savory Cocktails by Greg Henry, which makes the perfect Hostess Gift. By the way. Just a thought.
I received a copy of Savory Cocktails from Ulysses Press.
I was not financially compensated in any way.
All thoughts and opinions are my own.