Beer Cheese Burger with Onion Rings and Beer Pickled Jalapenos
Beer Cheese Burger with Onion Rings and Beer Pickled Jalapenos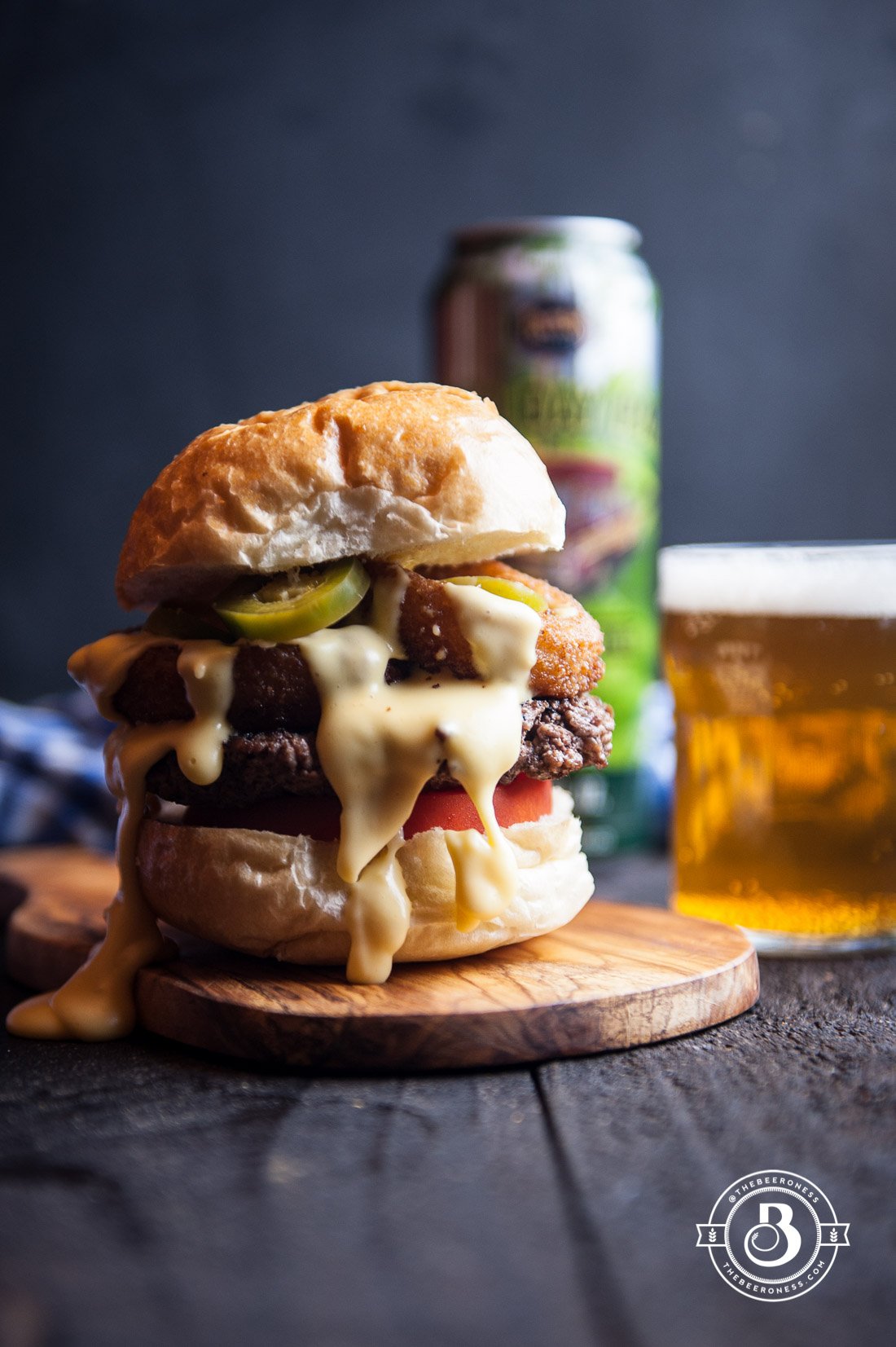 Don't make this. I'm warning you.
But here you are, still reading, contemplating making this. So let me tell you how this will go down. First, it'll seem like a lot of steps, you'll hesitate. Then you'll realize that the jalapeños can be made weeks in advance (and they only take a few minutes to begin with), and the beer cheese sauce is made in ten minutes in the blender and you know that's a pretty simple win for a burger, and you'll decide to proceed.
Then you'll make it, maybe when you have a few friends over. You'll plate it like a boss, drizzling the cheese sauce from theatrical heights, to evoke the "OOOHHHHS!" from your friends-turned-audience-members. You'll serve them all these gloriously, ridiculously drool-worthy burgers, and then the problems will start. You'll ALWAYS be asked to make THAT burger. Your friends will give it a nickname, and you will never be able to go to another backyard cookout without the pleading eyes of your friends who want the cute-nicknamed-burger.
So, you've been warned. But if I know you, you'll just do it anyway, consequences be damned.
I like your style.
For this recipe, you'll need: Foolproof Beer Cheese Sauce  and IPA Pickled Jalapeños. 
Beer Cheese Burger with Onion Rings and Beer Pickled Jalapenos
Ingredients
Beer cheese sauce (link above)
Beer Pickled Jalapenos (link above)

For the onion rings:

2 large yellow sweet onions (Maui, Walla Walla, Vidalia) sliced ½ inch thick
canola oil for baking
2 cups flour divided in half
½ tsp chili powder
2 tsp brown sugar
½ tsp smoked paprika
2 tsp salt, divided
1 cup IPA or pale ale beer
2 cups panko bread crumbs
3 tbs melted butter

For the burger:

1 lbs 80/20 ground chuck beef
2 teaspoons salt
2 teaspoons pepper
3 tablespoons butter
1 large tomato, sliced
4 kaiser rolls, sliced
Instructions
Make the onion rings:

Preheat oven to 450F.
Slice the onion into ½ inch slices, separate the rings. Place in a large bowl of ice water. Allow to sit for at least 20 minutes (this will take the harsh "bite" out of the raw onion and help them cook better).
On two large baking sheets drizzle with about 1 tablespoon canola oil, set aside.
In a large bowl add 1 cup flour (reserve the other cup), chili powder, brown sugar, smoked paprika, and 1 teaspoon salt, stir to combine. Stir in the beer to make a smooth batter.
Add the remaining flour to a small bowl. Stir together the panko, remaining 1 teaspoon salt and melted butter in a separate bowl.
One at a time remove the onion slices from the water, dredge in flour until well coated, dip in the batter allowing excess batter to drip back into the bowl, then add to the panko to gently coat (if panko bowl becomes too saturated with the dip, toss it and fill the bowl with fresh panko).
Add to prepared sheets in an even layer, making sure the onion rings aren't touching (smaller rings can be place inside large ones as long as they don't touch).
Bake at 450F for 8 minutes flip, bake until golden brown on all sides, about 10 additional minutes.

Make the burgers:

Form the beef into 4 equal sized patties, wider than the bun (it will shrink as it cooks) and fairly thin. Add to a plate, refrigerate until very cold, about 1 hour (can be done up to 24 hours in advance).
Melt the butter in a large skillet over medium high heat. Salt and pepper the patties liberally on all sides. Add to the skillet, cook on both sides until the meat is medium rare, about 3 minutes on each side.
Plate the burger with tomatoes, onion rings, jalapenos, and drizzle with beer cheese. Serve immediately.
Notes
There is more than 4 servings worth of jalapeños and cheese sauce, if you double the recipe, don't double those ingredients.
https://domesticfits.com/beer-cheese-burger-onion-rings-beer-pickled-jalapenos/