Beer Chicken Shawarma with Sweet Potato cakes and Tahini Aoili
Beer Chicken Shawarma with Sweet Potato cakes and Tahini Aoili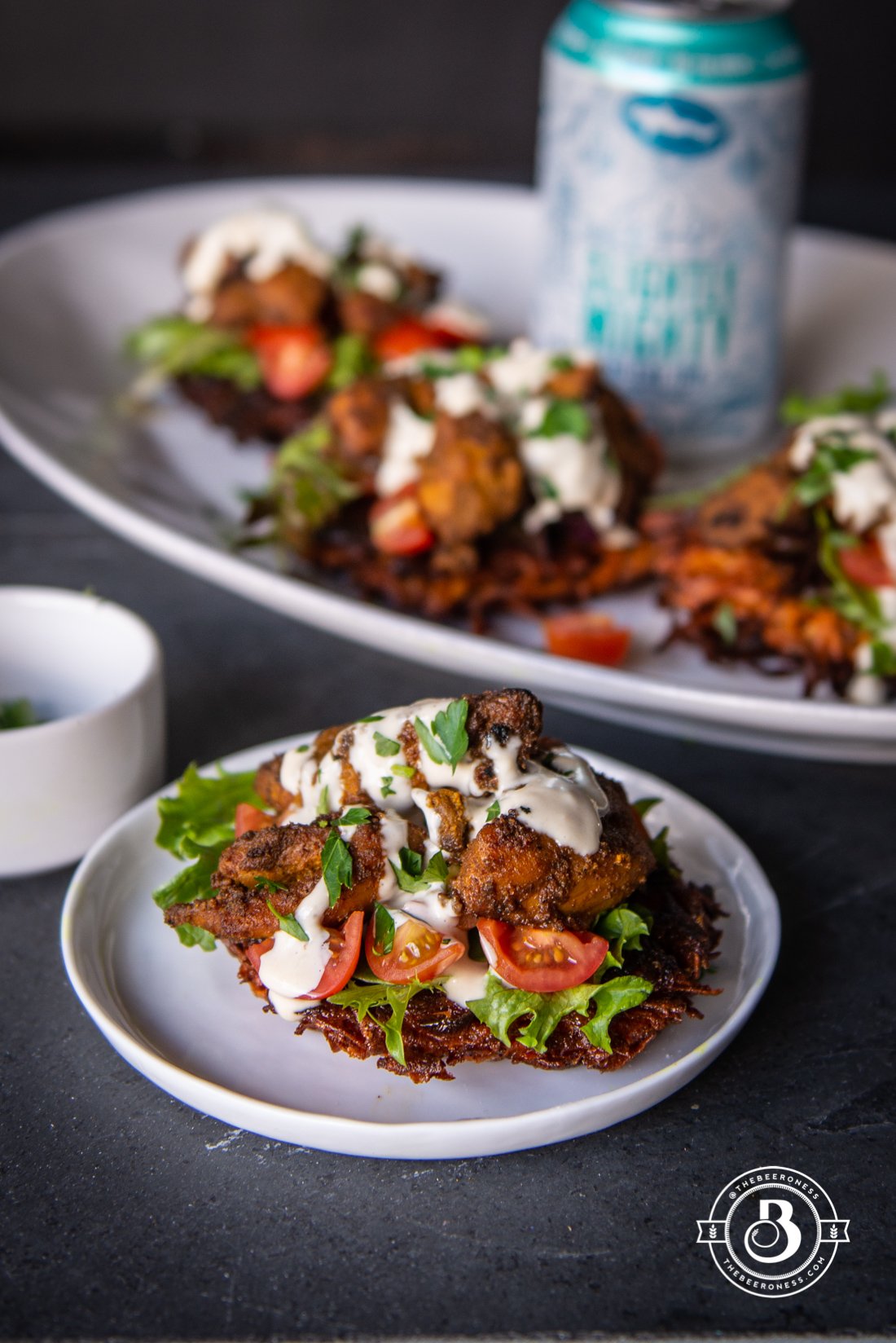 This has been a hard month, for all of us. We aren't even two weeks in and this month has already had an impact on the world in profound ways. It leaves us all feeling helpless and scared, worried and frightened. I wish I had something to offer you other than a recipe that might help your self-quarantine time seem a little less terrible, but I don't.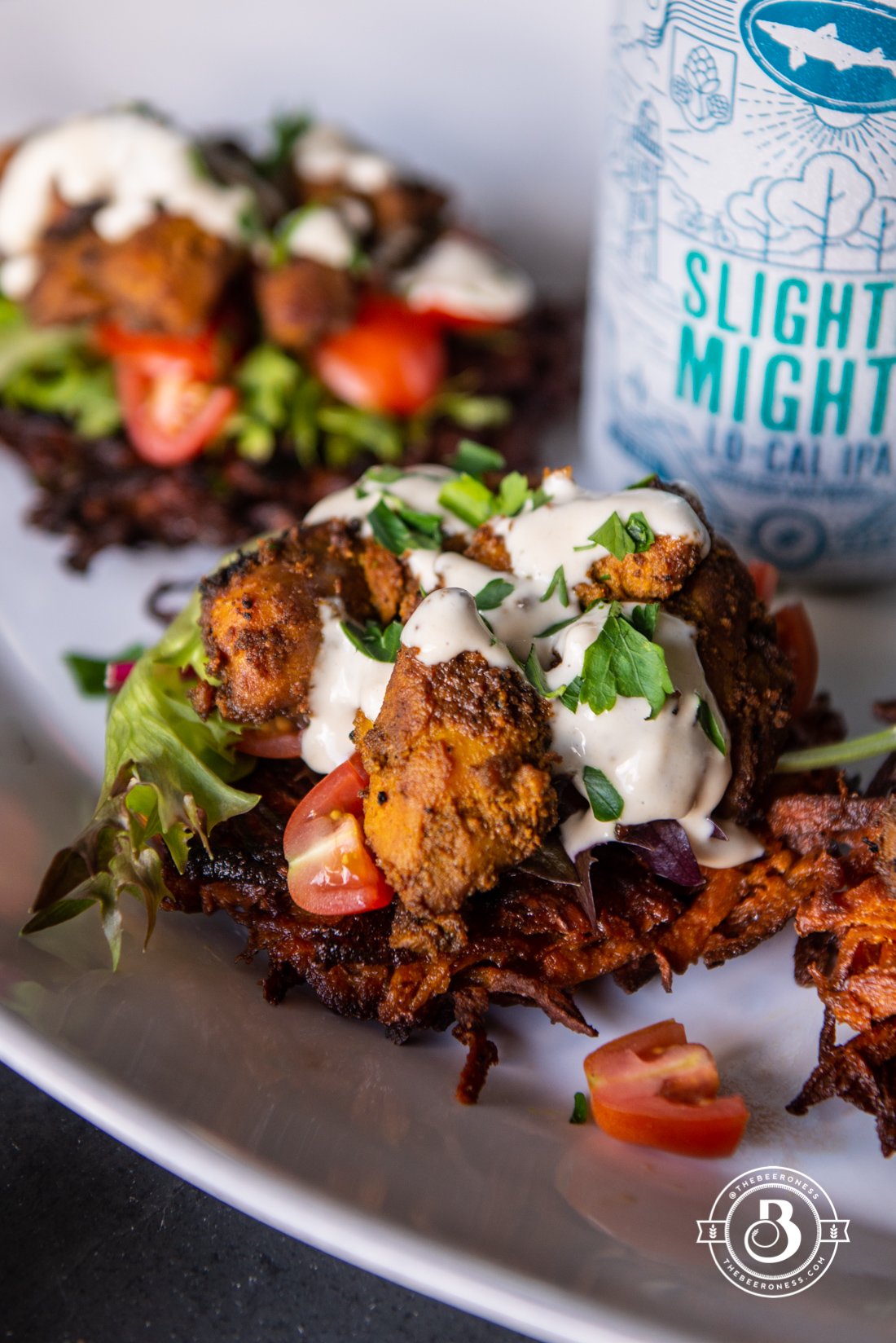 But I can give you this: don't forget to focus on what you're grateful for, a little each day. It sounds trite and quaint, but it really does help. I'm ok because: I'm not sick, I can work from home, I have people who love me who will help me if I need it.
Whatever it is, just make sure you take stock of it.
And don't forget that we are all in this together, and there are people who don't have those things you just listed. Stop panicking and start helping. Maybe it's just to offer some help to a stranger, some assistance to someone who needs it. We do have enough, we just need to remember that we are all in it together. We will be ok, we will get through this, and we will do it together. And I'm fairly certain a few beers will only help the situation.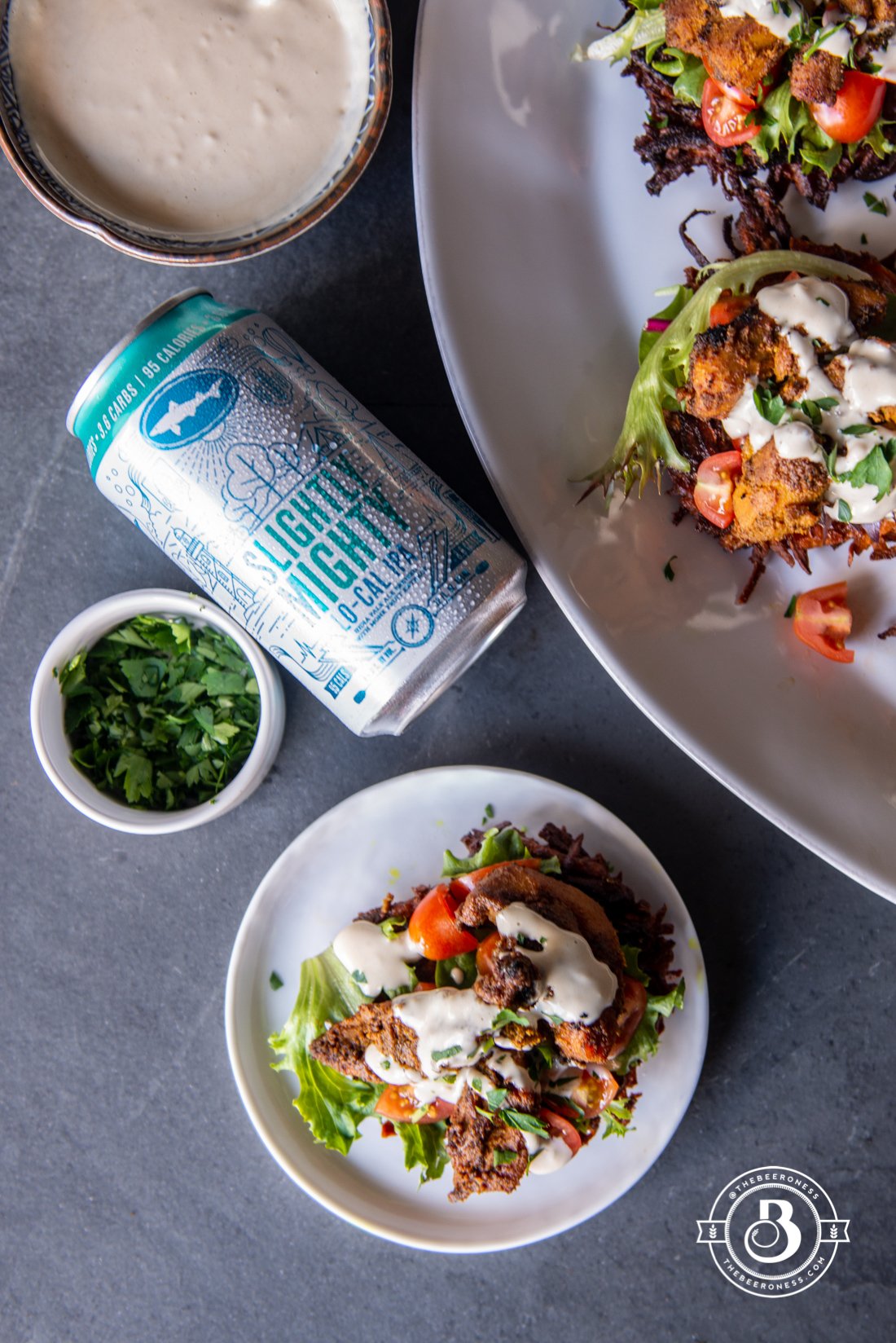 Beer Chicken Shawarma with Sweet Potato cakes and Tahini Aoili
Ingredients
For the Chicken:
1

tablespoon

ground cumin

1

tablespoon

turmeric powder

1

tablespoon

garlic powder

1

teaspoon

ground allspice

2

teaspoons

sweet smoked paprika

or a teaspoon of each

½

teaspoon

ground cloves

¼

teaspoon

cayenne pepper

¼

teaspoon

ground cinnamon

2

teaspoons

salt

1/3

cup

(78g) beer

pale ale, IPA, pilsner, wheat beer

1.5

lbs

chicken thighs

boneless, skinless, cut into strips

2

tablespoons

olive oil
For the Sweet Potatoes:
1.5

lbs

1 large or 2 medium-sized sweet potatoes,

grated with a box grater

1

large egg

2

tablespoons

cornstarch

½

teaspoon

salt

½

teaspoon

pepper

½

teaspoon

garlic powder

Oil for frying
For the Aioli:
½

cup

(112g) real mayonnaise (homemade or store-bought)

½

cup

(56g) tahini

2

tablespoons

(28g) lemon juice

1

clove

garlic

grated with a Microplane

½

teaspoon

salt

2-3

tablespoons

beer

pale ale, IPA, pilsner, wheat beer
Topping:
Chopped parsley

Grape tomatoes

quartered

Mixed greens
Instructions
Stir together all the Shawarma ingredients (except the chicken and olive oil) in a large bowl. Add the chicken, toss to coat. Cover and refrigerate for 1 hour and up to 1 day.

Heat the oven to 200°F, place a baking sheet in the oven.

Stir together the sweet potato ingredients (other than the oil).

Heat about ½ inch of oil in a skillet.

Grab a handful of the sweet potatoes, form into a patty, making sure to press it together well. Place in the pan (two or three patties may be able to fit into the pan at a time).

Cook unit the underside is browned (flipping too soon will result in the patties falling apart) then carefully flip the patties, press the top with the flat side of the spatula. Cook until browned on the other side.

Remove the cooked patties and place them on the baking sheet in the oven until all the patties are done.

Heat the remaining olive oil in a large cast-iron skillet. Add the chicken, cooking on all sides until browned and cooked through.

Plate the patties, top tomatoes, greens and then with chicken.

Stir together all the aioli ingredients.

Drizzle the chicken with desired amount of aioli, sprinkle with parsley.