Beer Brat Dogs with Grilled Peach Salsa and Fried Onions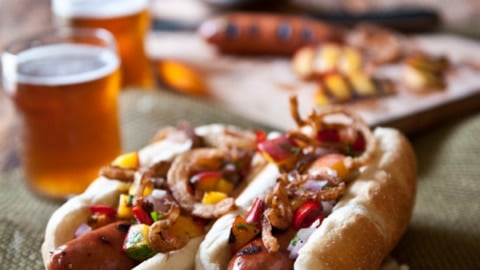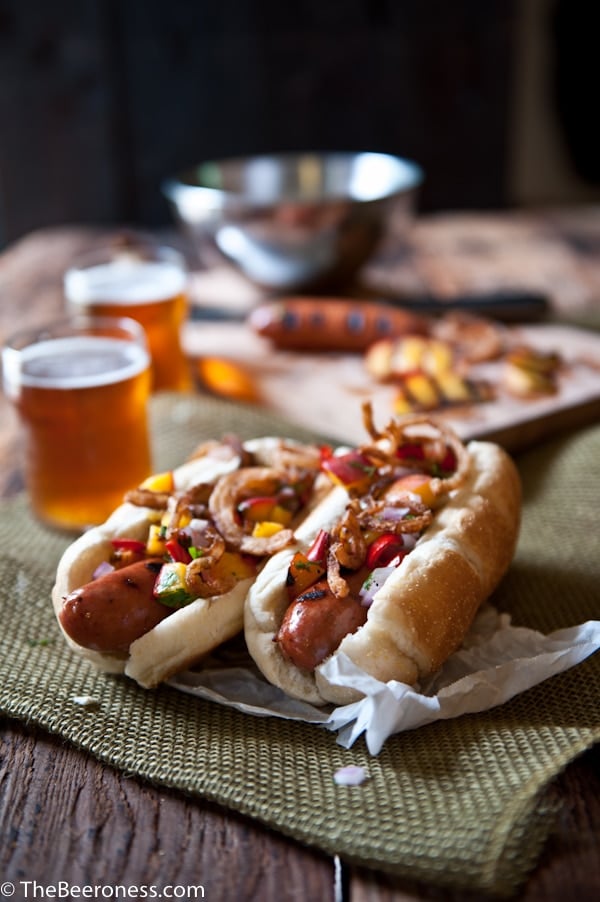 I tried to make sausage from scratch once.
I went to Lindy & Grundy and had along talk with the gorgeous Sausage Making Queen of Los Angeles, Amelia. Armed with sausage casings,  several different types of pork and pork fat to be ground, and tips for success from the pros who instruct the pros, I was confident. I spent hours grinding meat, adding spices, filling casings and turning my dining room light fixture into a drying rack.
Then, it was time to fry up the profits of my labor.
It didn't go well. The casings split, the filling was mealy and dry. Turns out, unless you make sausages in a meat locker you're not headed for success, sausages need frigid temperatures to turn out perfectly. Which explains why the best sausages come from cold climates as opposed to tropical locations.
I'll always make as much as I can from scratch, but some things just need to be left to the pros. I'll never buy pre-made tortillas, I'll always make my own whipped cream and canned frosting makes baby Jesus cry. But sausage making needs to be left to the pros, it's an art. It takes years to get right, and talent to make perfect. I'll make the buns from scratch, and the toppings, but I'll always be on the look out for a butcher shop that makes the best sausages, and when I find it I'll trade beer for sausages. I know my place.
Beer Brat Dogs with Grilled Peach Salsa and Fried Onions
Ingredients
1/3

cup

flour

1

tsp

salt

1

tsp

black pepper

½

white onions

sliced

canola oil for frying

6

raw bratwursts

24

ounces

pale ale

2

ripe but firm peaches

sliced

¼

red onion

cut in half

2

red jalapenos

sliced in half lengthwise

¼

cup

chopped cilantro

6

hot dog buns
Instructions
Combine the flour, salt and pepper in a small bowl, add the onion, toss until well coated.

Add 3 to 4 inches of oil to a saucepan, use a deep fry thermometer to bring the oil to 375, adjusting heat to maintain that temperature.

Drop the onions in the oil, fry until golden brown, about 4 minutes.

Remove from oil, drain on a wire rack or paper towels.

In a pan with a lid add the brats and the beer, cover and simmer until the brats are cooked through, remove from pan.

Preheat the grill to medium high.

Add the brats, peaches, red onion and jalapenos, grilling all until grill marks appear on all sides.

Chop the peaches, onion and cilantro, add to a bowl along with the cilantro, toss to combine.

Add the brats to the buns, top with peach salsa and fried onions.