Beer and Peach Potpie
This bowl embodies a bit of culinary contradiction. It's a bit of soup, and it's a bit of a dessert, two genres of  menu items that don't seem to be easily meshed. But I have a love for soupy pies, given to me by a young kid I met in the back of a squad car.
I used to work with propation kids, I've told you that before, all from different parts of Los Angeles, some with gang ties, some without families, all wanting help in one form or another. Peter (*Name changed) was a walking contradiction to what most people assume was inside this big kid with a criminal record.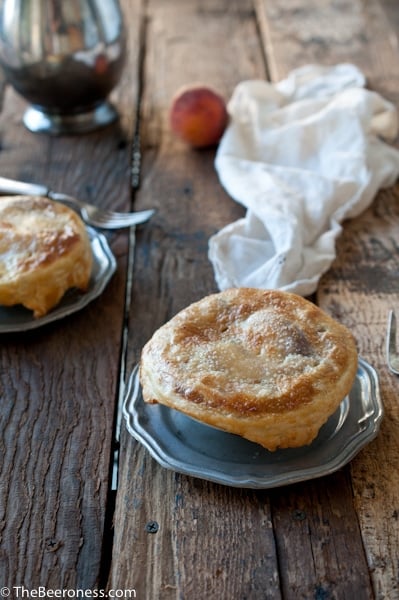 He was a sweet, honest, hard working kid that had never so much as been tardy from any class he'd taken. He had, however, stolen some food when his mom was too drunk to buy groceries and his little sister needed to eat, this earned him a all expense paid trip to Juvenile hall and then a spot in a Group Home. His grades were good enough, he always stayed out of trouble, and I was able to find him part time work at a Jewish deli & bakery in the Valley. When his birthday rolled around I asked what he wanted, the company I worked for had a small budget for special occasions that I was able to access for a present for him. "Pie making…stuff." He'd been working in a kitchen for weeks, fell in love with his ability to produce really great food, but outside work he'd never made food that didn't require a microwave. I bought him a pie pan, a rolling pin, pie weights and pie cookbook. His reaction to the gift was much more shy and reserved that I'd expected. When I asked him why he was quiet, he said, "This is the first birthday present I ever got. Thank you."
I had to immediately whisk him to the kitchen to put said gift to use or I would have cried all over him. Instead we made a pie. The crust was gorgeous, but with limited ingredients in the state funded Group Home, the pie turned out a bit more watery than I had intended. I was deflated. He didn't notice. He took one bite and a huge smile lit up his big face. It tasted great, and he had no preconceived ideas about what homemade pie looked like because he'd never seen one. Now, soupy pie makes me happy.
I found out a few years ago that Peter is doing really well, he'd put himself through culinary school, works as a chef and teaches classes at the community college.
Long live pie.
Beer and Peach Potpie
Ingredients
6

cups

6-8 large peaches yellow peaches, sliced (peeled if desired)

1/2

cup

brown sugar

1/3

cup

white sugar

½

tsp

cinnamon

1/4

cup

flour

3

tbs

cornstarch

pinch

salt

1/3

cup

hoppy wheat beer

1

sheet puff pastry

thawed

Egg wash

1 egg, 1 table spoon water, beaten
Instructions
Preheat oven to 400.

Add the peaches to a large bowl. Sprinkle with brown sugar, white sugar, cinnamon, flour, cornstarch, and salt. Use your hands to stir the peaches until they are fully coated with the dry ingredients and all of the dry ingredients have been moistened.

Pour the beer over the peaches, gently stir to combine.

Place 4 oven safe bowls (1 cup size) on a baking sheet. Divide the filling evenly among the bowls.

Roll the puff pastry out on a lightly floured surface, cut into 4 squares. Cover each bowl with a square of puff pastry. Brush with egg wash.

Bake at 400 for 18-22 minutes or until golden brown.