Bacon Jalapeno Cornbread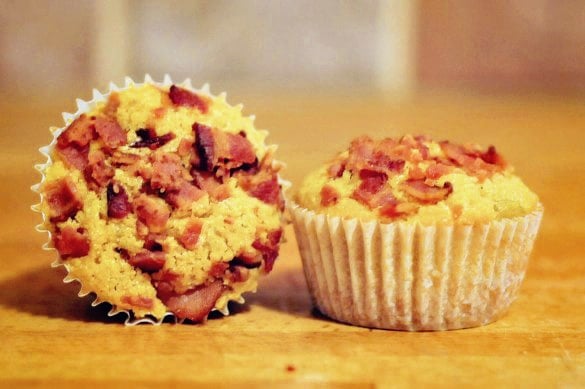 Bacon and Jalapenos are the new peas and carrots, the new beets and goat cheese, tomatoes and basil. The sweet saltiness of the pork and the acidic spice of the jalapenos  make these two a perfect pair. And with a textured backdrop of cornbread to highlight this union's symbiosis, I am also in love. I wish the happy couple a long and prosperous relationship.
Although this past weekend  gave us beautiful weather, this recipe is best eaten on a cool day, along side a steamy bowl of Chili.
1 1/3 cups coarse yellow cornmeal
1 cup buttermilk
6 strips of bacon, (make sure to reserve bacon grease)
1 cup unbleached all purpose flour
½ tsp smoked paprika
2 teaspoons baking powder
1/2 teaspoon coarse kosher salt
1/4 cup sugar
1 stick unsalted butter, melted
2 tbs olive oil
¼ cup picked Jalapenos, diced
1 large egg plus 1 large egg yolk
2 tbs honey
In a bowl, combine the cornmeal and the buttermilk; allow to soak at room temperature for one hour. Preheat oven to 375 degrees. Cook bacon in a skillet over medium heat, turning frequently. Remove from the pan when slightly underdone. Reserve grease. In a bowl, combine flower, paprika, baking powder, salt, and sugar, whisk until well combined. In a separate bowl combine the melted butter, olive oil, jalapenos, eggs, honey and ¼ a cup of the bacon grease.  Staring and ending with the dry ingredients, add both the dry and the wet ingredients to the cornmeal mixture a bit at a time. Stirring after each addition until all three batters are combined. Line muffin tins with muffin papers. Add ¼ a cup of the batter to each muffin paper. Coarsely chop the bacon and evenly sprinkle on top of each muffin. Bake for 18-20 minutes or until toothpick in the center of the muffin come out clean.