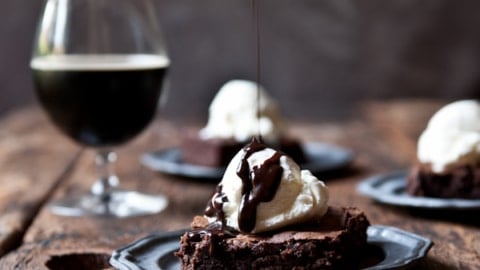 Pumpkin things are upon us.
Of course we have those pumpkin spice lattes that the weather is far too warm to warrant, and the overly orange plastic pumpkins that Target is trying to push on us, but it's the beer that gets me most excited. It can be a triple digit August afternoon when a package of pumpkin porter arrives and I'll still break into it as soon as I can open the box.
As early as July those hotly anticipated squash infused brews start to hit bottle shops and brew pubs across the land. From a pale lager to a deep stout, every style of beer has had a tryst with a pumpkin. Every brewer has a different take. Some like to spice it up, others favor a drinkable pumpkin pie, while some want the flavor to be a subtle background note you should have to work at identifying. Whatever you prefer when it comes to this super special release category, there is a beer that will suit your mood.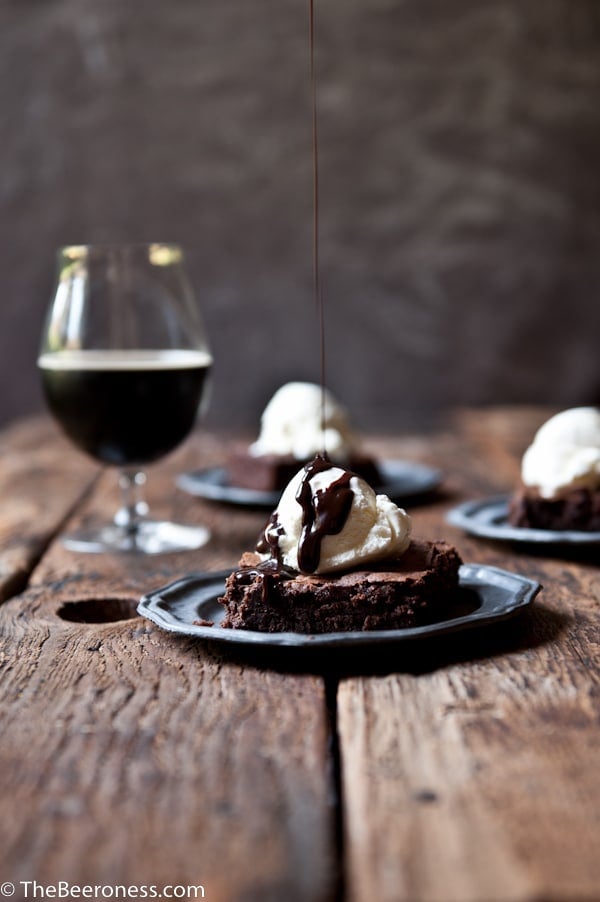 A box of He Said Baltic Porter brewed with pumpkin and spice arrived on my door step last week reminding me that the days of driving with the windows down and eating ice cream outdoors are rapidly coming to a close. So I did what any rational person would do: I made brownies. But, somehow, that didn't seem like enough. So I made a pumpkin porter infused chocolate sauce and added in the more weather appropriate giant scoop of cold ice cream. Which makes this the perfect transitional recipe from the heat wave afternoons to the fireside evenings. It's both pumpkin and ice cream, regardless of the weather in your town, this recipe fits.
Porters are a great vehicle for the flavors of pumpkin. The deep earthiness is delivered well with the roast notes of the darker beers and this beer is no exception. The flavors of pumpkin in He Said are perfectly mild in a way that I prefer, these beers can often be treated heavy handed. This Baltic porter delivers the flavors of pumpkin and spice without molesting you with them, it's more seductive. It's a deep, smooth porter that draws you in. And, apparently, makes you bake things. Or maybe that's just me.
Pumpkin Porter Brownies Sundaes
Ingredients
For the brownies:
1 ½

cups

unsalted butter

cut into cubes

10

wt ounces 60% chocolate

about 2 cups

1

cup

pumpkin porter

1

tsp

vanilla

2

large eggs

1 ½

cups

white sugar

1

cup

brown sugar

1

cup

pumpkin puree

1

cup

bread flour

½

tsp

cinnamon

2

tsp

espresso powder

1

teaspoon

salt

1/3

cup

unsweetened cocoa powder
For the Sundae:
10

wt oz dark chocolate

53% cocoa

2

tbs

light corn syrup

1/3

cup

pumpkin porter

1

quart

vanilla ice cream
Instructions
Preheat the oven to 400. In the top of a double boiler, or metal bowl set over (but not touching) gently simmering water, add the butter and the chocolate. Stir occasionally until just melted. Remove from heat, stir in 1 cup pumpkin porter and vanilla extract.

In the bowl of a stand mixer beat the eggs on high until light and frothy, about 2 minutes. Add both kinds of sugar and beat for 6 full minutes. Add the pumpkin puree, stir until combined.

In a separate bowl add the flour, cinnamon, espresso powder, salt and cocoa powder, whisk until well combined.

While the mixer is on low, add the chocolate mixture to the eggs. Mix until well incorporated, stopping to scrape the bottom of the bowl to insure the batter is fully combined.

Remove the bowl from the stand mixer, sprinkle with dry ingredients. Stir until just combined.

Grease a 9x13 baking dish, or spray with butter flavored cooking spray, pour in batter.

Place in the oven and immediately reduce to 350. Bake at 350 for 35 minutes. The top should look completely dry but the center should still be fudgy. Don't over bake. Remove from oven and allow to cool until set and come to room temperature before attempting to cut, about 1 hour.

Add the dark chocolate, corn syrup, and 1/3 cup pumpkin porter to the top of a double boiler over medium heat.

Stir until melted and well combined, remove from heat, pour over ice cream.