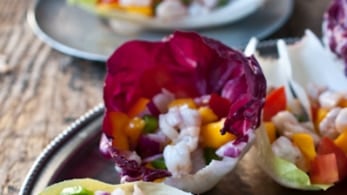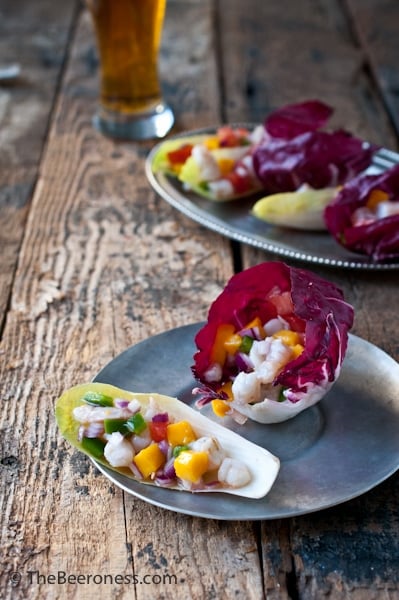 We tend to feminize or masculinize food. Beer is man food, as is bacon, grilled red meat and bourbon. While tea, lavender, scones and blueberries tend to been feminine. Chocolate seems to be neutral go-between, grabbing it's gender label once the final product is presented. Chocolate Stout Cake with Maple Bacon Frosting: Man Cake. Chocolate Strawberry Mousse: Girly.
Although I don't ascribe gender to my food, I can clearly see the lines drawn in the sanding sugar. These daintly looking no-cook treats will fool you like the little vixens they are. One look at these mango and shellfish filled lettuce cups and you firmly place these in the Chick Food category. But with a sharp bite of beer and a punch of spicy heat, they would beg to differ.
Along the lines of my  I think now is a really good time to tell everyone minor motorcycle crash story, It's past time to tell you that alcohol intensifies heat. While there is no way to tell the precise Scoville Units in any given jalapeno pepper, I can tell you that number will be dramatically increase after those suckers have spent an hour soaking in a high ABV IPA. So if you don't want to turn on the oven, and don't mind a little capsasin abuse to the mouth, this is a great meal.
If you're man enough.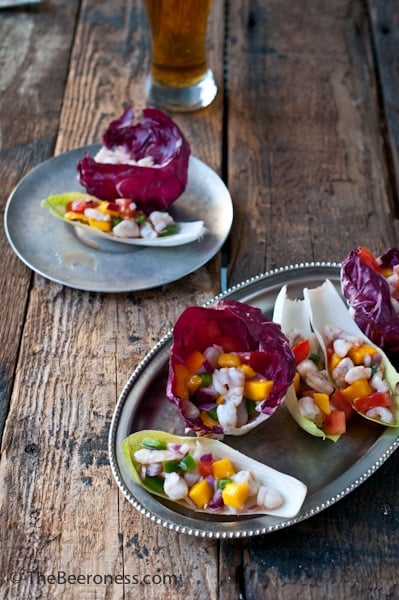 IPA Ceviche Lettuce Wraps
Ingredients
1

lb

raw shrimp

diced

½

cup

lemon juice

½

cup

lime juice

1

manila mango

peeled and diced

1

tomato

diced

½

red onion

diced

1

jalapeno

diced, seeds removed

¼

cup

lime juice

¼

cup

lemon juice

1

tsp

sriracha

2/3

cup

IPA beer

4

heads endive

1

head radicchio
Instructions
Place the shrimp in a small bowl. Cover with ½ cup lime juice and ½ cup lemon juice. Cover and refrigerate until the shrimp have turned pink, about 2 hours.

In a separate bowl combine the remaining ingredients (except the radicchio and the endive), allow to marinate for at least one hour.

Just prior to serving, drain the shrimp, add to the mango bowl and toss to combine.

Scoop a few tablespoons of the ceviche into the leaves of the endive and the radicchio, serve chilled
Notes
For a lower heat level, reduce Sriracha to 1/4 or 1/2 tsp.