Watermelon Ceviche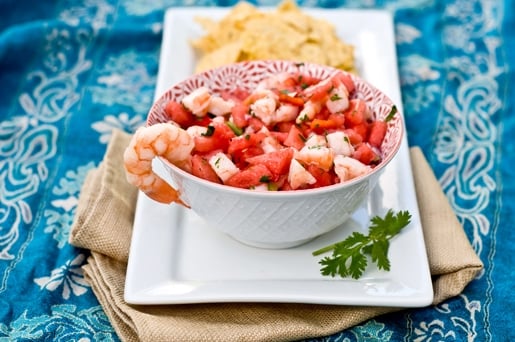 The last time I had ceviche I was one week into my pregnancy with Tater. We were in New York. A trip that had been planned for months, even before all the fertility goalies were removed and we were officially "trying." The first few weeks of pregnancy, when it is all just more of an idea, a theory, than an actual BABY, there is a thick fog of impending miscarriage. As if that is the inevitable outcome. You don't tell anyone outside your very inner circle so that you don't have to UNtell, "in case…well, you know." We had gone to have dinner at the apartment of a newly married couple we know. He's a musician we've known since we were kids and she is a doctor we feel grateful to know as adults. We arrive to a beautiful spread of homemade ceviche. I panic. I haven't been able to do all research. Fish? Some is ok, right? What if this is the horrible, mercury laden trigger that will decimate the theoretical baby growing in my uterus? I gave a frantic look towards Mr. Fits.  Casually, he searched Google on his phone without missing a conversation beat, as if just answering a text rather than shieling his unborn theory from poisonous, metal saturated fish.  "It's fine," he leans over and whispers to me, showing me the phone, "Very low in mercury. They even encourage you to eat this kind because the omega 3's are good for brain development." Brain development? BRAIN? I'm growing a brain. It all hits me. I am growing a human. No one can even tell and my guts are making a brain. That was the moment that this theory, this idea, this pregnancy actually started to become a baby, a human Tater.  Ceviche will always remind me of that night, and the realization that my pregnancy would end with my beautiful baby being born.
Watermelon Ceviche
3 cups of watermelon, chopped
½ cup diced red bell pepper
¼ cup diced red onion
¼ cup chopped cilantro
2 tbs diced fresh jalapenos, seeds removed
1 ½ cup cooked, chopped shrimp, tails removed
½ cup fresh squeezed lemon or lime juice (or a mixture of both)
1 ½ tsp kosher salt
1 tsp black pepper
1 tsp sriracha
Corn chips and Boston lettuce leaves for serving
Put all the ingredients (except the chips and lettuce) in a large bowl and mix until combined. Allow to chill for at least an hour before serving.