Super Simple Batman Cake with Free Printable Templates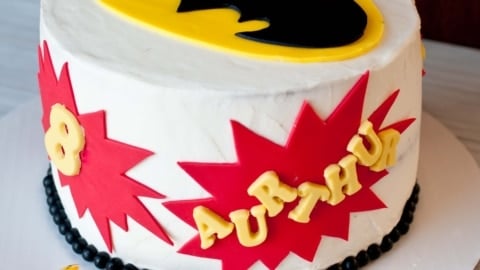 I have this friend named Aurthur, he just turned 8. And because he is so awesome, he deserved a really awesome cake.
But cakes take forever. Hours longer than anyone who hasn't attempted novelty cake making really understands. I don't really have the 18 plus hours that a really awesome cake takes.
But I still wanted to give him a really great cake. So I devised a really easy cake that takes less than 4 hours to make. In the world of cake making, that is practically lightning speed. You can add all of the additional details you want, or just leave it super simple.
Materials:
3 layers of cake (it needs to be a tall cake)
2 layers of filling (I used 2 cups very hot heavy cream, 4 cups chocolate chips, stir until combined. I also added 10 crushed Oreos as requested by the birthday boy)
Lots and lots of buttercream, about 4 to 6 cups (I used 4 sticks soft, room temperature butter, 2 sticks vegetable shortening, 1/2 cup heavy cream, 1 lb powdered sugar, beat on high until well combined)
viva paper towel
Print and cut out these shapes: Batman, Batman Background, Callouts
Red, Yellow, Black fondant (you can also buy white fondant and color it as need, it is not hard to do)
black ball candies (I used sixlets)
First step, bake the cakes. Let cool completely. Make whatever filling you plan to use. I like the fudge, as listed above, or pastry cream. 
You will need to ice it twice. The first ice is called the crumb coat, or the dirty ice because no matter how careful you are, there always seems to be crumbs in the first layer of frosting.
Let that chill in the fridge for about 20 minutes or until the frosting has set.
Add another layer of buttercream and try to smooth out all of the bumps as much as you can doesn't have to be perfect, we will smooth it more later.
 Chill until the icing has completely set, between 20 minutes and 2 hours.
Once that is done, place a viva paper towel, smooth side down, on top of the cake. Use a fondant smoother to smooth out the rough edges.
For the fondant shapes you can either color white fondant, use pre-colored or paint a shape once it's cut out.
Pre-colored is obviously easiest, but it can get pricey to buy several colors. To color it yourself, just add a small amount of gel food coloring (liquid food coloring will make the fondant too sticky) and knead until evenly distributed. I'm not a fan of food coloring, but I am also not a fan of fondant, so it isn't an issue, I just don't eat it either way.
Roll out a golf ball size chunk of fondant. I decided to paint this one black to give it shiny apperance. I used blue fondant that I already had.
Print out this: Batman logo, cut carefully around the symbol. Place fondant on a sheet of parchment paper, place batman symbol on top of the flat fondant.
Use a sharp paring knife to cut around the edges.
Remove excess fondant.
Paint black, if necessary.  Allow to dry and harden a bit, about 15 minutes.
Roll out a golf ball sized piece of yellow fondant.
Cut out Batman Background, cut around the edges and lay background on the yellow fondant. Cut around the edges with a sharp paring knife.
Using your fingers, moisten the top of the yellow fondant slightly with water.
Transfer the black Batman Logo to the yellow background.
Roll out a piece of red fondant.
Cut out the Callouts and place on the fondant. Use a knife to cut out the shapes.
Add about 1/2 a cup of yellow candy melts to a microwave safe bowl. Microwave on high for about 30 seconds, stir and repeat until melted.
Add to the alphabet molds, scrape off the excess with t he back of a knife.
Chill in the fridge until set, about 5 minutes. Remove from mold.
Add the shapes to the cake, pressing into the buttercream.
Brush a bit of melted candy melts (re-melt in the microwave if necessary) onto the back of the letters.
Press them into the callouts.
Use the black ball candies to form a border around the bottom of the cake.
Chill until ready to serve.