Strawberry Jalapeno Beer Popsicles + A Craft Beer Whitewater Adventure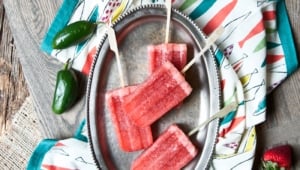 I'm in the middle of class 4 rapids, the yellow raft I'm in is pinned on the right side to a giant boulder, the impossibly fast current is rushing over the left side of the boat and the raft is quickly submerged. Seven of us are waist deep in cold water, trying desperately to free ourselves, knowing if the boat flips, or if any of us are tossed out, it could be fatal.

"LEFT SIDE! BACK! BACK!" Our guide, known only to us as Iowa, is screaming directions at us. As the man in charge of getting us safely down the Tuolumne River, we do everything he says without thinking, hoping it works.
Jake, the firefighter from Ventura, jumps to the back of the boat, at the same time pushing hard against the boulder in an attempt to free the submerged raft. It works. With a sickening scrape, we feel the raft free itself. We slide backward down the rapids, pinging off several boulders before finding calm water and we all start to breathe again.
"Awesome job team, awesome job!" The smile has returned to Iowa's face. "You guys are awesome."
One mile down, seventeen to go. Let's do this.
8 miles and dozens of rapids later we stop to set up camp on a remote river beach tucked away in the woods of Northern California, a short distance from Yosemite. I'm joined on this two day adventure by two guys from Sierra Nevada brewing, a mother and her two children on a memorial trip to honor the Patriarch of the family who passed away exactly one year earlier, a bachelor party of 7 guys up from Ventura California and two chefs from one of Northern California's hidden gems, The Arnold Pantry. In so many ways, the perfect mix of people. Friendly, laid back, and all with their own story to tell. The ice chest with cold beer is opened up and two of the four kegs packed onto the gear boat by the Sierra Nevada crew are tapped and we all start to loosen up. It's beer that has been hard-earned and tastes fantastic.
I jump in the make-shift kitchen, set up with a little more than a camp stove under the trees, to give Chip and Jeff a hand. While I'm immersed in cooking tasks, slicing bacon Chip spent three months making and peeling black garlic, the guides have set up a beautiful dinner scene, complete with candles and tablecloth covered portable camp tables. It's gorgeous. The sunset is throwing silvery shards of light down a calm stretch of river bent around the beach we've claimed as camp for the night.
After the appetizer of house-cured bacon, black garlic and yellow tomato jam on turmeric avocado toast, our dinner is served to us by raft guides turned wait staff. Crispy pork belly over risotto and pickled asparagus, with a side salad of compressed watermelon and cucumber with feta and candied pecans. For dessert, there is a biscuit bread pudding with hand-whipped cream and sweet pickled cherries. Even if you were expecting more than hotdogs and store-bought marshmallows, you'd have been blown away. Even if you hadn't spent an adrenaline packed day dodging boulders and trying to stay afloat, it still would be one of the best meals you've had all year. Add in the events of the day, the keg of beer just a few feet away, the gorgeous moonlight and the sound of the river, and it becomes magical. That's the word for it: magical. We spent the rest of the night by the campfire, trading stories and failing in our attempt to drain the kegs.
By the time daylight rose over the mountains and we were served French toast with orange cream sauce, fresh berries and hot coffee, we felt like a small gang. Ready to tackle what the river had to serve us. Ready for another day of thrills, rapids, and laughing. And when that day finally came to an end, it felt too soon. It felt like we needed another keg, more spectacular food and more conversation.
I'm ready to go back.
For more information about the craft beer rafting trips, contact OARS. I highly recommend it.
Strawberry Jalapeno Beer Popsicles
Ingredients
1.5

lbs

strawberries

1

large

or two small jalapenos, sliced

¼

cup

sugar

12

ounces

pale

summer ale or Pilsner (I used Sierra Nevada Summerfest)
Instructions
Add all ingredients to a blender, blend until smooth, allow the mixture to settle until the bubbles go down, about 15 minutes.

Pour into popsicle molds. Freeze until set, about 3 hours.
I was not compensated for this post, I was given a free trip without expectation or obligation. All opinions are my own.