Overnight Sourdough Beer Waffles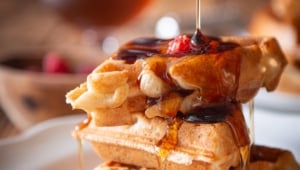 Overnight Sourdough Beer Waffles
Do you remember parties? The kind you went to in-person and didn't involve internet access and a Zoom account? Yeah, me too, just barely. Do you remember being in a group of strangers, standing close, and even letting them taste your beer? Now that idea is slightly horrifying but also rebelliously exciting.
The last time someone made waffles for me was the morning after one of these…what did we call them again?….parties? Yes, one of those.
Even before I left my place to join a party at my friend Linda's house, I planned not to return until the next morning. Late that night, before we all went to bed, we drunk-mathed her sourdough starter into a bowl with a handful of other ingredients, pretty unsure how it was going to work out the next morning.
A handful of hours later a scraggly, slightly hungover group of morning after party-goers sat at her kitchen island as she made us all sourdough waffles. They were amazing, and I suspect at least half the reason most of the people there had stayed the night in the first place.
I texted her a few days ago, I needed to make the waffles again. She sent me her recipe, which I obviously updated with beer because I do that sort of thing. It's one of the best things I've made in a while, but I'm certain it will taste even better the next time I am actually allowed to have humans over to help me partake, hungover or not.
Want to make your own sourdough starter? Try my sour ale sourdough starter
Overnight Sourdough Beer Waffles
Ingredients
Overnight sponge:
½

cup

(114g) butter, melted

1

cup

(228g) beer*

(sour ale works best, Lambic, Gose, Kriek)

½

cup

(114g) milk

½

cup

(113g) sourdough starter, (unfed and active)

3

tablespoons

(42g) brown sugar

2 ½

cups

(240g) all-purpose flour
Next morning:
1

teaspoon

salt

1

large

egg

½

teaspoon

baking soda
Instructions
In a large bowl stir together the butter, beer, milk, starter, brown sugar, and flour. Cover tightly and leave at room temperature overnight, at least 14 hours and up to 20 hours.

In the morning, preheat the waffle iron.

Add the salt, egg, and baking soda, whisk to combine.

Cook in your waffle iron according to the manufactures specifications.

Serve warm with syrup, jam, or whipped cream.
Notes
*Sour or wild fermented ales are similar to sourdough starters, they are made using wild yeast and bacteria to get their signature sour flavors. Often (but not always), those yeast and bacteria strains are the same: lactobacillus, Saccharomyces or Brettanomyces. If you find a beer that has those, it will help to make your waffle sponge even more active.