Maple Bacon Doughnut Muffins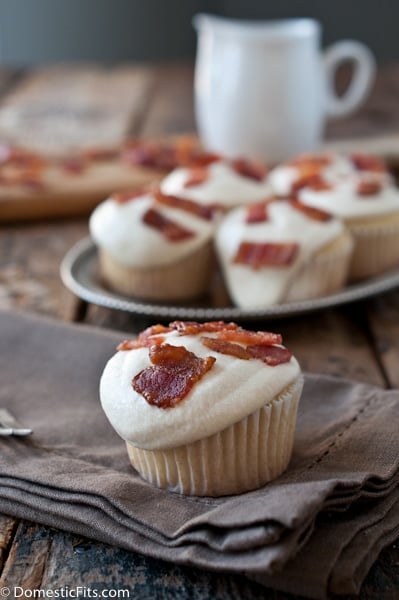 After months of waiting, my book is finally available on Amazon. Which is equal parts thrilling and terrifying. I still have momentary panics that everyone will hate it, more of my previously mentioned Too Hard On Myself situation. In spite of the fleeting dread, I'm so grateful that I had this opportunity to work with a publisher that really believes in me and what I'm doing on The Beeroness.
The book is released on October 18th, just in time to make a fantastic holiday gift for the those hard to buy for beer lovers. Or for guys, they're hard to shop for. But "here's some beer, and a cookbook about beer!" isn't so bad.
So to celebrate what has been firmly designated a "guys" cookbook (although I disagree, I might as well just go with it) I made some delicious cupcakes with "manly" ingredients. Although bacon is gender neutral, if you don't agree just try and take a girls bacon and see how that goes for you.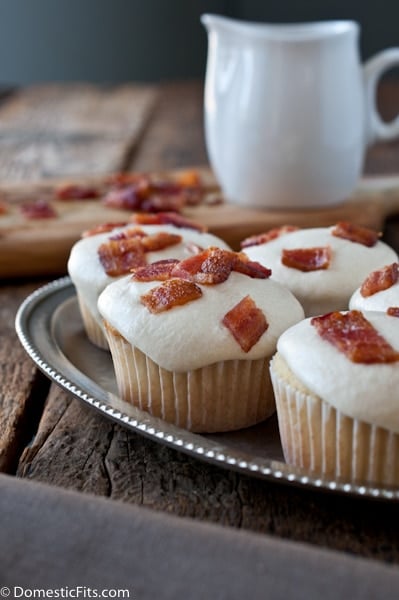 Maple Bacon Doughnut Muffins
Yield: 18 muffins
Ingredients
For the Muffins:
¼ cup unsalted butter
¼ cup vegetable oil
½ cup white sugar
1/3 cup brown sugar
2 large eggs
1 tsp vanilla
1 ½ tsp baking powder
½ tsp baking soda
½ tsp salt
1 cups all pupose flour
2/3 cup cake flour
1 cup buttermilk
For the Bacon:
5 strips bacon
¼ cup real maple syrup
For the Frosting:
¼ cup unsalted butter, softened
2/3 cup real maple syrup
3 cups confectioners sugar
½ tsp salt
Instructions
Preheat oven to 400.
In the bowl of a stand mixer add the butter, oil, and both kinds of sugar, beat on high until well combined,
Add the eggs and vanilla, mix on high until light and fluffy, scraping the bottom of the bowl to insure that it's well combined.
In a separate bowl stir together the baking powder, salt, and both kinds of flour.
Alternating between the dry ingredients and the buttermilk, add a bit at a time to the stand mixer until all is combined.
Line the wells of a muffin tin with muffin papers. Add batter to prepared muffin tins, about 2/3's full (a standard ice cream scoop works to add the right amount to each well).
Bake at 400 for 12-15 minutes or until the tops spring back when gently touched.
Place the bacon a wire rack set over a rimmed backing sheet.
Drizzle each slice with maple syrup, use a pastry brush to evenly coat both sides.
Bake the bacon at 400 for 15 minutes. Using a pair of tongs, flip each piece. Bake until is dark pink, about 15 more minutes (bacon will not crisp until it has cooled). Allow to cool, then chop.
In the bowl of a stand mixer add the maple syrup and softened butter, beat on high until well combined. Add the confectioners sugar and salt, slowly build up speed to high speed, beat until smooth.
Pipe icing onto cooled muffins, top with chopped bacon.