Junior Mint Cupcakes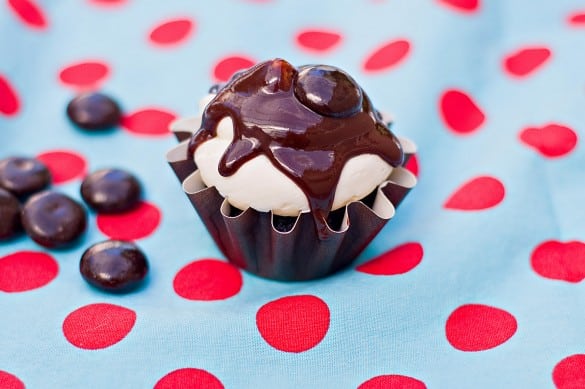 I have a confession to make. I really don't like mint. I respect mint as a flavor and agree with the idea of it…but I don't love it. There was on ordeal a few years ago when I was in Middle Atlas, Morocco that will always be refereed to as the Moroccan Mint Experience. Overall, I would classify this episode in the "good experience" category, but either way, I have a hard time eating mint ever since. Mr. Fits, however, is a huge fan. And although I don't prefer mint, I still really loved these cupcakes.
How cute are those cupcake papers? I got them at Bake it Pretty. I love baking cupcakes in something other than standard cupcake papers, makes them feel special.
Junior Mint Cupcakes
Chocolate cake:
2 2/3 cup flour
1 1/4 cup unsweetened cocoa powder
2 tsp baking powder
1 tsp baking soda
1 tsp salt
1 cup buttermilk
1 1/4 cup of brewed coffee, cooled
1/4 cup vegetable oil
2 sticks of unsalted butter
2 1/2 cups of sugar
1 tsp vanila extract
2 eggs
Mint Buttercream:
2 sticks of unsalted butter, softened
5 cups powdered sugar, sifted
1/3 cup milk
1/4 tsp natural mint extract
Chocolate Sauce:
1 cup dark chocolate chunks
2/3 cup heavy cream
Garnish with Junior Mints if desired.
Preheat the oven to 350. in a large bowl, add the flour, cocoa powder, baking soda, baking powder, and salt. Sift to combined. in another bowl, add the buttermilk, coffee and oil. In a stand mixer, add the butter and cream until light and fluffy. Add the vanilla and while the mixer is on high, slowly add the sugar and cream until well combined. Add the eggs one at a time. With the mixer on medium speed, alternating between the wet and dry ingredients, add each a bit at a time until all three are well combined in the stand mixer. If you are using the cute brown floret baking cups, just place them on a baking sheet, they don't need to go in a muffin tin. If you are using standard cupcake papers, just line them in the muffin tin as normal. Fill standard cupcake papers 2/3 of the way full and cute floret papers only 1/2 full. Bake until tops spring back when touched, about 20-25 minutes.
Mint Buttercream
In a stand mixer, cream the butter until light and fluffy. Your butter needs to be softened, cold butter won't work. With the mixer on a low speed, slowly add the powdered sugar until all combined (you can add less if you prefer a less sweet frosting). Then add the milk and the extract and beat until well combined.
Chocolate sauce
Place the chocolate in a heat safe bowl. Heat the cream until hot and steam, but not boiling (microwave is fine but you can also heat on the stove) and pour the hot cream over the chocolate. Stir for about 3 minutes or until well combined. If you have never made ganache or chocolate sauce you may get a bit concerned about half way through. It is completely normal for your sauce to look like chunky chocolate milk for the first few minutes, just keep stirring and it'll all work out.
Once your cupcakes are cool, pipe the buttercream on, top with a spoon full of the chocolate sauce then a Junior Mint, if you'd like.