Miniature Mango Rum Cakes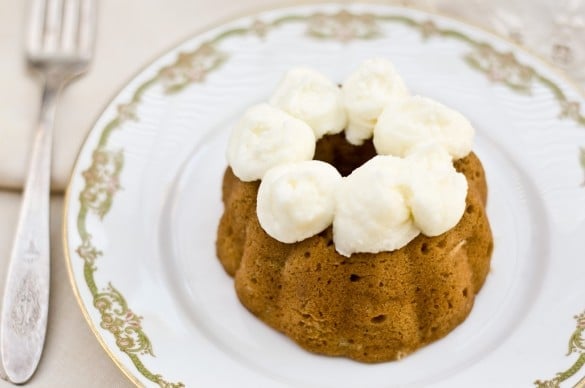 I couldn't possible eat everything I make for this blog. As much as I love to bake, I love to give it away just as much. When I'm invited to someones house, I come bearing a tray of baked goods, requested or not. These cakes needed to leave my house as soon as I had the first bite. I had to find someone to take them off my hands and save me from eating a dozen Mango Rum Cakes with Lemon Butter cream. I made 6 in mini bundt cake pans and 8 in cupcake form. Dangerous.
This is how these cakes grew as an idea in my head:
I want to make a rum cake.
But, how do I make it different?
I have a gorgeous mango, I should use that.
And the frosting?
OOOOhhh…lemons!
Lemon buttercream. Mango, rum, lemon! It'll be like a one of those umbrella drinks pool side at a resort.
OK, who do I give these to? I will eat them ALL if they stay in my house. The Movies and Bingo group.
I know a group of senior ladies that meet a few days a week to watch movies and play bingo. I dropped them off to them, as I did with the Caramel Cake I made a few weeks ago. Elena, at 68 years old is one of the younger, spunkier ladies. She took one look at these mini cakes and said, "Rum cake? Next time put my rum on the side and make it a double!"
Mini Mango Rum Cakes With Lemon Buttercream Frosting
For the Rum Cake:
1 stick of butter, softened
1 cup of sugar
2 eggs
1 tsp vanilla
2 cups of flour
1 tsp baking powder
1 tsp baking soda
1/2 tsp salt
1 tsp cinnamon
1 cup rum
1/2 cup vegetable oil
1 cup of mango, diced
For the Lemon Buttercream:
2 sticks of butter, softened
1/4 cup fresh squeezed lemon juice
1/2 tsp salt
1/4 cup of whole milk
2 1/2 cups of powdered sugar
Preheat oven to 350.
In the bowl of a stand mixer, cream the butter and sugar. Add the eggs, one at a time, beating well between each addition. Add the vanilla and beat some more. In a sperate bowl, add the flour, baking soda, baking powder, salt and cinnamon, mix well. In another bowl, add the rum and the oil. Starting and ending with the dry ingredients, add both the dry and wet ingredients to the stand mixer, a bit at a time, alternating between the two until all is combined in one bowl. Add the mango and stir until just combined.
Add your batter to either mini bundt cake pans (spray with butter flavored cooking spray), or muffin tins lined with cupcake papers. Fill 3/4 of the way full.
Bake for 18-25 minutes (depends on the size of your pan) or until top springs back when touched.
Allow to cool completely.
Combine all the ingredients for the lemon butter cream in a stand mixer. Mix on low speed until mostly combined, the raise to high speed and whip until light and fluffy.
Pipe on the top of the cakes.