Homemade Beer Marinara From Scratch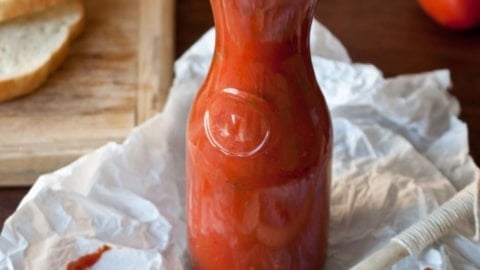 The first time I made marinara was a complete accident.
Just a few months after I nearly accidentally graduated college, I got a job working with teenage gang members in South Central Los Angeles. You are free to laugh at the idea of a very white girl, who grew up on a farm in Eastern Washington, working in South Central. With gang kids.
I sat on one side of a light oak dining table in a small Group Home, a transitional respite for kids who had been released from jail but who were still on probation, to talk with Dominick. He was from a rough area of Compton, and had found his way to the seat across from me via a GTA charge and a hot temper. But to me, he was a baby faced 14-year-old who secretly liked Whitney Houston. This was our first meeting, and part of my job was to compile a list of his "Triggers." Anything that made him angry enough to lash out, to do something that could land his ass back in jail. We both had the same goal: get him back home. Most kids, in my short 4 months of experience all had a very similar trigger. This usually centered around someone "talking shit" about them, their mom, or their crew. Maybe a handful of other miscellaneous and understandable offenses.
When I asked Dominick what triggered him, what drove him to a rage that welled up in him a feeling of violence that once caused him to send a chair on a journey through a class room window, his face fell flat.
"What?" I was so curious, "What makes you that mad?"
He took a deep breath and lowered his voice, "When those mother fuckin' girls make human pyramids."
I laughed so hard I felt bad about it. His young face broke open into a sweet smile, "Jackie, I'm not gonna lie.." He started to giggle, "Pisses me the fuck off, I have no idea why. I want to push those chicks right over."
Fair enough. My job was to teach him how to deal with his anger, no matter what triggered it.
He wanted to learn how to cook, and he wanted to make Spaghetti. He thought that cooking might help him channel his anger. We didn't have any sauce, but his group home staff had just come into ownership of 10 pounds of tomatoes, so we made do.
Because of Dominick, and his human pyramid hating ways, I will always love a good, homemade, can free, marinara.
Homemade Beer Marinara From Scratch
3 lbs tomatoes
1 large head of garlic
1 tbs olive oil, plus 2 additional tbs, divided
1 large white onion, chopped
1 large carrot, peeled and diced
16 ounces wheat beer (Golden Road Hefeweizen is a great choice)
1/3 cup chopped basil leaves
1 tsp salt
1 tsp pepper
Preheat oven to 400.
Rub the head of garlic until about half of the papery white skin comes off. Cut a small amount of the tip off the head of the garlic, just enough to expose all of the cloves. Place on a small piece of aluminum foil and drizzle with about 1 tbs of olive oil. Fold the foil tightly around the garlic, place on a baking sheet. Cut the tomatoes into quarters and place them on the baking sheet along with the garlic packet.
Roast the tomatoes and the garlic at 400 for 20-30 minutes or until the tomatoes are soft and the skin starts to peel back from the flesh. Remove from oven and allow to cool.
The skin of the tomatoes should be very easy to remove at this point, peel the skin off the tomatoes and discard. Place a fine mesh sieve or strainer over a bowl. Scoop the seeds into the strainer and place the remaining part of the peeled and seeded tomato into a bowl, repeat until all of the tomatoes have been seeded. Allow the seeds to continue to drain while you make the rest of the sauce.
In a pot over medium high heat, add 2 tbs olive oil. Add the onions and carrots, sauté until carrots are soft and onions are translucent. Add the beer, seeded and peeled tomatoes and whatever juice has accumulated in the bowl beneath the tomato seeds. Discard the seeds. Remove the head of garlic from the foil packet and squeeze the soft head until the cloves comes out and into the sauce. Add the salt, pepper and basil.
Reduce heat to maintain a low simmer, allow to cook and reduce until thickened, about 30 minutes, stirring occasionally.
If you want a smoother sauce, add to a food processor and process until smooth.
Use this with my Homemade Beer Ricotta to make a beer infused Lasagna or stuffed Rigatoni.