Current Obsessions
Sugar Skull necklace, Moon Raven Designs:
My husband bought this for me for Christmas and I wear it embarrassingly often. In my mind it goes with everything, it's like the bacon version of accessories. Plus, people are oddly drawn to it (which can be uncomfortable, since it hangs between my little lady lumps) so it's a conversation starter. Or conversation stopper, since this has happened on more than a few occasions:
Other person: "So, I was telling you about that thing….WAIT! What is that?!" as they grab at my chest.   (Thinking this over, I seem to like near strangers hastily groping me, I may have a problem)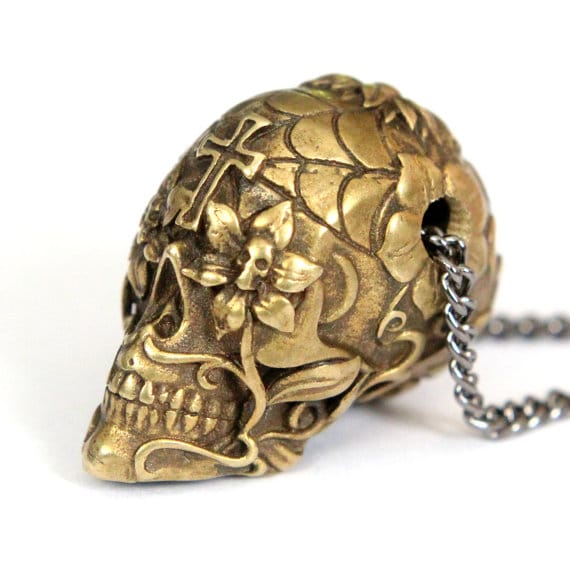 My husband is slightly convinced that rum is the new craft beer. I'm not as easily swayed from my devotion to craft beer, but I will be one of the last to know if beer is no longer "cool," like those 1980's Hair Metal hold-outs that were still rockin' the zebra spandex and Aqua Net when everyone else had move on to flannel shirts tie around the waist of their distressed levis. This will be me with my beer, even if everyone else has move on to rum. I'm rambling, back to the rum. This is craft rum, it has incredible depth and flavors that did remind me of the difference between Coors Light and Russian River's Pliny (Cliff's Notes for non beer drinkers: Coors=boring, Pliny=awesome).  I also learned from this Cocktail King, that the real, original, daiquiri was just sugar, lime juice, and some rum (he recommended trying it with brown sugar). That sounds amazing and completely unlike the bastardized spring break strawberry Slurpee version of a daiquiri that I'm used to.

Marble Pastry Board, Sur La Table:
I have hideous countertops. But I live with my horrid kitchen because one wall of my kitchen is floor to celling windows. When the sight of my grotesquely mismatched kitchen starts to get me down, I just look out the windows, and I feel better. It helps, momentarily. Other than periodic bouts with tile related depression, the awful counters pose two, more practical problems: dough rolling and photography. I can't bring myself to ever post a picture with that horrid tile as a backdrop, (I would hear a collective, "MY EYES, MY EYES!!" for everyone who had to suffer the sight of said tile) nor is dough rolling an option on that surface. Answer: Marble Pastry Board for Sur La Table. First, it almost convinces me that I have marble counters when I look at the process photos, like these ones, but it also makes a fantastic dough-rolling surface, and the BEST part is it's only $39! The same one at William Sonoma is about $130 (which, to be honest seems a fair price for that much marble. The Sur La Table version is shockingly inexpensive). I also have the matching marble rolling pin, which was only about $24 and I love it. Such a great set, and a great gift if you have a dough rolling fool in your life.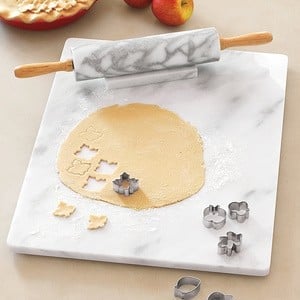 Drink Specific Glassware:
Crate and Barrel has a great set of specialty beer glass, which of course, I love. I also love these Old Fashion Rocks Glasses from Sur La Table and the bee glasses from World Market. We have three floating shelves of specialty glassware on the wall in our dining room, if there is an earthquake, we're screwed.