Beer Chili Party Dogs
Beer Chili Party Dogs
I had a brief 3-year stint as a vegetarian, a decision that made my cooking both better and impossible, but I ultimately  wasn't able to commit. Rules have never really been for me, and I'm an all-in, or all-out type of person.
It started when my parents decided to move us all (they had eight daughters, choke on that), from an idyllic central California beach town, to a pig farm in Eastern-Washington-Lunch-Meat-USA. For a handful of years, we played farm, raised pigs, grew alfalfa, bucked hay, listen to a lot of George Strait, and tried not to die. I moved back to California the second I was able, missing my own High School graduation to get back to Los Angeles as quickly as my Ford Bronco would take me.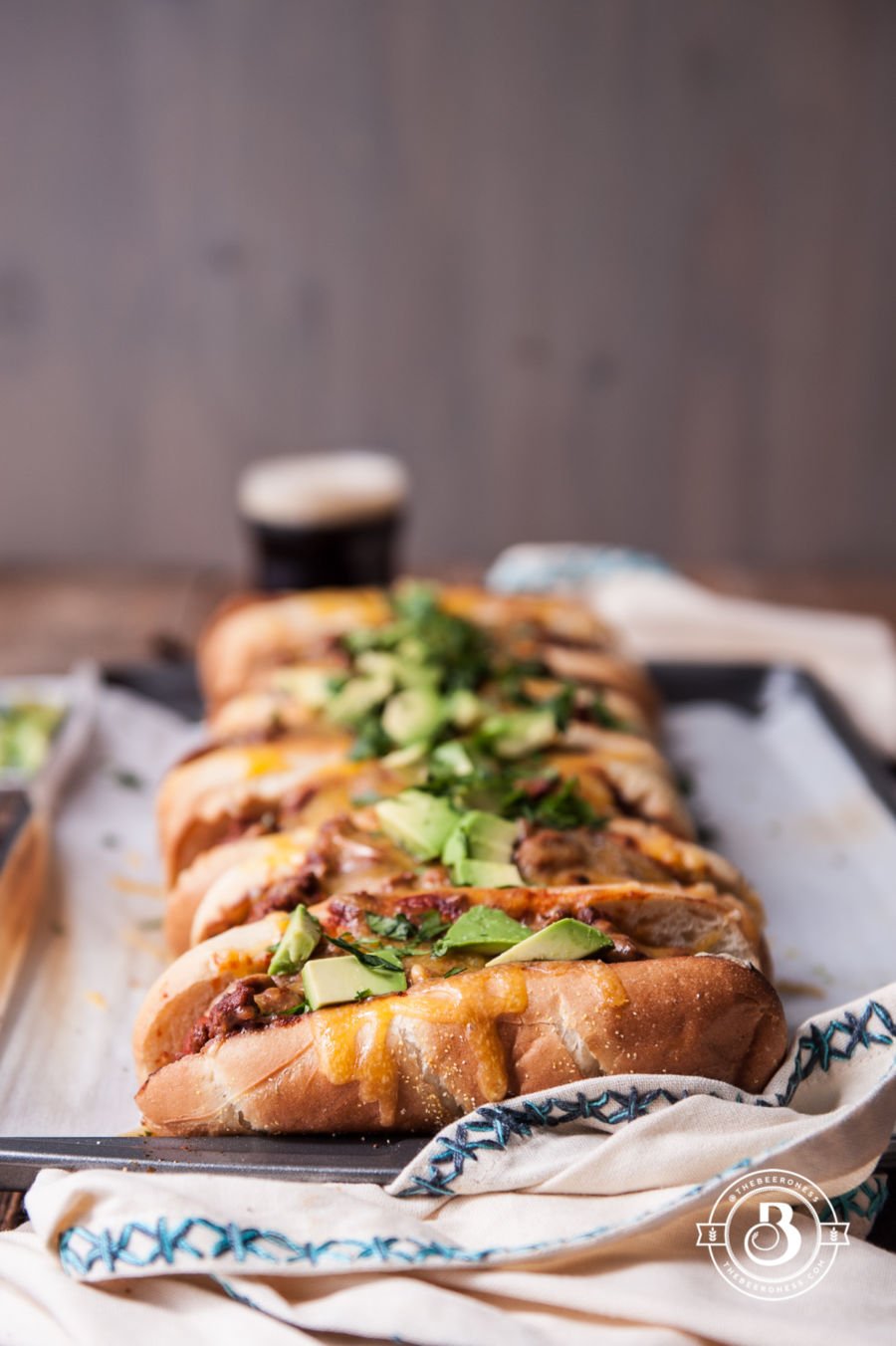 I'm going to spare you the dirty details of why, exactly, those years on the farm inspired a meat-free existence but I will tell you how it ended: with a chili cheese dog. I love the food I ate when I was focusing on produce, but I hated the idea that there was anything off limits. I was devoted to learning as much as I could about cooking and I needed to be able to work with all ingredients in order to learn as much as possible. I decided, on a drive through Burbank one day, that I was done. I wasn't done with how much I love veg food, I was done with having rules on what I ate. I didn't tip-toe back into the meat pool. I jumped into the deep end with a chili cheese dog from Chili Johns. It was fantastic.
Although the farm years didn't stick, I did take away a valuable lesson about hot dogs: always buy kosher. ALWAYS. A few days after the first pigs went from pen to slaughter house I happened to answer a call from the local butcher. He asked me if we wanted hot dogs. Being 12-years-old, I had no idea what he meant, (why wouldn't we?) and unfortunately, he explained it to me. The gist (look away if you really want to be spared the dirty details), he offered to "hose out the bottom of the slaughterhouse and put it in casings." This is when I learned the truth about what exactly that childhood treat is. Kosher means real meat, no "other stuff," no things that end up on the bottom of the slaughter house with no other purpose. Kosher it is, since I can get behind the idea that sneaking entrails and reproductive parts into someone's dinner is immoral. So maybe I'm a little Jewish. But only when hot dogs are around.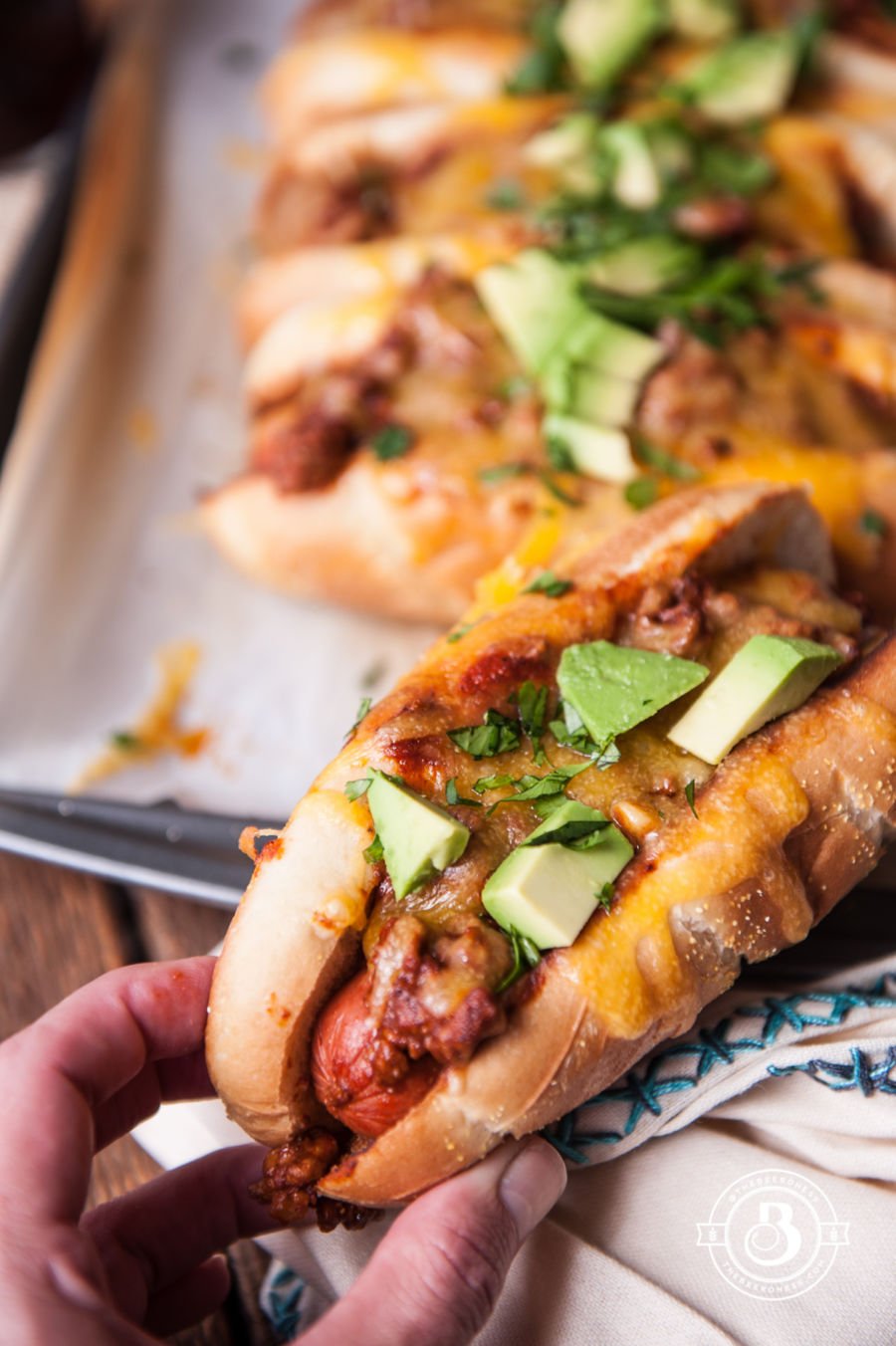 Beer Chili Party Dogs
Ingredients
2

tablespoon

22g olive oil

1

cup

125g yellow onions, chopped

4

cloves

garlic minced

1

lbs

beef

80% lean/20% fat

1

cup

8 fl oz stout beer

6

oz

tomato paste

1

tablespoon

12g Worcestershire sauce

2

teaspoon

12g red chili sauce (such as sriracha)

2

teaspoon

4g chili powder

½

teaspoon

1g smoked paprika

1

teaspoon

6gsalt

1

teaspoon

2g pepper

1

teaspoon

2g cumin

8

Kosher hot dogs

precooked, do not use raw

8

hot dog buns

4

wt oz cheddar cheese

shredded

1

avocado

diced

¼

cup

8g cilantro, chopped
Instructions
Heat the olive oil in a pan over medium high heat. Add the onions, cooking until lightly browned, about 5 minutes. Stir in the garlic.

Add the beef, cooking until browned, stirring and breaking it up as it cooks.

Stir in the beer, tomato paste, Worcestershire sauce, chili sauce, chili powder, smoked paprika, salt, pepper and cumin. Cook until slightly thickened, remove from heat.

Preheat the broiler.

Open the hot dog buns and lay flat, cut side up, on a baking sheet. Place under broiler until lightly toasted (this will help the buns to not get soggy once the chili dog sauce is added). Remove from oven, lower heat to 400F.

Place the buns in a long row down the center of the pan. Add a hot dog to each bun, top with chili sauce. Sprinkle the hot dogs with cheese.

Return to the center rack in the oven, cooking until the cheese has melted and the hot dogs are warmed through.

Remove from oven, sprinkle with avocado and cilantro.