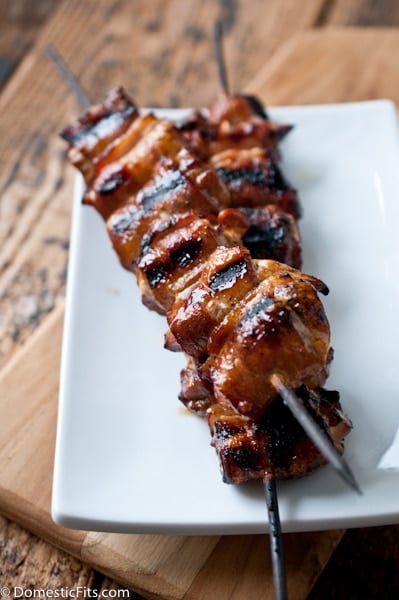 My grill could replace my oven at this point. I love the smokey char, the quick cooking time, and the way that food just tastes transformed. This is a really quick and easy recipe that's perfect for weeknights, but fit for weekend parties.
I would absolutely recommend chicken thighs for this. The flavor is so much bigger and the high heat of the grill is really drying on chicken breasts. If you've never cooked with chicken thighs, give them a try, I really think it'll be your new go-to cut of chicken. Most stores sell boneless, skinless, chicken thigh filets, making it a really easy cut to use.  I switched over about two years ago and haven't even thought about going back, the flavor is just so much better, plus they are often much cheaper than chicken breasts. More flavor, less money, that's just a big win all the way around.
Ingredients
1 cup peach nectar (I used Kerns)
2 ounces fresh lemon juice
2 ounces simple syrup
4 ounces Pisco Reservado
2 cups frozen peaches
24 ounces summer style ale (see note)
Directions
In a large pitcher stir together the peach nectar, lemon juice, simple syrup and Pico. Refrigerate for 12 to 24 hours.
Add the peaches and beer, serve immediately.
Notes
Beer: A lot of the new summer release beers will work really well for this, look for a beer with notes of citrus, apricots, peaches, or basil.
Pisco: Pisco Reservado is a liquor made in the winemaking regions of Peru and Chili, a brandy made from wine grapes. Most liquor store will carry it, call around to find some in your area.
Peaches: You can cut and freeze your own peaches or you can buy them frozen. Using frozen peaches instead of ice will help to avoid a watered down pitcher of booze.
https://domesticfits.com/bacon-wrapped-chicken-skewers/
Copyright �© TheBeeroness.com