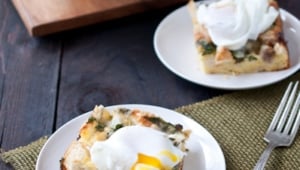 I love breakfast, I eat it every day.
Saturdays and Sundays I always make it an ordeal, several dishes, coffee, juice, and my husband and I chat, lingering over the last bits of the meal. I love it because I almost never blog about it, so it's not "work," it's whatever I want to make. I love that we both just want to sit and talk to each other, long after my daughter has powered down her bacon and eggs and started to torture the dog with dress up clothes.
I especially love when I have breakfast guest, which is rare. They always offer to help, assure me that they are fine with just toast or cereal, but I love that I get to include more people in this weekend ritual we have at the house of Team Dodd. This was a breakfast guest meal that I will make again. I made it for my Mother in Law, who loved it so much she wrote down the ingredients on the inside cover of her crossword book before I could assure her that I would post it. It's easy to throw together the night before, giving you more time to spend with your breakfast guest. Or to make Bloody Marys. You should make Bloody Marys.
One Hour Rosemary Beer Pizza Dough
Ingredients
2 ½ cups bread flour
1 envelope rapid rise yeast
½ tsp garlic powder
1 tsp fresh rosemary, minced
¾ cup wheat beer or pale ale
1/2 tsp kosher salt
¼ cup olive oil
Directions
In the bowl of a stand mixer fitted with a dough hook attachment, add the flour, yeast, garlic powder and rosemary.
Mix until combined. In a microwave safe bowl add the beer. Microwave on high for 20 seconds, test temperature with a cooking thermometer and repeat until temperature reaches between 120 and 125 degrees Fahrenheit.
Add the beer to the stand mixer and mix on medium speed. Once most of the flour has been moistened, slowly add the salt and oil while the mixer is still running.
Turn speed to high and beat until dough is smooth and elastic, about 8 minutes. Transfer dough to a lightly oiled bowl, tightly wrap with plastic wrap. Allow to sit in a warm room until doubled in size, about 45 to 60 minutes.
Cook as desired.
https://domesticfits.com/sausage-and-spinach-breakfast-casserole-with-poached-eggs/
Copyright �© TheBeeroness.com