Sausage and Spinach Breakfast Casserole with Poached Eggs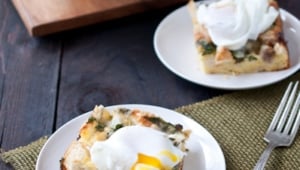 I love breakfast, I eat it every day.
Saturdays and Sundays I always make it an ordeal, several dishes, coffee, juice, and my husband and I chat, lingering over the last bits of the meal. I love it because I almost never blog about it, so it's not "work," it's whatever I want to make. I love that we both just want to sit and talk to each other, long after my daughter has powered down her bacon and eggs and started to torture the dog with dress up clothes.
I especially love when I have breakfast guest, which is rare. They always offer to help, assure me that they are fine with just toast or cereal, but I love that I get to include more people in this weekend ritual we have at the house of Team Dodd. This was a breakfast guest meal that I will make again. I made it for my Mother in Law, who loved it so much she wrote down the ingredients on the inside cover of her crossword book before I could assure her that I would post it. It's easy to throw together the night before, giving you more time to spend with your breakfast guest. Or to make Bloody Marys. You should make Bloody Marys.
Sausage and Spinach Breakfast Casserole with Poached Eggs
Prep Time: 6 minutes
Cook Time: 50 minutes
Yield: 6 servings
Ingredients
1 lbs crusty bread, cut into cubes
1 cup chopped fresh spinach
8 ounces raw chicken sausage, removed from casing, crumbled
8 eggs
1 ½ cups whole milk
1 tsp onion powder
1 tsp garlic powder
½ tsp salt
3 ounces shaved or shredded parmesan
6 eggs poached (or substitute a large dollop of sour cream on each serving)
Instructions
Arrange bread cubes, spinach and sausage crumbles in a 9×13 baking dish that has been sprayed with cooking spray.
In a large bowl mix the eggs, milk, onion powder, garlic powder and salt. Pour mixture over bread cubes evenly, toss gently to coat. Sprinkle with parmesan.
Cover and refrigerate overnight. Preheat oven to 350
Bake at 350 for 50-60 minutes or until eggs have set.
Cut into squares, top with poached eggs or sour cream.