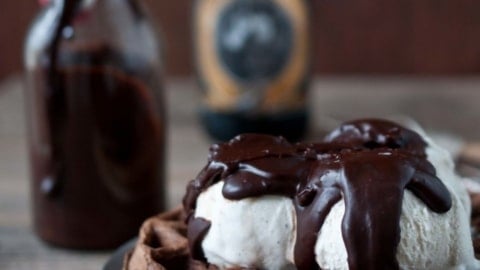 In my world, this is dessert.
But that being said, I ate it at 3 in the afternoon (mostly because I wanted to make it for you, and I refuse to photograph using artificial light, necessitating a mid-day desert for picture taking purposes).
Breakfast in my land, is savory. Although I occasionally indulge in sugar loaded calorie bomb in the morning hours only because for some reason it's socially acceptable, but if we step back and look at it objectively, this is dessert.
Since I put beer in your breakfast on multiple occasions (Like this, and this and don't forget about this), I would never judge you for eating this pre-noon. BUT, it's dessert. And it needs to be served with a stout that's almost warm. Maybe a sipin' stout that's been aged in a bourbon barrel, or a smokey porter.
But it's definitely dessert. Even if you eat it in the middle of the day.
Chocolate Stout Waffle Sundae with Chocolate Stout Fudge Sauce
Ingredients
For The Sauce
3

tbs

butter

½

cup

stout

2

tbs

corn syrup

1

cup

dark chocolate chips
For the Waffles
1

cup

flour

2

tsp

baking powder

1/4

cup

cocoa powder

1/2

tsp

salt

1/2

cup

dark chocolate chips

1/3

cup

milk

2/3

cup

stout

1/4

cup

vegetable oil

1

tsp

vanilla extract

2

eggs

divided

1/3

cup

sugar

Ice Cream for serving
Instructions
Add the butter, 1/2 cup stout and corn syrup to a sauce pan. Cook over medium high heat until butter has melted and the mixture has just started to boil.

Turn off heat and stir in 1 cup chocolate chips until completely melted. Allow to cool slightly before using.

Preheat waffle iron according to manufacturers specifications.

In a large bowl add the flour, baking powder, cocoa powder, and salt, stir.

In a microwave safe bowl, add the chocolate chips and milk. Microwave for 30 seconds, stir and repeat until melted. Stir in the beer, vegetable oil, vanilla and only the yolks of the two eggs.

Add the whites to separate bowl, along with the sugar. Whip with a hand mixer until soft peaks form, about 5 minutes.

Make a well in the dry ingredients, add the chocolate milk mixture and stir until just combined. Gently fold into the egg whites until just incorporated.

Cook in waffle iron according to manufacturers specifications, using butter flavored cooking spray if indicated.

Plate waffles, top with desired amount of ice cream, drizzle with chocolate sauce. Serve with a malty stout.