Maple Beer Glazed Crispy Pork Belly
Maple Beer Glazed Crispy Pork Belly, the easiest and tastiest pork belly I've ever made!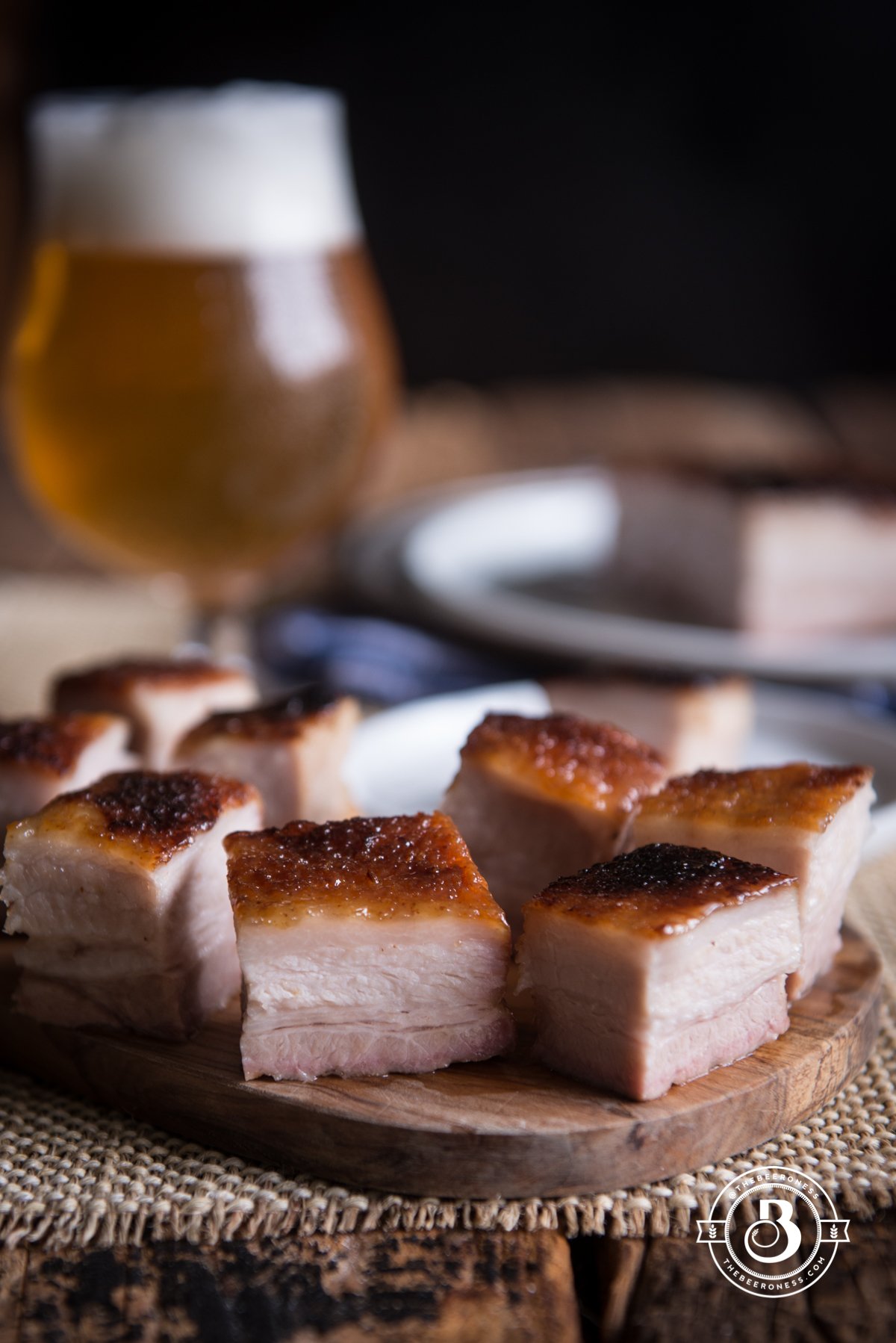 Pork belly is an investment. Not financially—it's actually pretty inexpensive—it's a time investment. One that's well worth the effort with the right recipe. I've made pork belly so many times over the years and I've learned that patience is key to getting what you want. That is if what you want is juicy pork with crispy skin.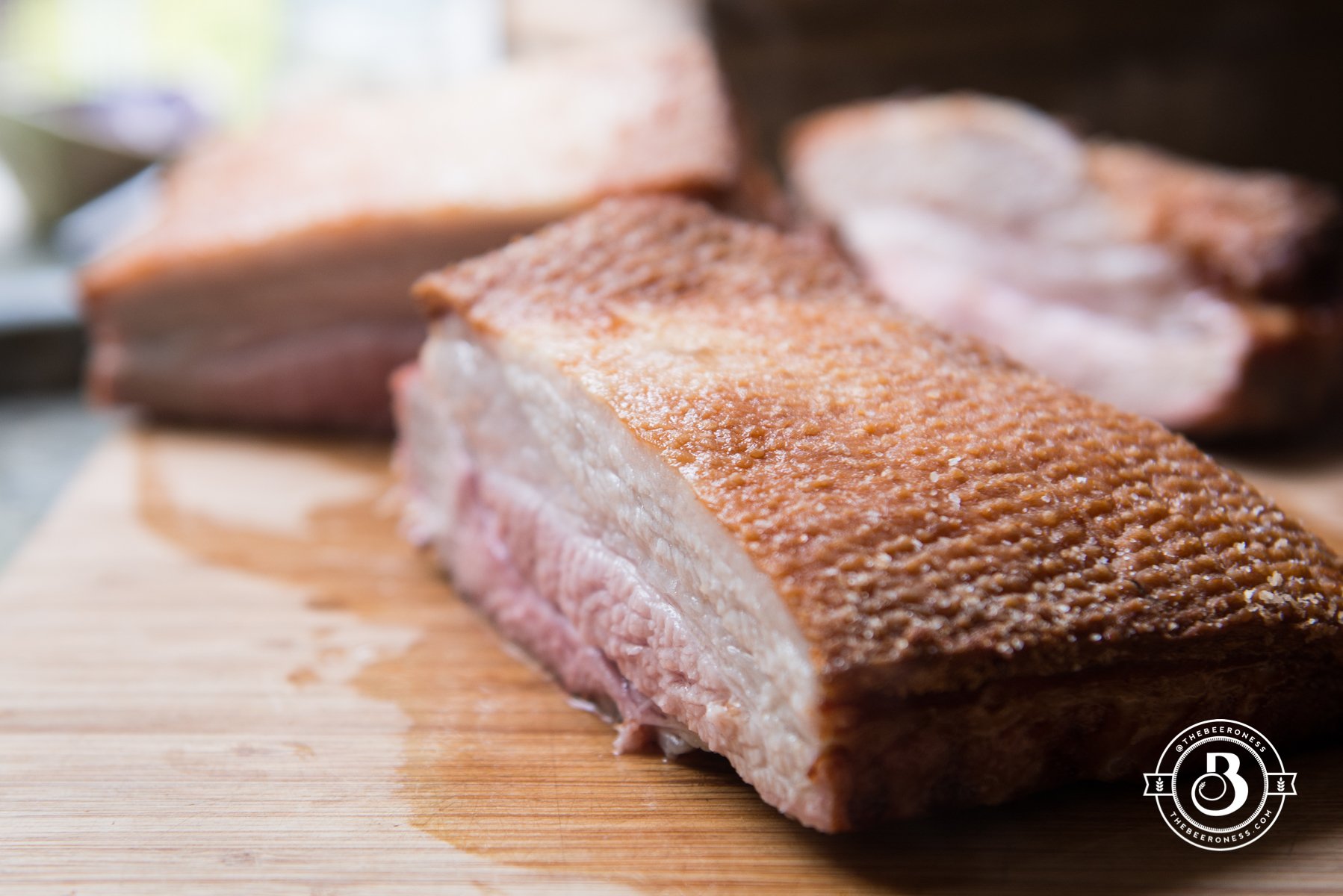 I usually source my pork belly from a local restaurant supply store, it's a great place to shop if you want to buy your body weight in pork products. Why yes, yes I do want more pork belly than I can safely lift without a spotter! With a recipe that takes this much time, I want to test it to make sure it's right when you finally make the investment of time it takes to get this done.
If you do find that an overly ambitious trip to a pork belly purveyor straddled you with more pork than anyone can safely eat in a lifetime, just remember that it freezes really well. Just wrap it better than you think is necessary and it should be fine for a few months.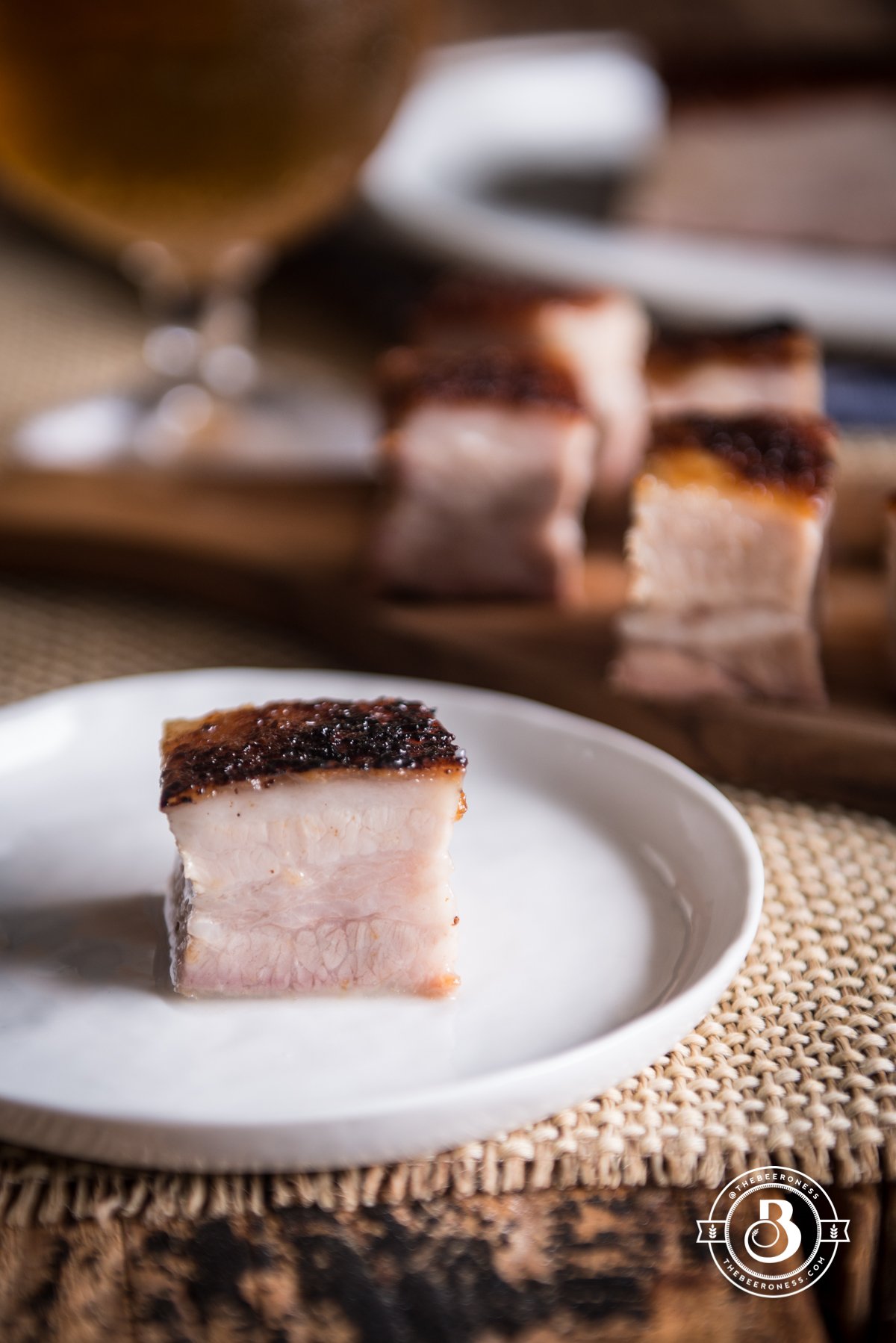 After several rounds of testing, this was the winner. Juciy meat: check. Crispy skin: so much. Easy recipe that doesn't involve scoring, poking, vinegar or excessive steps: absolutly.
Maple Beer Glazed Crispy Pork Belly
Ingredients
For the pork
1

(4.5 lbs)

pork belly, rind on

2

cups

very warm water

2

tablespoons

salt

1

tablespoon

whole cloves

1

tablespoon

whole allspice

2

(12 ounce)

beers (wheat beer, pilsner, pale ale)

1

cup

kosher salt

1

egg white

1

tablespoon

olive oil
For the glaze
3

tablespoons

real maple syrup

2

tablespoons

beer

wheat beer, pilsner, pale ale

2

tablespoon

spicy brown mustard
Instructions
Add the pork belly to a large bowl or baking dish.

In a large bowl stir together the hot water, salt, cloves, and allspice, make sure the salt is completely dissolved. Pour in the cold beer. Make sure the brine temperature is below room temperature to avoid prematurely cooking the pork.

Pour the brine over the pork. Cover and refrigerate for 12 to 24 hours.

Remove the pork from the brine, add to a stack of paper towels, rind side down for 10 minutes to dry the skin.

In a small bowl stir together the kosher salt and egg whites until well combined.

Place a wire rack over a baking sheet that has been lined with aluminum foil. Place the pork on the rack, rind side up.

Pack the salt on top of the rind until completely covered and slightly compacted.

Bake for 3 hours. Remove from oven, raise temperature to 400°F. Gently pull the salt pack off the pork. It will be a hard crust at this point and should remove easily in a few large chunks.

Brush off any remaining salt with a clean kitchen towel or paper towel. Brush with olive oil.

Bake for 20-30 minutes or until the rind is a dark golden brown.

Stir together the maple syrup, 2 tablespoons beer, and mustard. Brush the top liberally with glaze.

Turn the broiler to high. Broil in the top 1/3 of the oven (a few rungs down from the very top) until the glaze has caramelized. Re-brush every 5 minutes. Broil until caramelized and dark.

Remove from oven, cut into cubes for serving
Notes
Can be served as an appetizer or an entree.