I started this blog with the idea that I'd blog my dinner, which turned into cooking for the blog which turned into freelance work and somewhere around starting an LLC and registering trademarks I realized that I rarely or never blogged my dinner.
I did an interview recently and the interviewer asked for links to my "go to week night meal," and I was more than embarrassed to say that I'd never really blogged it. This is just one version of my 15 minute chicken that seems to make it into regular rotation.
I always use boneless skinless chicken thighs, the flavor is worlds above the chicken breast and it is almost impossible to dry out. I love to cook them in a cast iron skillet because of the awesome crust it gives the chicken. The sour cream version was a big hit, so I'm sure it will make it into my busy weeknight menu again.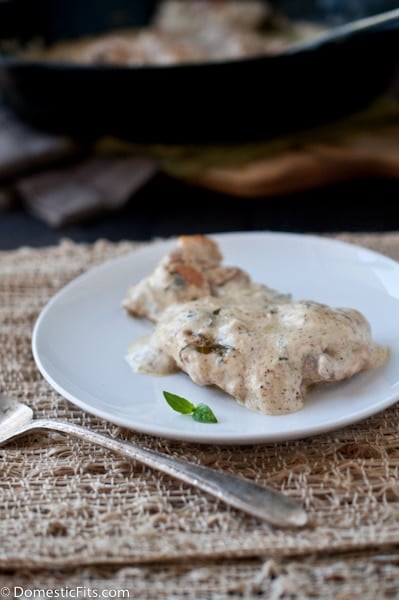 Skillet Sour Cream Chicken
Ingredients
4 boneless skinless chicken thighs
salt and pepper
1 tbs olive oil
2 tbs minced basil (about 3 large leaves)
2 tbs Dijon mustard
½ cup sour cream
1 tbs lemon juice (about ½ medium sized lemon)
1 tsp honey
1 tbs vinegar (apple cider or rice wine)
rice, pasta, potatoes or quinoa for serving
Instructions
sprinkle the chicken thighs on all sides with salt and pepper.
Heat olive oil in a cast iron skillet until hot and almost smoking.
Add the chicken thighs and sear on both sides until browned.
Whisk together the remaining ingredients, pour over chicken. Lower heat to medium-low, cover loosely and allow to gently simmer until chicken is cooked through, about 8 minutes.
Serve with sauce over starch of choice.
http://domesticfits.com/2013/08/21/skillet-sour-cream-chicken/
Copyright DomesticFits.com