Orange Saison Sour Cream Ice Cream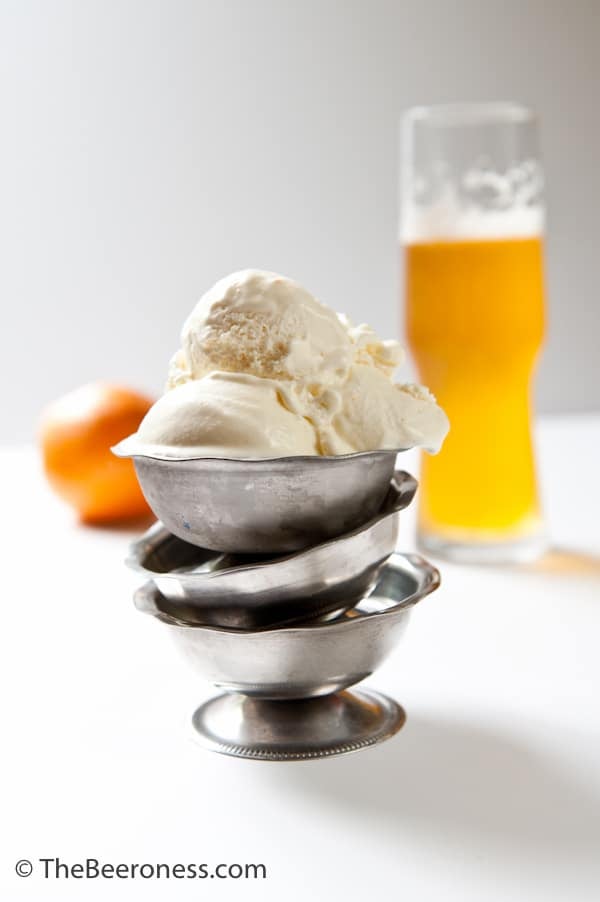 You need to know about Saisons.
One of my favorite summer beer styles, it's crisp, fruity, nice carbonation and great spice. It's prefect for those summer cookouts, it pairs well with everything from potato salad to ribs. Saisons is a style that was born out of a farm house in Belgium, and lets be honest nothing bad can ever start in a farmhouse in Belgium, it was made for consumption during the summer months. Maybe it's just a coincidence that it also goes incredibly well with ice cream, or maybe the Belgian just knew what they were doing when they invented the perfect summer beer. It's a great one to try if you're new to craft beer, and after a near beer extinction, it's back in a big way. Saisons are an easy style to find these days, and prefect for those of your friends that don't think they like craft beer.
For this ice cream, I need an assertive saison, one that has bold flavors and good kick of spice. Of course, Stone never disappoints when you're looking for a beer full of flavor and this Stone Saison was the perfect man for the job, the big flavors can stand up to sour cream and orange and hold their own. But I'm sure you're not surprised, no one ever accused stone of being subtle.
Orange Saison Sour Cream Ice Cream
Ingredients
1

cup

sour cream

1

cup

heavy cream

1

cup

sugar

½

tsp

salt

¾

cup

Saison beer

2

tbs

cornstarch

3

tbs

fresh orange juice

1

tbs

orange zest
Instructions
Put all ingredients in a blender, blend until smooth.

Churn in an ice cream maker according to manufactures specifications until a soft serve consistency (about 15 minutes in a KitchenAid ice cream maker).

Pour into an air-tight container, freeze until set, about 2 hours.
Notes
Since the beer isn't cooked, the alcohol is still alive and well, be careful who you serve this too, it's not appropriate for children.