As we fly through the fall, hurdling towards the holiday season, our first major stop will be the festival of glutton that I love so much.  While many of you will show up to your respective Thanksgiving feasts bearing bottles of wine, craft beer has earned a spot in America's Favorite Meal. But there is a bit of a dilemma when it comes to pairing beer with such a huge spread, since very (very) few gatherings this large will allow the opportunity to pair a different beer with each dish, you need to pick beers that play well with many others.
Pick three separate beers for the meal progressoin. The first to pair with the appetizers that you've set out as your guests arrive, the second beer to pair with the poultry centric main attraction, and the third for the dessert round.
The Appetizer Beer should be like the food, a warm up for whats to come. Nothing overwhelming, you don't want to wreck you guest palates before the meals have even begun. Look for something refreshing, clean and bright to get people ready for the onslaught of flavors that are about to come their way. My picks:
The Main Event Beer has to pair with everything from turkey to jello salad (don't pretend like you don't have an aunt that always brings that) so it has to be versatile. Look for a beer thats earthy, malty, moderately carbonated and low(ish) hops, you want the beer to highlight the food, not fight with it. My picks:
Dessert Beer will give you a bit more flexibility. You will probably have an assortment of pies ranging from fruit to chocolate, so you'll need a beer that can mesh well with what you have. Since this is the final offering, it's OK to go off the rails a bit and mix it up. I love to end a big meal with a malty, big, barrel aged beer, or a strong barleywine beer, it's a dessert all on it's own. My picks:
Dogfish Head Palo Santo Marron
North Coast Barrel-Aged Old Rasputin
So now that you've got the beer down, it's time to think about the menu.
Until the end of time there are two beerified offerings that will always grace my late November Holiday Table: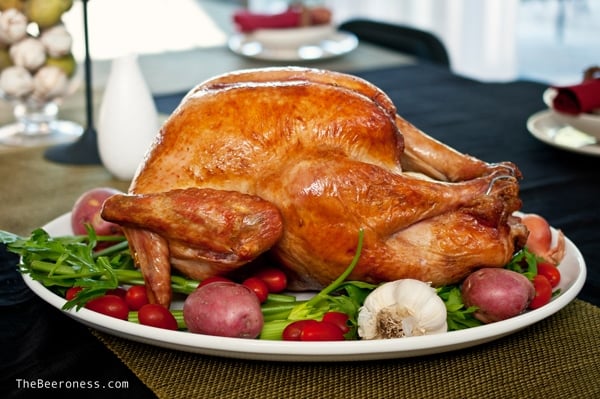 But you might need more than just turkey and rolls, although those do happen to be the cornerstones of the leftover sandwiches. Here are a few more beerified offerings for your holiday table: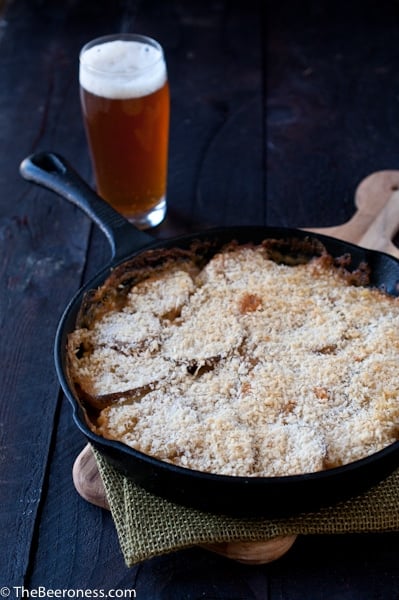 Stove Top Beer & Bacon Mac n Cheese
Pumpkin Ale Farro Roasted Asparagus Pomegranate and Goat Cheese Salad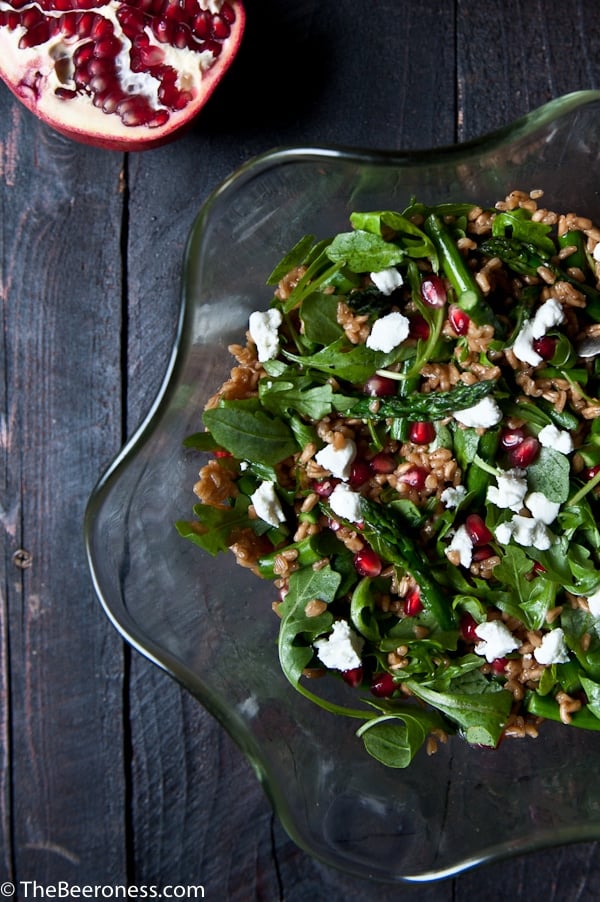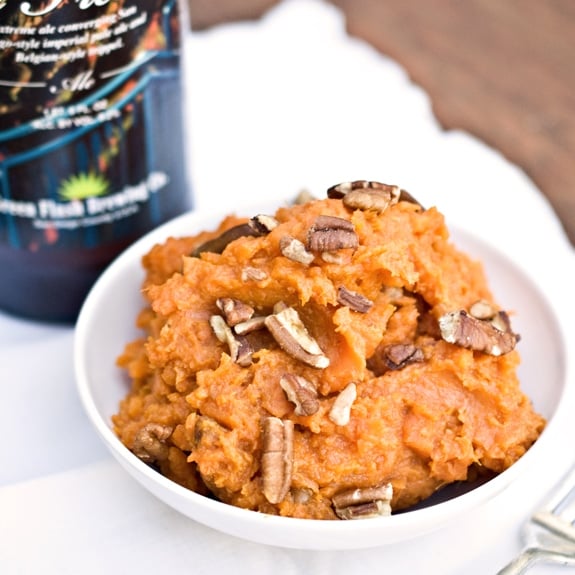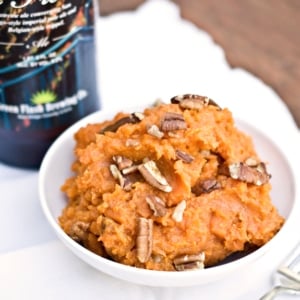 Chipotle White Ale Cranberry Sauce
Apple Pie with Pale Ale Mascarpone Cream and Beer Pie Dough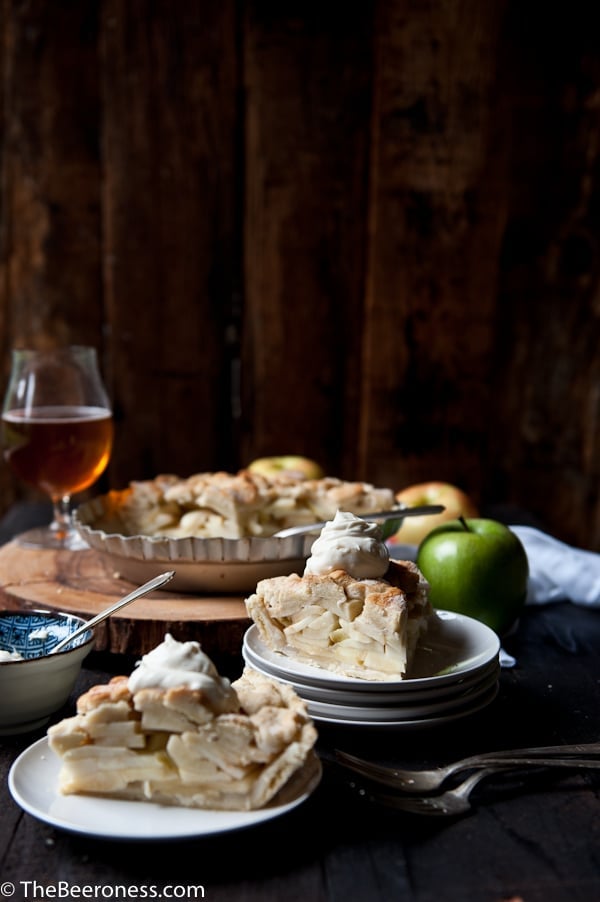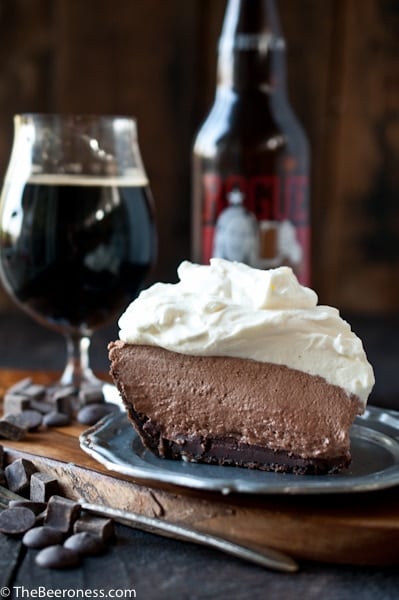 And for that Black Friday Pick me Up: Sriracha Bloody Beer with Chili Sugar Bacon
And don't forget about this Midwestern treat that I appropriately beerified, the corn soufflé that goes by many names and usually includes a box of Jiffy mix. Today we skip the mixes in favor of some real life cheese, beer and all kinds of deliciousness.
Beer Cheese Corn Spoon Bread
Ingredients
6

tbs

butter

1/2

cup

flour

1

cup

whole milk

1

cup

pale ale beer

8

wt oz cheddar

grated

3

cups

corn kernels

fresh or frozen, not canned

2/3

cup

cornmeal

¼

cup

sour cream

3

large eggs

separated

½

tsp

salt

½

tsp

pepper

½

tsp

garlic powder

pinch

cayenne
Instructions
Preheat oven to 375.

In a pot over medium heat melt the butter.

Sprinkle with flour, whisk until thickened and light brown in color, about 2 minutes.

Stir in the milk and beer until well combined.

About ¼ cup a time, stir in the cheese, stirring until completely incorporated between additions. Stir in the corn kernels and cornmeal, remove from heat.

In a small bowl whish together the egg yolks (reserve the whites), sour cream, salt, pepper, garlic powder and cayenne. Stir the egg yolk mixture into the corn mixture.

In a separate bowl beat the egg whites until stiff peaks form.

Stir the egg whites into the corn mixture.

Pour the mixture into a greased 2qt baking dish.

Bake at 375 for 30-35 minutes or until the edges start to turn light golden brown.