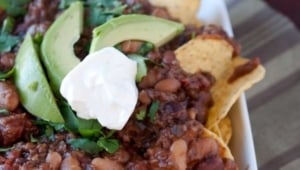 If you're new to the Craft Beer scene, it might surprise you how many vegetarian and vegans there are here.
While I am a meat eater (clearly, I put bacon in desserts), I did spend three years as a vegetarian. Mostly, this was a response to growing up on a farm and getting up close and personal to the butchering process as well as the jarring realization of knowing the first name of my dinner. It did, however, give me a profound respect for the food I eat and the farms that share that respect.
I still eat vegan quite often, and there are some dishes, like lasagna, that I just think are just better in vegetarian form.
My true and honest feeling about vegan cooking is that regardless of what your typical diet is if you can't cook a vegan meal that you love, you just aren't that good of a cook. Produce is amazing, you get to use all the grains, seeds and nuts that you want and by the way, for the most part beer is vegan.
I first heard about Cashew Cream from this guy, and the idea was intriguing, given that I would have a much easier time giving up meat than sour cream and goat cheese. I like the idea of having a creamy element when I want to go non-dairy. This cashew cream was a really beautiful creamy addition to a vegan chili, when sour cream isn't an option. I wanted to balance the sweetness so I added some acid and some spices, but feel free to experiment. This would also be a great place to add a little chipotle.
Vegan Chipotle Stout Chili with IPA Cashew Cream
Ingredients
For The Cashew Cream:
2

cups

raw cashwes

1 to 1 ½

cups

almond milk

Additional 1/3 cup almond milk

2

tbs

IPA beer

½

tsp

onion powder

½

tsp

garlic

½

tsp

salt

½

tsp

pepper

2

tsp

white wine vinegar
For The Chili:
3

tbs

olive oil

1

white onion

chopped

1

red bell pepper

chopped

1

cup

crimini mushrooms

finley diced

2

cloves

garlic

minced

12

wt ounces Soyrizo

2

cup

stout

2

cups

veggie broth

¼

cup

tomato paste

1

15 oz can of black beans, drained and rinsed

1

15 oz can of kidney beans, drained and rinsed

1

15 oz can stewed diced tomatoes, with juice

1

or 2 large chipotle peppers in adoboe

minced

½

cup

quinoa

1/3

cup

bulgur wheat

1

tsp

cumin

¼

tsp

smoked paprika

1

tsp

salt

1

tsp

garlic powder
Garnishes:
½

cup

Cilantro

chopped

1

Avocado

sliced

Tortilla Chips
Instructions
Add the cashews to a bowl, pour almond milk over cashews until covered. Let stand for 4 hours.

Drain cashews and add to a food processor with 1/3 cup almond milk, IPA, salt, pepper, onion powder, garlic powder and vinegar. Process until smooth, about 5 minutes, possibly longer. Add additional almond milk or beer for a thinner consistency.

In a pot over medium high heat, add the olive oil, onions, red peppers and mushrooms. Cook until onions and peppers have softened and the mushrooms have darkened.

Add the garlic and the soyrizo, stir, breaking up the soyrizo.

Add the stout, broth, tomato paste, black beans, kidney beans, tomatoes and chipotle, allow to simmer for about 10 minutes.

Add the quinoa, bulgur, cumin, smoked paprika, salt and garlic powder, simmer until the quinoa has cooked, about 15 minutes. The longer chili simmers, the thicker it will be.

Plate on top of tortilla chips, if desired, top with cilantro, avocado, and cashew cream.