Wild Ale Salted Caramel Squares
Wild Ale Salted Caramel Squares. 15-minutes and these are good to go! 
This is what happens when I decide to give up sugar for a while.
I'm completely committed to the idea, and then I decide what I really need to do is make a whole batch of beer-infused caramels because that makes sense RIGHT after Halloween, obviously.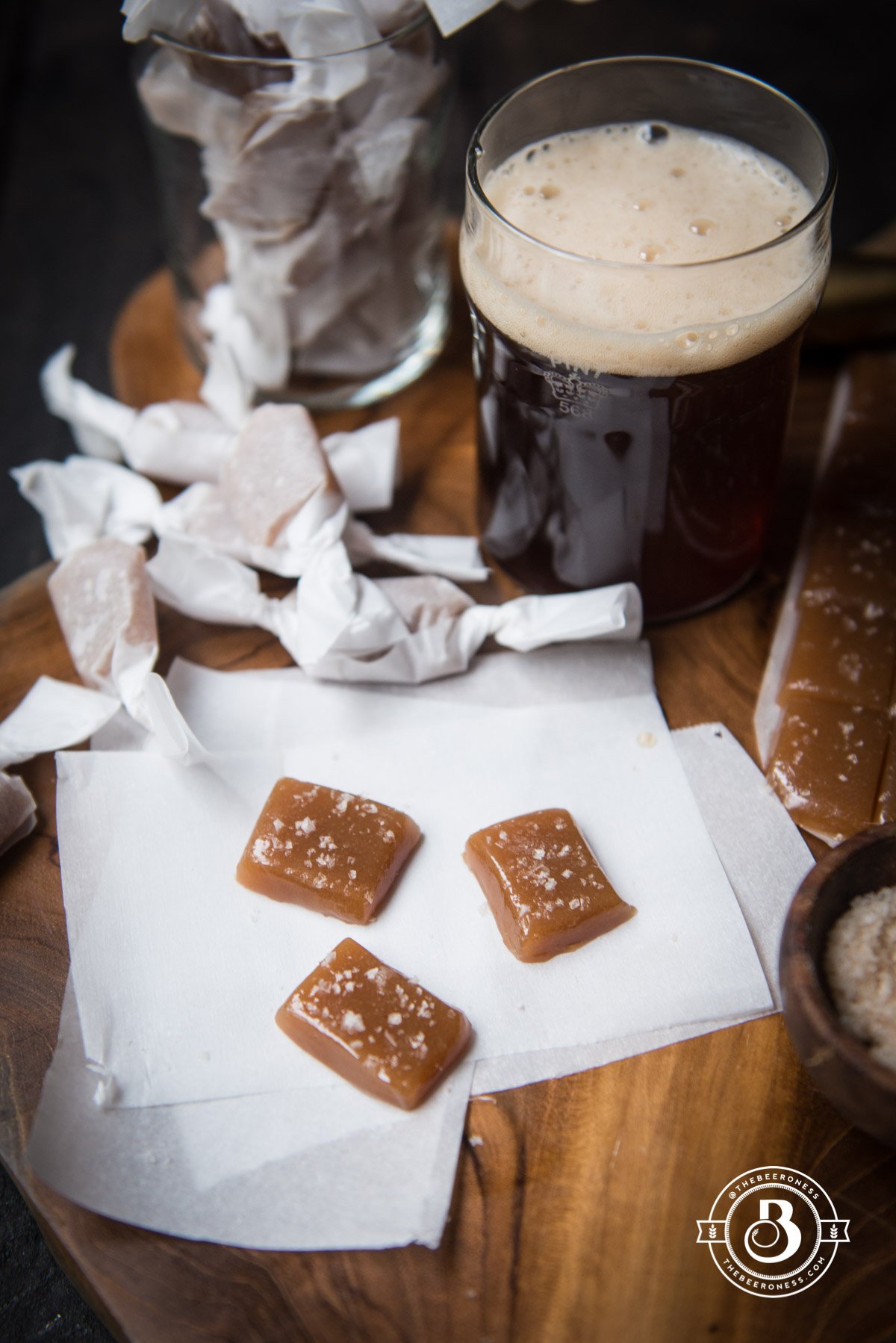 But then I decide to give them away (you know, because no one I know has WAY too much candy already), but before I do I need to eat some to figure out if they're good or not. Then I eat more, you know, just to be sure. Which is a total lie because I like lying to myself about sugar consumption on a regular basis. I always get away with it, I'm an excellent self-liar. Although I'm terrible at lying to humans who aren't me, I'm way too transparent.
Try it, ask me to lie to you about something I really want to lie to you about and you'll be able to see right through me. No, I don't like those shoes but I like you and I don't want to hurt your feelings. No, I wasn't ignoring your text, I just, ummm, there was… a bear in my yard?….and he was thirsty….
That's how you know this is actually a really excellent use of 15 minutes, and completely delicious: I can't lie to you.  They're also a great way to make holiday gifts and pretend like the batch only made 30 and not 60 because you would never just sit in your kitchen eating 30 caramels by yourself. It was that bear in your yard, he was also hungry…
Wild Ale Salted Caramel Squares
Ingredients
1 cup (8oz) sour ale, plus 1 tablespoon, divided (i.e. Brett beer, Gose, Gueuzue, Flanders Red)
6 tablespoons (84g) unsalted butter
1 cup (200g) granulated sugar
½ cup (100g) light brown sugar
¼ cup (60 mL) heavy cream
1 teaspoon vanilla extract
1 teaspoon flakey sea salt (Like Maldon)
Instructions
Bring 1 cup beer to a boil over high heat, continue to boil until reduced by half, about 8 minutes.
Prepare a pan by adding a square of parchment to the bottom of an 8x8 baking dish. Spray the baking dish and parchment with cooking spray.
Lower heat and stir in the butter until melted.
Stir in both sugars, and cream until the sugar has dissolved.
Raise heat to high, clip a cooking thermometer onto the side.
Boil without stirring until the mixture reaches 255°F.
Remove from heat, stir in the vanilla and the remaining 1 tablespoon beer.
Pour into prepared pan.
Sprinkle with salt. Allow to cool slightly then place in the fridge to cool for 1 hour.
Cut into bite sized squares (spraying the knife with cooking spray will help to keep it from sticking).
Wrap in small squares of parchment or wax paper.
https://domesticfits.com/wild-ale-salted-caramel-squares/