White Bean White Ale and Ham Soup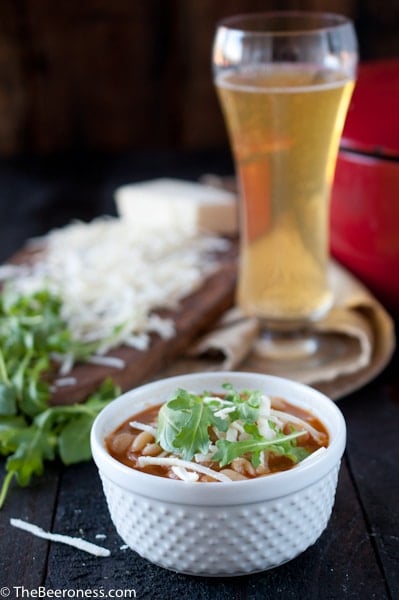 Most of the phases of life we live fade in a way that we don't really know the exact moment it ends. We don't always  know the day we stopped being children or the moment we fell out of love, or the day a big friendships started to drift away.
With moving, you know. You know the last day you lived in that house you loved so much. The last day you were a resident of city. And you know the day you started a new life in a new city.
The boxes are starting to get packed, the nonsense I've accumulated over the past few years has started to find it's way to the donation centers, and my days as an LA resident are counting down. I'm saying Goodbye to things I didn't know I'd miss, the warm weather is being reveled in, and the I'm finding more still moments to just enjoy the view. Even on the packed LA freeways.
I'm also preparing to live in a world were I'll eat a lot of cold weather comfort food. Like slow cooked soup. I'm starting now, cooking big pots of warm soup, made with beer, and topped with fresh produce. Because some habits die hard.
White Bean White Ale and Ham Soup
Ingredients
3

tbs

unsalted butter

1

tbs

olive oil

½

cup

chopped shallots

1

lb

dry great northern beans

4 1/2

cups

chicken broth

12

ounces

white ale

1

ham bone

2

cups

chopped precooked ham

salt and pepper to taste

1

cup

fresh shaved parmesan cheese

1

cup

baby arugula
Instructions
In a large Dutch oven over medium heat melt the butter with the olive oil. Add the shallots and cook until caramelized, about 15 minutes (make sure the heat is rather low, if the heat is too high and your shallots will burn before they caramelize, patience is key).

Add the beans, broth, beer and ham bone to the pot, bring to a low simmer.

Allow to simmer until the beans are cooked through, about 2 hours.

Add the ham, salt and pepper, simmer for about ten minutes.

Ladle into bowls, top with parmesan and arugula before serving.
I use my Dutch oven all the time, it's essential in my kitchen (affiliate link).