Watermelon Jalapeno Margaritas
Jalapenos have been popping up in cocktails all over the place lately. Are you skeptical? Scared? Intrigued? I'm just plain excited. I have a deep love in my culinary soul for jalapenos, as you can see, I've add them to my Mac N' Cheese, as well as my Bacon Cornbread. Why not cocktails? And I dare you to find a better adult beverage than a margarita to showcase this beautiful pepper.
Watermelon Jalapeno Margaritas
4 cups seedless watermelon chunks
1 1/2 tbs chopped fresh jalapenos, seeds removed (very important)
1 cup of tequila
1/2 cup triple sec
1 tbs Agave nectar
1/4 cup lemon juice
Put all of these ingredients in a blender and blend for about a minute.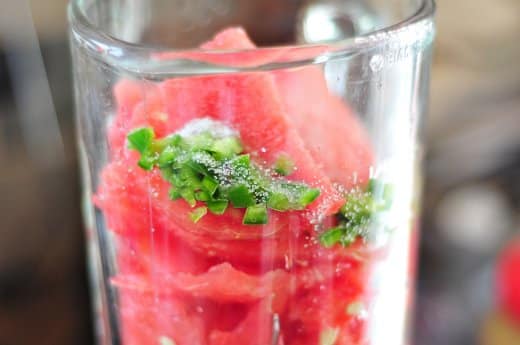 Taste to see if you want to booze it up and bit and adjust accordingly. Now, you can add ice and blend or you can serve it on the rocks. Either way, you will porbaly need about 3 cups of crushed ice or ice cubes.
You can rim the glass with either sugar or salt, this recipe lends itself very well to both.
I added a jalapeno ring as a garnish, but that is totally optional.