Twenty Minute Cinnamon Roll Beer Biscuits
 Twenty Minute Cinnamon Roll Beer Biscuits, plus the secret to the perfect cinnamon roll filling that doesn't leak out the side once cut. 
I've had a complicated year. One that began with life in one state and ended in another, literally and figuratively. A year of answering questions with "It's complicated." Where I'm living, what I do for a living, my relationship status, my goals, it's all been so complicated this year.
My goal for next year is simple. That's it, just: simple. Live simply, dream simply, love simply. I've loved complicated food, complicated love, complicated life, but my heart feels at home when it's simple. The joy and beauty of the perfect roast chicken, a love that comes from unfiltered devotion, a simple well made beer.
I'm trying to strip everything down to simple elements. Rebuild a life with solid blocks. learning recipes that use simple ingredients, simple techniques. Getting lost wandering around a city, rather than the pressure to make plans. Learning to forgive, and rebuild a relationship from scratch.
The way even a seasoned chef will screw up rice and scrambled eggs from time to time, simple is harder to learn than complicated. A smaller margin or error. But it's worth it. I've done complicated and it left some deep scars. There is joy and healing in the journey towards pure and simple.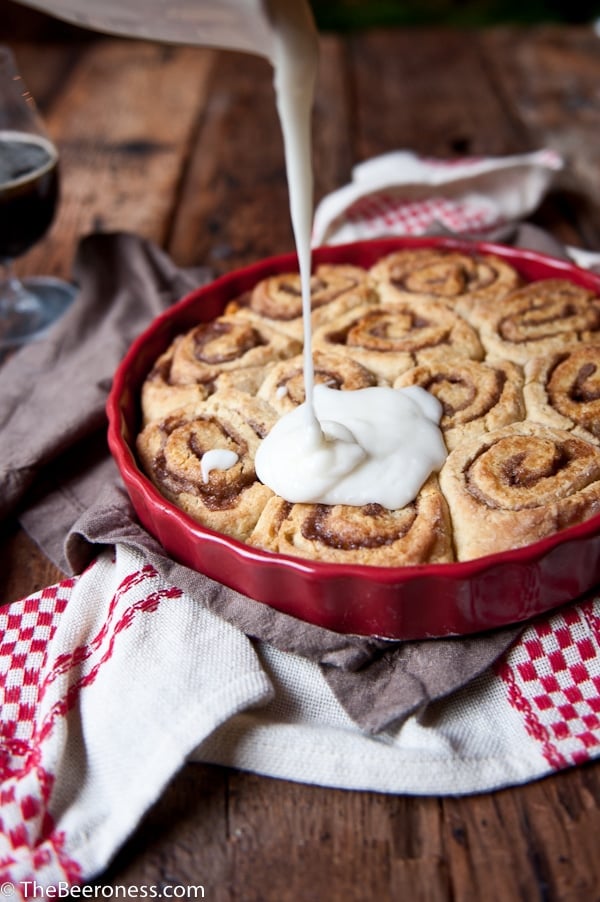 Twenty Minute Cinnamon Roll Beer Biscuits
The trick to making any cinnamon roll recipe with a lovely thick ribbon of cinnamon sugar that does not fall out the sides once it's cut is making a paste with softened butter, cinnamon, and sugar. It will stay in place and you won't lose a grain!
Ingredients
For the Cinnamon Rolls:

3 1/2 cup all-purpose flour
2 tsp baking powder
1 1/2 tsp baking soda
1 tsp salt
1 tsp sugar
10 tbs unsalted cold butter, cut into cubes
¾ cup pale ale or wheat beer
1/3 cup buttermilk
6 tbs softened butter
¼ cup brown sugar
¼ cup white sugar
1 tsp cinnamon
¼ tsp nutmeg
pinch salt

For the Icing:

2 cups powdered sugar
¼ cup buttermilk
1 tsp vanilla extract
Directions
Preheat oven to 400.
In a processor add flour, baking powder, baking soda, salt, and sugar.
Pulse to combine. Add the cold butter, process until well combined. Add to a large bowl.
Add the buttermilk and beer. Mix with a fork until just combined.
Add to a well-floured flat surface, pat into a rectangle. Using a cold rolling pin (preferably marble) gently roll into a large rectangle, about 3/4 inch in thickness, using as few strokes as possible.
In a medium sized bowl add the softened butter, brown sugar, white sugar, cinnamon, nutmeg and pinch of salt. Stir until a paste forms.
Spread the dough with the butter mixture. Starting at the long end, roll into a tight log. Cut 2-inch rounds, place in a baking dish.
Bake at 400 for 12 to 15 minutes or until the tops are golden brown.
Allow to cool.
Stir together the powdered sugar, buttermilk and vanilla until well combined. Serve the biscuits topped with icing.
https://domesticfits.com/twenty-minute-cinnamon-roll-beer-biscuits/
Copyright �© TheBeeroness.com