Trashed Up Beer Cheese Tater Tot Pizza
  Trashed Up Beer Cheese Tater Tot Pizza.
Worth every. single. calorie. SO good. 
A great blog sucks you in.
Not just the food, or the photos, but the person behind it. A person you become a least mildly obsessed with. A real-life human who writes in a way that you makes you want more of them. When I first started blogging, Jess from How Sweet It Is was that girl. After I found her blog I binge read her past posts for at least two hours, and then proceeded to creepily google stalk her.
The most shocking thing about this endeavor was that she was on the other side of the computer, stalking me right back. When I finally met her in real life she gave me the biggest, most genuine hug I've ever been on the receiving end of and said, "I love your blog! I even google stalked you!" I was too shocked and flattered to tell her that I'd done the exact same thing to her, so I tried my best to play it cool.
Of all the people I've been fortunate enough to meet in this crazy world of blogging, there isn't anyone more genuinely nice than Jessica. She's even more of what you want her to be, sincerely gracious, food obsessed, blogging groupie, people fan, she's the real deal and absolutely worthy of your google stalking hours.
She not only makes incredible food, she's also making a human. In her guts. In honor of this incredible feat, a bunch of bloggers, all of whom have done our share of Jessica How Sweet Google Stalking decided to show her some love. We trashed up some food in her honor.
And I can't wait to see the human she makes. Someone as nice, talented and genuine as Jess, I think she should make all the babies from now on.
My Top Five Favorite How Sweet Posts Using Beer: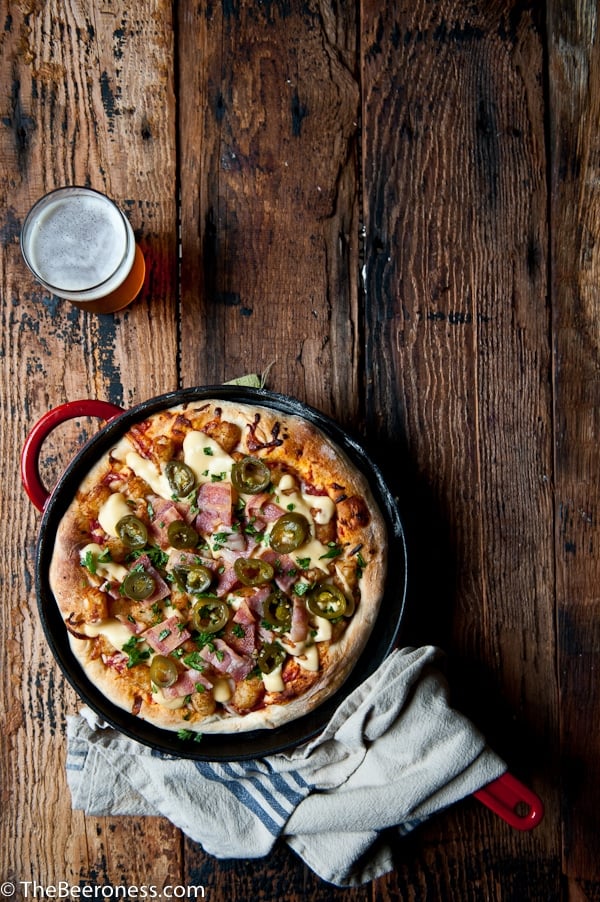 Trashed Up Beer Cheese Tater Tot Pizza
Ingredients
1

lb

pale ale pizza dough

½

cup

pizza sauce

marinara or barbeque sauce

1

cup

mozzarella

shredded

2

cups

tater tots

cooked according to package directions

Olive oil for crust

about 2 tbs

2

tbs

Butter

melted

2

tbs

Flour

1

tbs

Cornstarch

½

cup

beer

wheat beer, blonde ale, pale ale, pilsner

1

cup

shredded Cheddar

do not use pre shredded

½

cup

whole milk

salt and pepper

¼

cup

cilantro

chopped

4

strips bacon

cooked and chopped

¼

cup

pickled jalapenos

nacho jalapenos
Instructions
Place 10-inch cast iron skillet in the lower third of the oven. Heat to 425 degrees with pan in the oven. Heat for at least half hour prior to baking.

Stretch the pizza dough into a 10-inch circle, avoid a rolling pin as this will remove the air bubbles that give great texture. Carefully remove the skillet from the oven, gently placing the crust in the pan.

Spread with sauce, top with mozzarella cheese and then cooked tater tots. Brush exposed crust with olive oil.

Bake for 10-12 minutes or until the cheese has melted the edges are golden brown.

While the pizza is baking make the sauce.

Add the melted butter, flour, cornstarch, beer, cheddar cheese and milk to a blender. Blend on high until well combined. Add to a pot over medium high heat until thick and bubbly. Salt and pepper to taste. (If you encounter any issues with the texture, just re-blend until smooth).

Once the pizza is cooked, remove from oven, top with beer cheese sauce, sprinkle with cilantro, chopped bacon and pickled jalapenos.
I used this Beer Pizza Dough recipe 
Check out the rest:
trashed up salads
Gimme Some Oven – Asian Broccoli Salad with Peanut Sauce
The Lemon Bowl – Brussels Slaw with Tahini Dressing and Za'atar Crostini
With Style & Grace –

Kale Salad with Apple, Hazelnuts & Bacon
trashed up cocktails
Dine & Dish – Hot Buttered Rum Cocktail
Food For My Family – Cranberry Orange Dark and Stormy Cocktail
Minimalist Baker – Bourbon Pumpkin Milkshakes
Stylish, Stealthy & (sometimes) Healthy –

Apple Cider Shandy

A Spicy Perspective –

Preggy Punch Mocktail

Girl vs. Dough – Boozy Maple Peanut Butter Cup Milkshake
Honestly Yum – Maple Bacon Pisco Sour
Cookin Canuck – Pink Grapefruit Margaritas
A Thought For Food – Mezcal Citrico Cocktail
A House in the Hills – Pomegranate Rosemary Spritzer
The Novice Chef – Ginger Bourbon Apple Cider
Bran Appetit – Citrus Cider Punch Floats
trashed up burgers
Edible Perspective – Meatloaf Veggie Burgers with Mashed Potatoes + Gravy
The Little Kitchen – Salmon BLT Sliders with an Avocado Aioli & Brie
Daisy At Home – Balsamic Beef Burger with Mac and Cheese
Cookies & Cups – Candied Bacon Maple Cheddar Burger
Climbing Grier Mountain – Trashed-Up Steak Burger with Chicken Fried Bacon & Dijon Gravy
Dessert For Two – Bleu Cheese Burgers + Sweet Potato Fries
Country Clever – Fig Rosemary Roast Chicken Brie Brussels Sprout Panini
Foodie Crush –

The Best Cheeseburger Soup

Lady and Pups –

Spicy Sambal Chicken Meatball Sub with Eggs

Two Peas & Their Pod – Sweet Potato and Kale Grilled Cheese
Bake Your Day – Ultimate Breakfast Sandwich
trashed up tacos
Spoon Fork Bacon –

Crunchy Ground Beef and Cheesy Tacos

The Fauxmartha – Boozy Beef and Butternut Tacos
With Food + Love – Harvest Hash Breakfast Tacos
Mountain Mama Cooks –

Crispy Kale and Brussels Sprout Tacos with Bacon

Heather Christo – Bahn Mi Tacos with Spicy Sriracha Honey Sauce
A Couple Cooks –

Loaded Huevos Rancheros Tacos

Fitnessista – San Diego Lobster Street Tacos
trashed up desserts
trashed up pizza
Bev Cooks – Beer Battered Fried Calamari Pizza
Foodie With Family – Trashed Up Barbecue Turkey Pizza
Shutterbean – Pesto Potato Bacon Pizza
i am a food blog – Grilled Cheese Pizza
My Life as a Mrs – Chili Cheese Dog Pizza
The Beeroness – Beer Cheese Tater Tot Pizza
Yes I Want Cake –

Roasted Pumpkin Pizza

Two Red Bowls – Bacon Mashed Potato Pizza
Dula Notes – Pork Bahn Mi Pizza
Weelicious – Trashed Up Mexican Pizza Pockets
Take a Megabite – Roasted Beet Pizza
Hungry Girl Por Vida – Hard Cider Braised Pork with Sour Cherries and Cheesy Polenta
Bakers Royale – Trash'd Street Tacos