Top Craft Brewery Destinations in Napa and Sonoma County & Beer Caramelized Apple Tart with Saison Crème Anglaise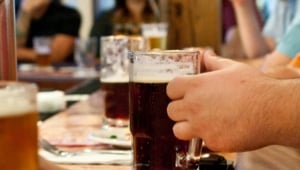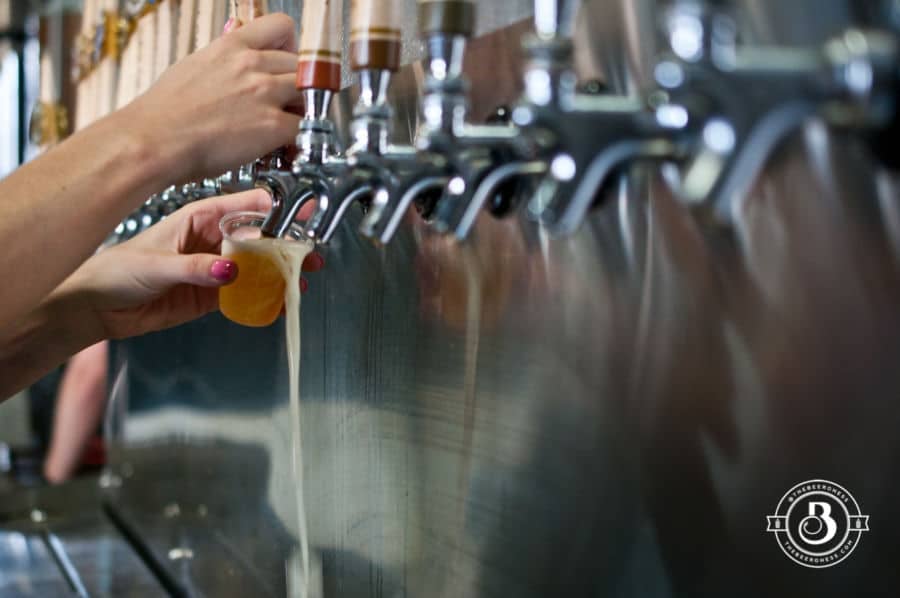 A few years ago I read an email from a reader, late at night, right in the middle of my most honest hour. She asked about culinary school, art school, college, where should she go? What should she do? "Don't go" was my answer. I told her to save her money and travel. If you want to work in food, go find it. You won't find it in a class room, you'll find it where it grows. Eat pasta in Italy, sample Champagne in France, sit in a strawberry field in California. Work for free in any restaurant that will have you, buy beers for any chefs who will give you his after work hours, and don't just learn food, live it. Travel is the best education you'll ever have. I'm passionate about travel and it's necessity for human growth. I've partnered with Travelocity —the website I bought my first plane ticket from when I was in college— to spread the word about beer tourism. Keep an eye out for information about travel and beer in the upcoming weeks, give me your tips and tricks, tweet me the travel articles you love most. Let's grab a beer and talk about adventure.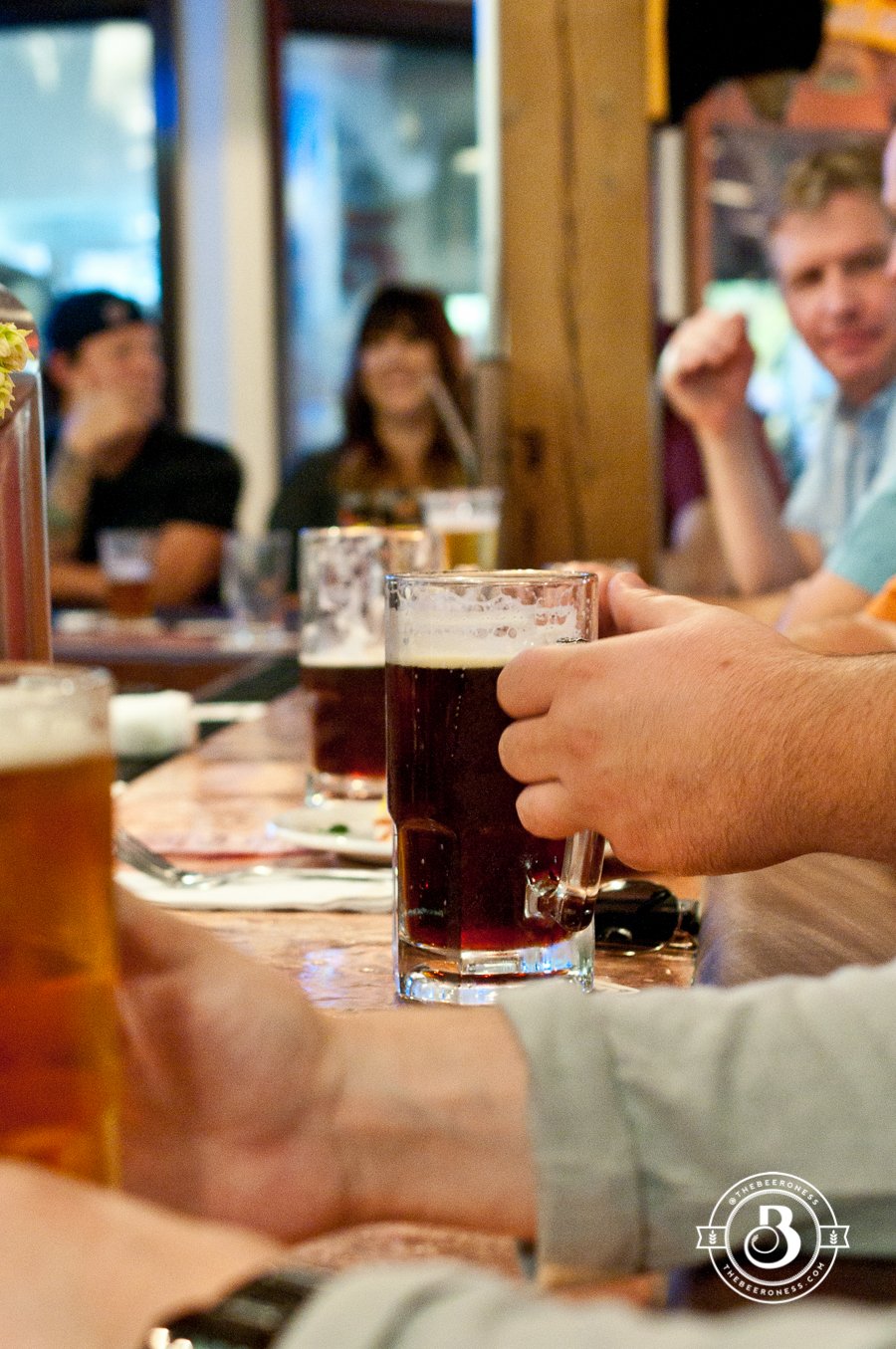 Top Craft Brewery Destinations in Napa and Sonoma County
"It takes a lot of good beer to make good wine," The bartender at Bear Republic in Healdsburg California —right in the heart of Wine Country— jokes as he pours a Café Racer DIPA for a waiting customer. Vintners are a frequent after work crowd in the brewery taprooms around one of the most well-respected wine regions in the United States. As a result, the beer has become world-class, a mecca for beer people, and a hub for beer tourism. If a couple of airports and a few chipper flight attendants can't stand in your way of a great beer, where Napa Valley meets Sonoma County is the perfect destination to cut your beer tourism teeth. Here are the top locations for grabbing a pint of local beer in wine country.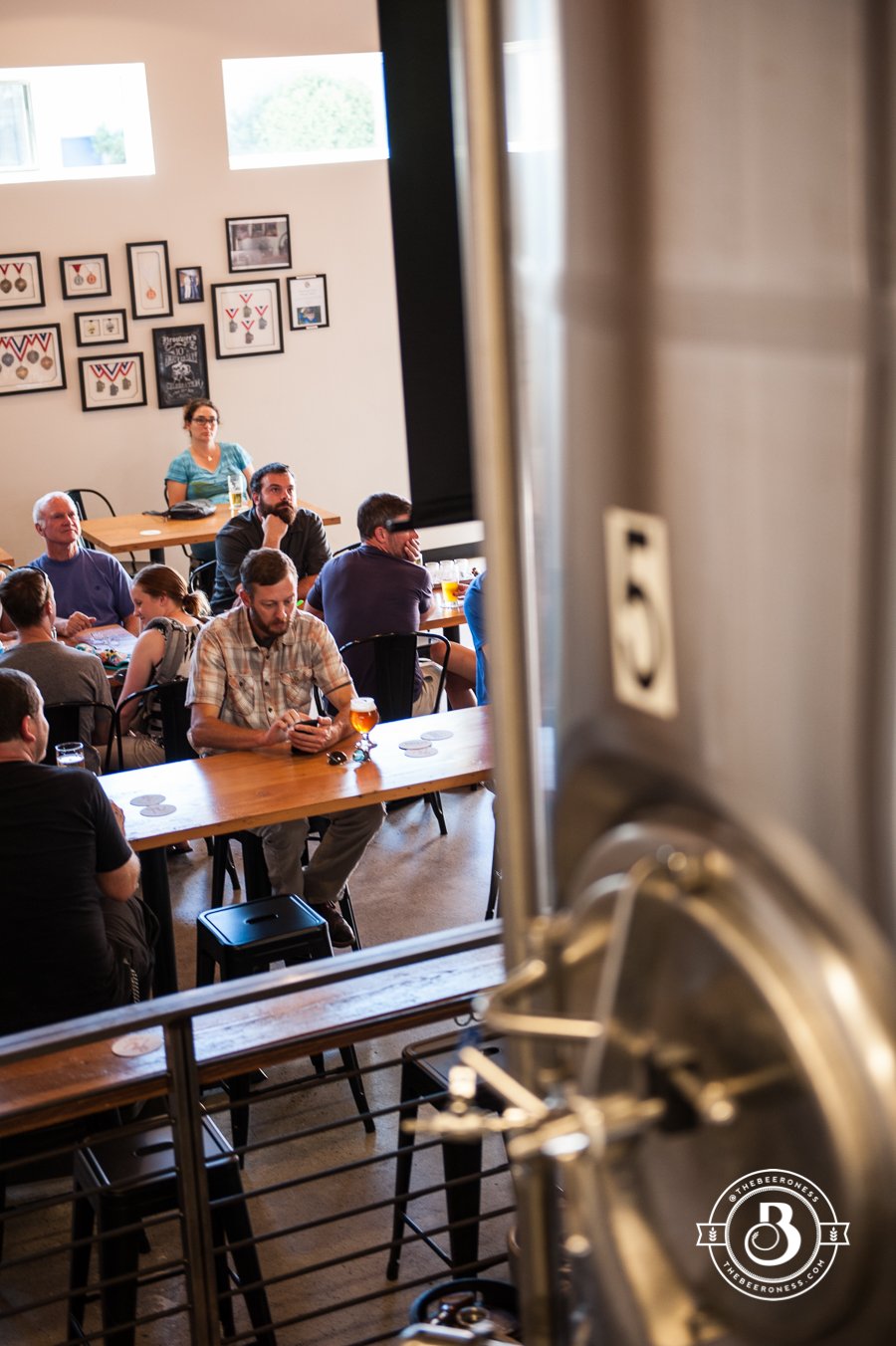 Russian River. With a beer so sought after, it's release causes traffic to shut down, every hotel in the area to be booked to capacity, and an 8 hour wait to get in the doors just for one 10-ounce pour, this brewery is on every beer travelers list. Russian River Brewing draws beer tourist from all over the globe to the sleepy little town of Santa Rosa, California. Even if you can't make it to the release of their sought after triple IPA, Pliny The Younger, every beer they make is world-class. Ask for a Blind Pig, many beer geeks claim it's just as good, or even better, than the one that causes a wee bit of mass hysteria during it's February release.
Bear Republic. This small brewery in Sonoma county is all heart. With a gorgeous space, bartenders that remember your name, and several awards winning beers under their belts, this is a great place to stop in for a pint. Bear Republic always has new and one of a kind beers on tap, ask your friendly beer slinging bartender what he recommends and he'll pour your something that you'll probably never have the opportunity to sample again.
Lagunitas Brewing. Don't let the outside of this Petaluma brewery, housed in an industrial park, fool you. Once you get inside it's a gorgeous location with a beautiful patio, perfect for an afternoon of pub grub and outstanding beer. This is a brewery well-known for their "A Little Sumpin' Sumpin Ale", but they also do several variations of this hoppy beer that are only served in a very limited release. Ask if they have any new variations of A Little Sumpin' on tap, or just let the bartenders pour you a flight (that's beer speak for a beer sampler platter), and see what you like! (*this article was originally written before the brewery partnered with Heineken. If this bothers you, feel free to skip this one. The beer has remained the same and the brewery is still worth a visit)
Napa Smith. Napa Smith is the only production brewery in Napa, this is where you go when you've tired of wine tasting and just want a cold pint. Napa Smith has thoughtfully brewed all of their beers to pair well with food, following the mantra "Brewed for food." They offer a large flight of 10 sampler beers, making that a great place to start when deciding what you want to drink for the evening.

Third Street Aleworks.

This charming little brewery sits down the street from Russian River, making it a great stop on a Santa Rosa pub-crawl. Sick of those hopped up bitter West Coast beers? You've come to the right place. Third Street has award-winning stouts and porters, perfect for those who dig the dark brews. Try their Black Cat Porter or the gold medal winning Blarney Sisters' Dry Irish Stout.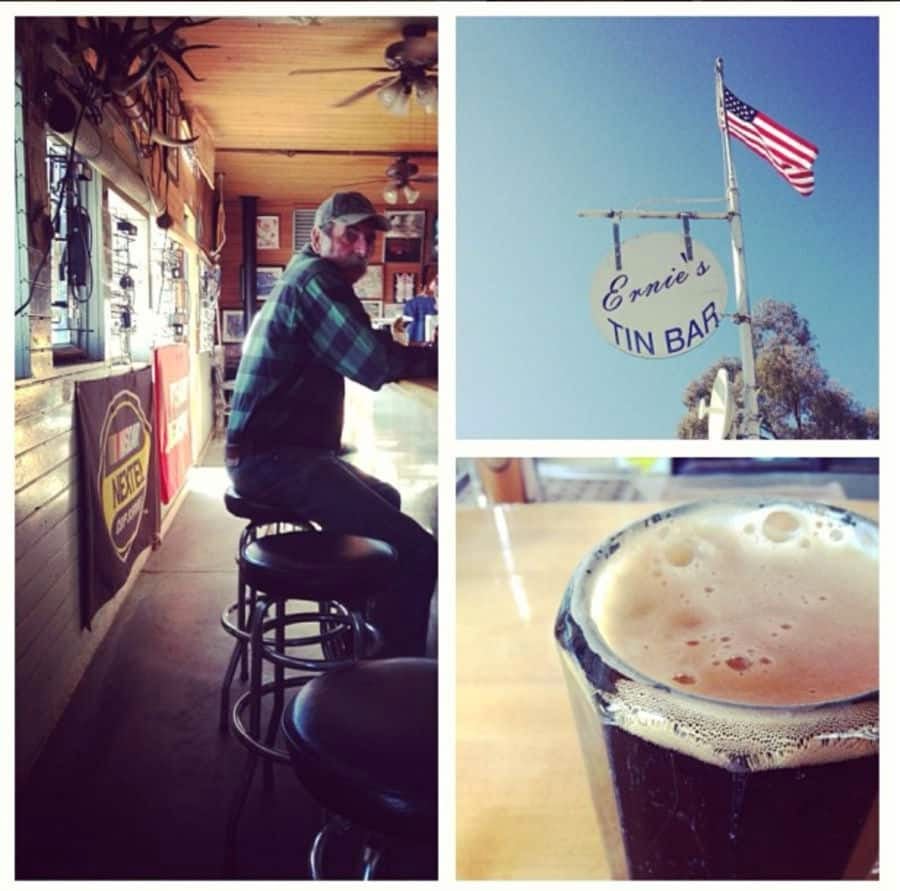 *If you're in the area, stop by the best dive bar in all the world (this is just my opinion) Ernie's Tin Bar. Craft beer and a CSA pick up location, located along a winding country road. 

I've also made you a dessert, one that nods  to Napa and Sonoma county. A recipe that reminds me of the slow-food culture and the locavore spirit. It's a part of the United States that everyone should be able to visit at least once in their lives.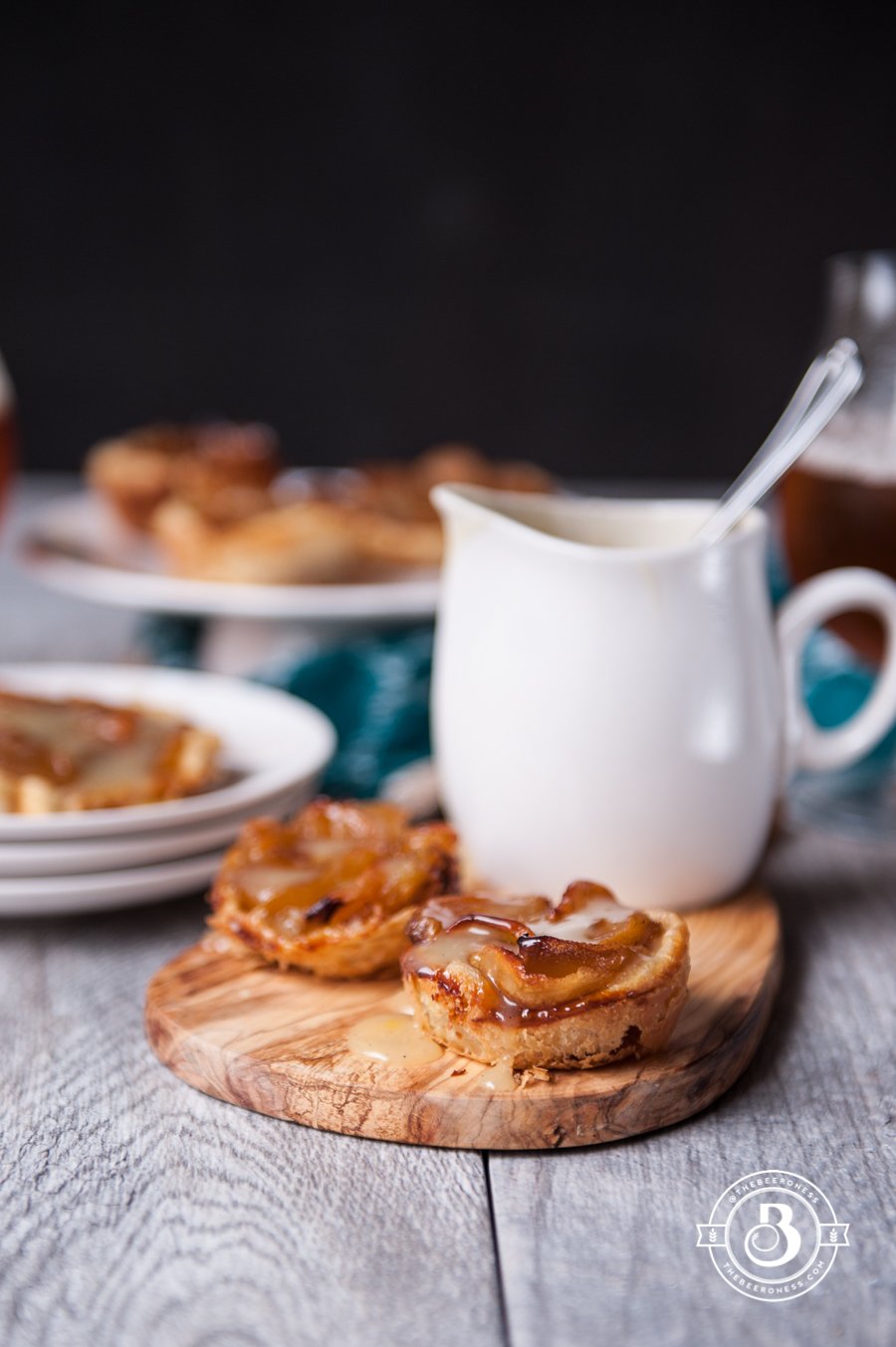 Beer Caramelized Apple Tart with Saison Crème Anglaise
Ingredients
For the Tarts:

1.5 lbs apples, cored and thinly sliced (Honeycrisp, or SweeTango)
4 tbs (57g) unsalted butter
1 cup (230g) brown sugar
½ tsp (3g) salt
1 cup (226g) wheat beer
1 sheet puff pastry, thawed

Crème Anglaise:

½ cup (134g) heavy cream
¼ cup (68g) whole milk
1/3 cup (82g) Saison beer (or wheat beer)
½ of a vanilla bean pod
3 large egg yolks
1 ½ cups (338g) granulated sugar
Instructions
Preheat oven to 400.
Add the apple splices, butter, sugar and salt to a skillet over medium heat. Once the sugar has dissolved and the butter has melted, add the beer. Bring to a boil, stirring occasionally, until the liquid has reduced and thickened to a caramel sauce, about 15 minutes. Allow to cool.
Roll out the puff pastry on a lightly floured, flat surface. Cut out circles just larger than a muffin tin well, or a mini-tart pan (grease the tart pan/muffin tin or spray with cooking spray). Press into shape. Fill the wells about half way with the apples.
Bake for 18-22 minutes or until crust is golden brown.
Add the heavy cream, whole milk and beer to a saucepan.
Using a pairing knife, split the vanilla bean pod lengthwise. Scrape out the inside of the pod with the back of the knife. Add the pod and the inside scrapings to the pan. Bring to a low simmer, remove from heat.
In a medium sized bowl whisk together the yolks and sugar until very well combined, and a light yellow color.
While whisking, slowly add the cream mixture, whisking until well combined.
Strain the mixture through a fine mesh sieve back into the sauce pan. Over medium/low heat cook, stirring frequently, until thickened. About ten minutes. Remove from heat and allow to cool. Store in an air tight container in the refrigerator until ready to use, up to three days.
Serve the tarts drizzled with the Crème Anglaise.
https://domesticfits.com/top-craft-brewery-destinations-in-napa-and-sonoma-county-beer-caramelized-apple-tart-with-saison-creme-anglaise/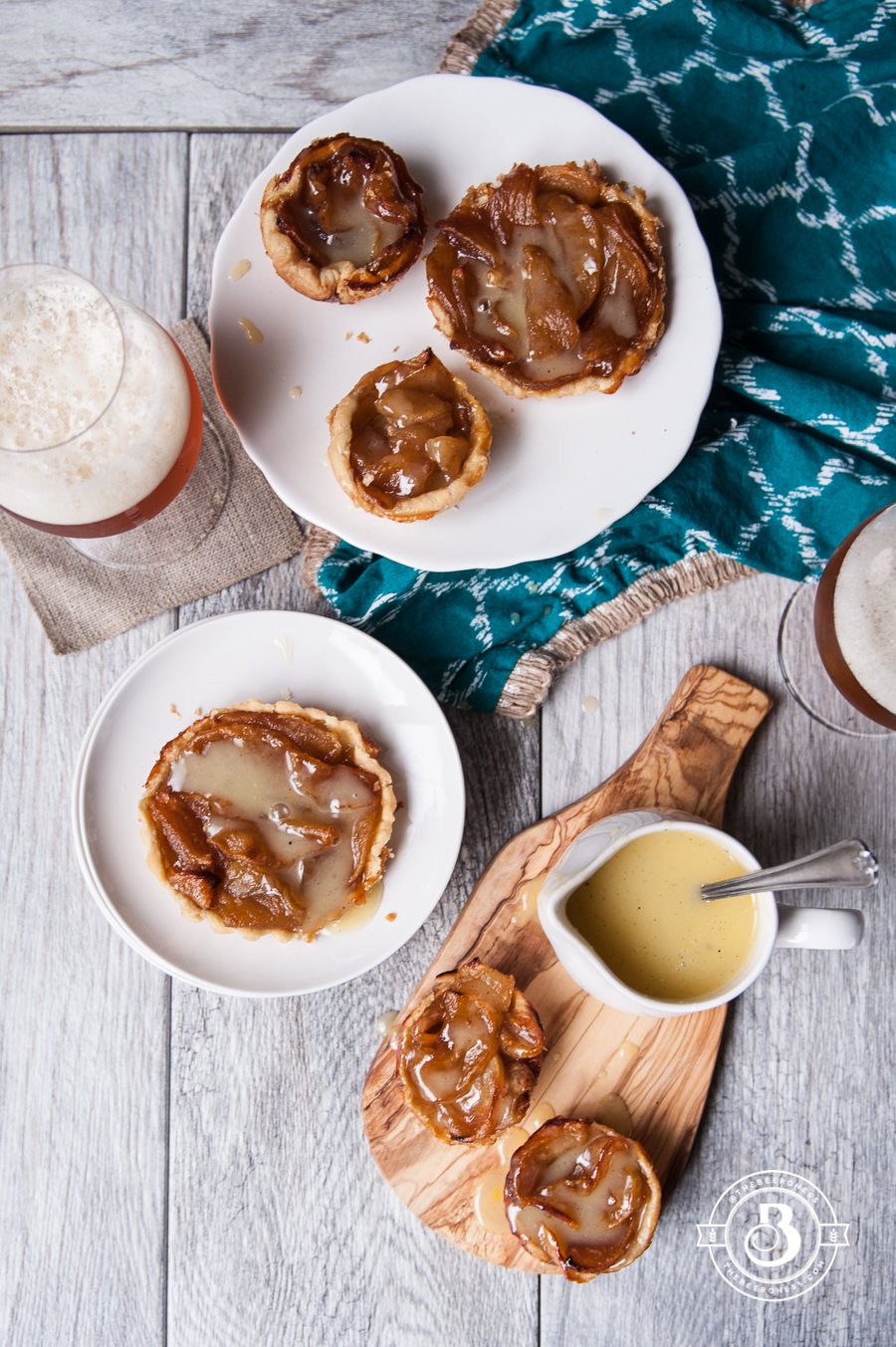 I was compensate by Travelocity for this post, all opinions, words, recipes and ideas are my own.