Tomato Herb and Beer Poached Cod with Caramelized Fennel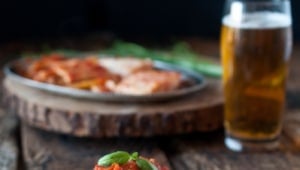 I started this adventure masked as a blog just over two years ago. I decided when I first hit publish that this wasn't a "let's see how this goes" endeavor. This is was a full force, every piece of my life, both feet, all chips on the table undertaking. I was all in.
My stack of "I Need To Figure This Stuff Out" was much larger than my "I've Got This" pile and the more I fought towards the goals I set, the larger that first stack got. Lucky for me, my reaction to "You can't do that" has always been, "You watch me." And somewhere along the road I stop hearing people say "no" to me and started to hear them say "Someday I'll wish I'd said yes to you."
I guess it's working, and I have a few gold stars to show for it. The first printing of my book,  The Craft Beer Cookbook (affiliate link), sold out in less than three months, I'm a regular beer expert on a radio show, I have people from all over the world share photos of the dishes they have made from my site with me over Facebook and Twitter (I LOVE this, keep doing it, highlight of my day), and in the past year I've been interviewed by dozens of magazines all over the world. I'm humbled by this in an enormous way, that what I've worked nights, weekends, poured so much time and money into is being realized. That I'm able to do this, share this love with you, and find a place in craft beer.
A few days ago an interview I did with the print magazine Imbibe hit newsstands. I stood in Barnes & Noble, trying really hard not grab the guy perusing motorcycle magazine standing next to me and yell, "THAT'S ME!" and shove page 21 in his face. I refrained.
So I'm doing it to you instead, I'm shoving page 21 in your face and yelling. But to you, I'm yelling "Thank you."
Tomato Herb and Beer Poached Cod with Caramelized Fennel
Ingredients
2

tbs

olive oil

1

fennel bulb

sliced into ¼ inch slices

3

cloves

garlic

mined

1

cup

white ale

or wheat beer

28

wt oz crushed tomatoes

1

tsp

crushed red peppers

½

tsp

smoked paprika

1

tbs

chopped fresh basil

or 1 tsp dried basil

1

tsp

chopped fresh tarragon

½

tsp

salt

4

cod fillets

4-5 ounces each

Rice

potatoes or pasta for serving
Instructions
Heat the olive oil in a saucepan over medium heat. Add the fennel slices and cook until caramelized on each side, about 8 minutes. Add the garlic, stir for about 30 seconds. Add the white ale, scraping to deglaze the pot.

Add the crushed tomatoes, red peppers, paprika, basil. tarragon and salt, bring to a low simmer.

Add the cod fillets, pushing gently to submerge.

Simmer until cod is cooked through and flakes easily with a fork, about 8 minutes (Note: do not boil or fish will become tough, keep tomato sauce at a low simmer).

Using a slotted spoon, remove cod from the pot, add to a serving platter.

Bring the tomato mixture to a strong simmer and cook, stirring occasionally, until thickened and reduced about 10 minutes.

Plate the cod, top with tomato mixture.