The Help: Minny's Caramel Cake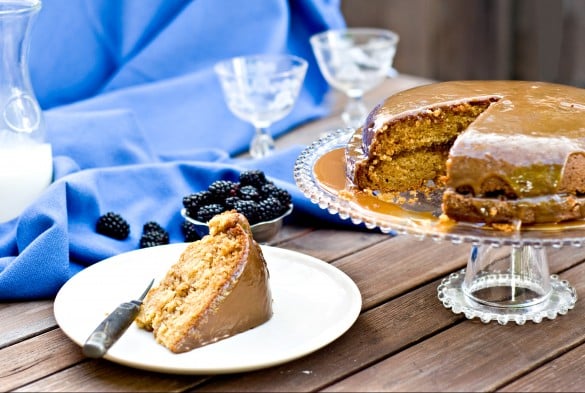 I just finished The Help, by Kathryn Stockett. Great. Now what I am going to struggle to stay awake to read at 1am when I know I should be sleeping because Tater is a 6am girl? There is always this vague grief that goes along with finishing a book that has attached itself to you. You start to watch the pages on the right side thin. At first you're excited that you are so close to knowing whats gonna happen, and then you resist it, knowing you aren't ready to let go. You read the last page slowly, savoring the last minutes you will ever spend with the characters and then you just sit, one hand on the cover. Smooth it with your hand, think about what the characters will likely do next, briefly wish for a sequel, and then…bake a cake.
In the book, Minny is a sass mouth southern maid that can bake her way out of just about any situation her impetuous tongue can put her in. I love her. In the movie, Hollywood cast her with Octavia Spencer, my brain cast her with Gabourey Sidibe.
I thought a lot about what kind of cake Minny would make for that caramel cake of hers. Definitely not a white cake. Not just for the obvious double entendre, but because it calls for dissposing of the egg yolks. Minny would never do that. She would never NOT use something as lovely and perfect as an egg yolk. She would have used whole eggs, butter, oil, cream and molssas. I also saw this as a cake that would stand on its own, with a mild caramel flavor, even without the lovely caramel icing.
Here is my version of the world famous cake:
Minny's Caramel Cake
1 cup (2 sticks) of butter
1 cup brown sugar
1/2 cup white granulated sugar
4 eggs
1 tbs molasses
1 cup heavy cream (or buttermilk)
1/2 cup oil
1/2 cup whole milk
3 cups of flour
2 tsp baking powder
1 tsp baking soda
1/2 tsp salt
Caramel Frosting:
2 cups brown sugar, packed
1 cup of cream
3 tbs butter
1 tsp vanilla extract
 Pre heat oven to 350.
In the bowl of a stand mixer, add the butter, brown sugar and white sugar and cream until well combined. Add the eggs one at a time, mixing well between each addition. Add the molasses and mix until combined.  With the mixer on low speed, add the cream, oil and milk and mix until well combined. add the flour, baking powder, baking soda and salt and mix until just incorporated. Add evenly between two greased and floured 8 inch round cake pans. Bake for 25-30 minutes or until a tooth pick come out clean. Allow to cool.
To make the lovely frosting, and I really think that I want to take a bath in this stuff, combine the brown sugar and cream in a pot. Stir over medium high heat until it starts to boil. Allow to boil, without stirring (this is the hard part for me) until the temperature reaches about 210 (about 7-10 minutes). Remove from heat and stir in the butter and the vanilla. Allow to cool until thickened. Pour half the caramel over the first layer, stack the second layer on top and then pour the rest over that.
Yum. I want to make cupcake versions of this soon.